On the Run for Three Years, Heilongjiang Woman Arrested Again and Faces Prosecution for Her Faith
August 13, 2019 | By a Minghui correspondent in Heilongjiang Province, China
(Minghui.org) Ms. Wang Xinrong was taking care of her sister-in-law, who'd had a stroke and was in a hospital in Qingdao City, Shandong Province, on June 4, 2019, when the police showed up and arrested her.
Her sister-in-law was greatly upset and passed away the next day.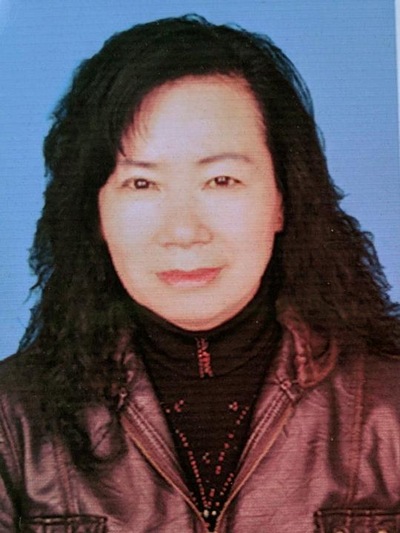 Ms. Wang Xinrong
Ms. Wang, 64, a native of Qitaihe City, Heilongjiang Province, had been on the run during the past three years to avoid being persecuted for refusing to give up her faith in Falun Gong, a spiritual discipline that has been persecuted by the Chinese communist regime since 1999.
She was first arrested on May 8, 2016, but was later released on bail after she developed high blood pressure and was denied admission by a local detention center. Because the police frequently harassed her at home, she moved away to hide.
She eventually settled down in Qingdao and helped take care of her sister-in-law, who was hospitalized after suffering a stroke.
She was reported to the police through the hospital's facial recognition system that is connected to the police's online Wanted List.
The local police ransacked Ms. Wang's home in Qingdao and took her to Jimo Detention Center. They also informed the police in Qitaihe City to come as soon as possible to take her back to her hometown.
Qitaihe police officers traveled more than 1,300 miles to Qingdao, put Ms. Wang in handcuffs and shackles, and made her wear them all the way home while taking trains and buses.
Facing Further Prosecution
Ms. Wang's husband and her lawyer went to Qitaihe Detention Center on June 12, 2019, but security refused to allow them to meet, claiming they didn't have enough documents.
After they prepared all the required documents, Zhang Dong, the head of the detention center, still refused to grant them a meeting with Ms. Wang, after having them wait for him the entire morning.
Although Zhang later allowed the lawyer to visit Ms. Wang the next day, security made the lawyer wait from early morning until 2:40 p.m. before letting him in to see his client.
Ms. Wang told the lawyer that she was suffering from high blood pressure again. The detention center was trying to force her to take some unknown drugs, but she refused to comply, fearing she would be poisoned, as many other Falun Gong practitioners had been.
On June 21, 17 days following Ms. Wang's arrest, her son received a call from Kou Yanlong, an officer from the Xinxing Police Station, who said that Ms. Wang's case had been submitted to the court and the judge was planning to sentence her without a trial.
Ms. Wang's husband was shocked to hear that and went to the police station and talked to Kou himself the next day.
Kou initially repeated a lot of the propaganda spread by the government attacking Falun Gong, but he later confessed to Ms. Wang's husband that her arrest had just been approved by the Xinxing Procuratorate, which had yet to indict her.
Worried about his wife, he hired another lawyer to represent her.
Zhang, the head of the detention center, attempted to prevent the new lawyer from meeting with Ms. Wang, but the lawyer persisted and saw her on July 6.
As soon as the lawyer entered the visitors' room, a guard came in and told him to persuade Ms. Wang to take her medicine. The lawyer refused.
Ms. Wang told the lawyer that officers Wang Shouren and Kou Yanlong from the Xinxing Police Station had interrogated her several times and attempted to force her to plead guilty for practicing Falun Gong. She said she insisted that she was innocent, that upholding her faith was not a crime.
Because Ms. Wang's blood pressure was as high as 230 mmHg, the lawyer submitted a bail request for her to the police on July 8. They haven't responded to the lawyer at the time of writing, and her family is very worried about her.
Related report:
12 Arrested in One Day for Their Faith
Related article in Chinese: