Canada: Falun Dafa Group Performs in Three Parades on Canada Day
July 07, 2019 | By Minghui correspondents in Toronto
(Minghui.org) Falun Dafa practitioners from Toronto participated in three Canada Day parades on July 1 to celebrate the nation's 152nd birthday. They joined the parade in Mississauga at 11 a.m., the Scarborough parade at 4 p.m., and were in the Stratford parade at 7 p.m.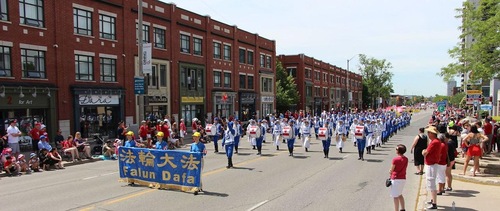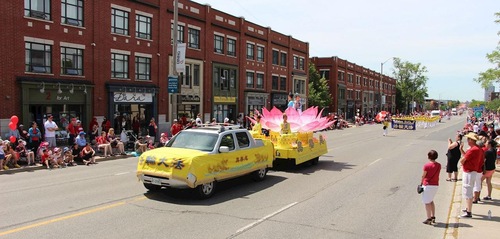 Practitioners participated in the Canada Day parade in Mississauga on July 1, 2019. The crowds delighted to the Tian Guo Marching Band, float, and exercise demonstration.

The Tian Guo Marching Band and float were warmly received by the crowds during the celebration in Scarborough.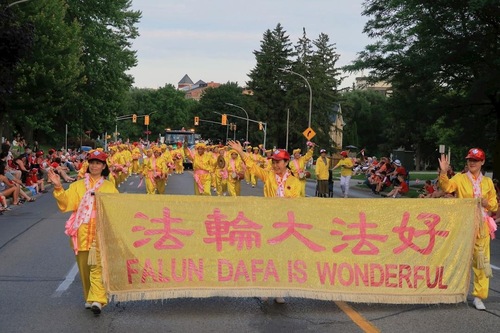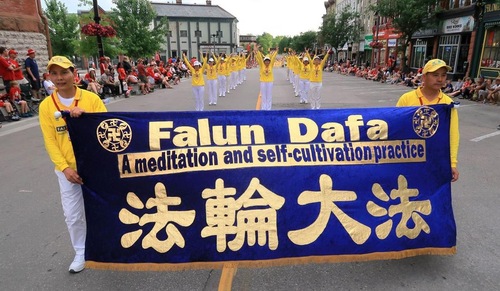 Waist Drum and exercise demonstration during the Canada Day parade in Stratford on July1.
"Truly Amazing!"
Ms. Ban and her husband took several photos of the practitioners' entry during the parade in Mississauga. Ms. Ban excitedly said, "This is the first time I've seen something like this. It's truly amazing!" The couple said they hadn't heard of Falun Dafa before and they were happy to learn about the main teachings of Zhuan Falun, the five sets of exercises, and the principles of Truthfulness-Compassion-Forbearance. Ms. Ban asked for the contact information of local practice sites and said she would read more about Falun Dafa on the FalunDafa.org website.
Michelle from Brantford works as a marketing manager for a large firm. She and her children are glad to see Falun Dafa practitioners in the parade in Scarborough. "We all like the Falun Dafa entry and the band's performance so much!" she exclaimed. She praised their beautiful costumes and the music. Michelle said that the persecution in China is "terrible." She said, "People should be allowed to practice their beliefs."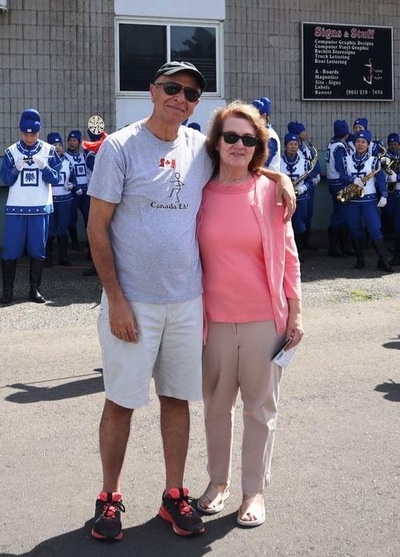 Charlene Khani and her husband said the persecution in China should be stopped.
Charlene Khani, who works for a school commission, attended the Scarborough parade with her husband and their son. When she learned that Falun Dafa is practiced in over 100 countries but is persecuted in China, she said, "People have the right to improve their minds and bodies." She said the persecution, especially the forced organ harvesting in China, is wrong and hopes it will end soon.
Chinese Show Support for Falun Dafa
Mr. Zhao, an immigrant from China, currently lives in Mississauga. He said he'd seen practitioners in previous parades and said he very much likes the Tian Guo Marching Band. He's talked with practitioners before and knows about the persecution in China. "I know that practitioners are good people and the persecution in China is very harsh," he said.
Ms. Wu and her husband were visiting from Anhui Province in China. She said she did not know the real story of Falun Dafa until she came out of China. Ms. Wu said, "The CCP had made up several lies to mislead people and people in China have no access to the truth."
Mr. Xue recently graduated with a Ph.D. degree from an Ivy League university in the United States. Seeing Tian Guo Marching Band leading the Scarborough parade, he was both surprised and proud. He supports freedom of belief and said it was wrong for the CCP to harm innocent people like this. In the end, he renounced membership of the CCP's junior organizations, the Youth League and Young Pioneer.
Chinese Condemn Communism
Mr. Liang from Hong Kong said he does not like the totalitarian communist regime because it does not allow freedom of belief. He said, "My mother was arrested in China and put in jail because she said something the CCP did not like."
Guowei said his parents were from Hong Kong and he knows Falun Dafa practitioners. He said the Party is persecuting Falun Dafa practitioners and other citizens, and their brainwashing tactics have also extended into Hong Kong.
Olivia and her mother immigrated from China. They were impressed by the practitioners' costumes and performances during the parade in Scarborough. Olivia exclaimed, "I never saw something like this before. They look amazing!" After she heard how the CCP has harmed practitioners and other Chinese throughout previous campaigns, both Olivia and her mother agreed to quit the Party's organizations.
Mr. Bai came from Beijing and he currently works as a manager in a food company. He took several photos of the Tian Guo Marching Band, the float, and the practitioners' exercise demonstration. He said the CCP is rotten and it abuses the laws to suppress people. After talking with a practitioner, he decided to separate himself from the CCP by quitting the organizations he'd joined.