Sichuan Man Sentenced to Four Years in Prison for Practicing Falun Gong. Lawyer Threatened by Thugs
July 31, 2019 | By a Minghui correspondent in Sichuan Province, China
(Minghui.org) A Pengzhou City, Sichuan Province resident was sentenced to four years in prison on July 9, 2019 for not renouncing his faith in Falun Gong, a spiritual discipline that has been persecuted by the Chinese communist regime since 1999.
Mr. Deng Chuanjiu, 49, was arrested at work on October 8, 2017. The police then ransacked his home and beat his wife when she tried to stop them.
Mr. Deng appeared in the Pengzhou City Court on July 9, 2019 after nearly two years of detention. He was charged with "undermining law enforcement with a cult organization," a standard pretext used by the communist regime to frame and imprison Falun Gong practitioners.
His lawyer entered a not guilty plea for Mr. Deng. The lawyer argued that no Chinese law ever criminalized Falun Gong and that the spiritual discipline, with its core principles of Truthfulness, Compassion, Forbearance, only brings benefits to society, causing no harm to anyone, much less undermining law enforcement.
Mr. Deng testified in his own defense. He questioned the prosecutor as to which law's enforcement was obstructed by him. The prosecutor didn't respond.
The judge sentenced Mr. Deng to four years in prison at the end of the trial.
Only Mr. Deng's wife and son were allowed to attend the trial. Other family members, including his sister, were blocked outside of the courtroom.
When Mr. Deng's lawyer left the court at the end of the trial, he was stopped by several thugs, who verbally abused him. They were about to beat him when the car picking him up arrived. The lawyer quickly got into the car and left.
The lawyer suspects that the thugs were hired by the authorities to target him for defending Mr. Deng's innocence.

Plainclothes officers monitored and questioned passersby outside of the court during Mr. Deng Chuanjiu's trial.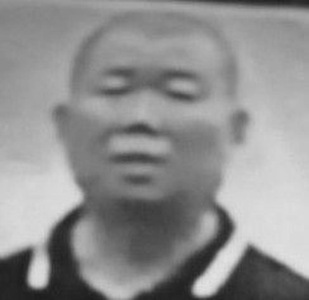 One of the thugs who attempted to beat Mr. Deng's lawyer
Related reports:
Sichuan Man Detained for Sending Messages about Falun Gong through WeChat
Police Arrest Husband and Beat Wife
Mr. Deng Chuanjiu Brutally Persecuted in Pengzhou City, Sichuan Province