Canadian Experience-Sharing Conference Held in Toronto, Master Li Sends Greetings
July 25, 2019 | By Minghui correspondent Zhang Yun
(Minghui.org) The 2019 Falun Dafa Cultivation Experience Sharing Conference of Canada was held on Sunday, July 21, 2019, at the Westin Harbour Castle in Toronto. Mr. Li Hongzhi, founder of Falun Dafa, sent a written greeting to the event, which was received with grateful applause by the conference attendees.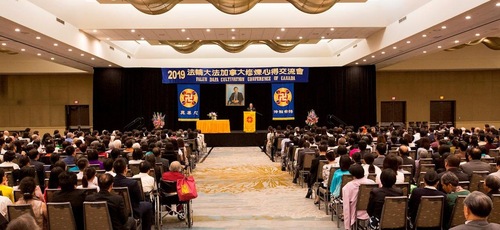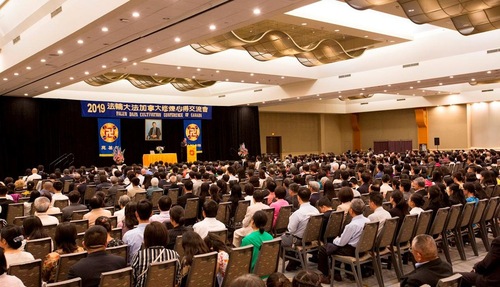 The 2019 Falun Dafa Cultivation Conference of Canada held in Toronto on July 21, 2019.
Li Xun, president of the Canadian Falun Dafa Association, read the greetings three times, in both Chinese and English. Master Li wrote,
"Do well what remains to be done, and head toward the future with a cultivation journey free of regret. I wish you much enlightenment and success!" ("To the Canada Fa Conference")
Twenty practitioners read their experience-sharing papers during the conference. They talked about how they have improved theirxinxing and informed people about Falun Dafa and the persecution.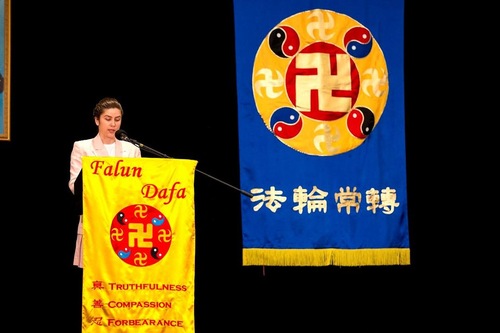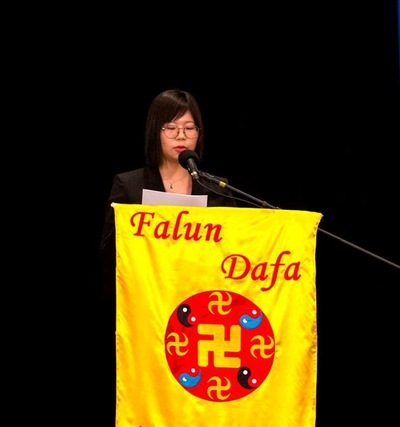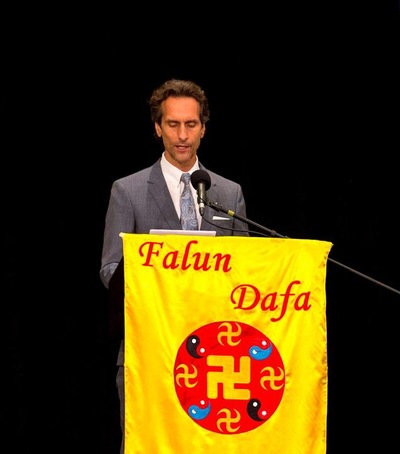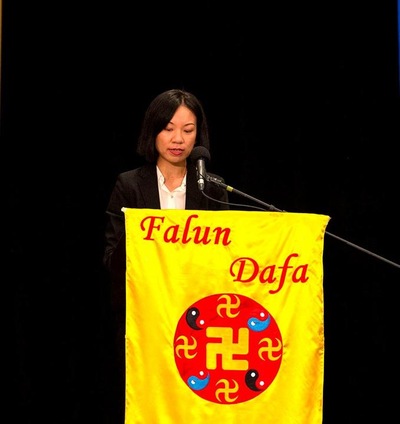 Twenty practitioners read their cultivation experience articles at the conference.
Fulfilling Mission When Promoting Shen Yun
Maria Cheung from Winnipeg said she had traveled to North Dakota earlier this year to help with Shen Yun promotions. "It was the first time Shen Yun would perform in that city, and it is only two and half hours of driving from my place. So I knew it was my responsibility to help those practitioners," she said.
During the process of promoting the performances, practitioners in Canada and the United States worked together closely. Although there were no local practitioners in North Dakota working on this, the show sold out in the end.
Ms. Cheung said she had experienced many miracles while promoting Shen Yun. For example, she wanted to contact a college professor she knew who had become a council member in the city where Shen Yun would perform, but somehow she could not reach him. "One day, I went to some stores that practitioners had already visited to make sure they had posters and flyers about Shen Yun. In a Somali restaurant, the owner agreed to help, and right at that time I found that council member was right in front of me dining there," she recalled.
Both of them were very surprised to run into each other. After hearing what Ms. Cheung needed, the council member helped to contact the tourism department and introduce the performance on its website. He also convinced the mayor to come to watch the performance.
Ms. Liu, an MBA student in Quebec City, went to Mexico earlier this year to promote Shen Yun. She stayed there for over a month and said it was a "very intense" experience. She got to know a lot of Mexican people and there were many touching stories. Through the joint efforts of her and other practitioners, all of the shows in Mexico City and Querétaro were sold out.
On the evening of the first show in Mexico City, Ms. Liu sat in a corner seat that had been temporarily added. Looking back and seeing the full house, she was in tears. "It was not until then that I knew we could achieve what Master wants. That is, we truly found everyone who was meant to be there and helped them sit in their seats. That feeling was beyond words," she explained.
Ms. Liu experienced some conflicts while working with other practitioners who, like her, had also come there to help, and she even thought about going out to stay in a hotel on her own. "In the meantime, I also knew that this was something I had to face. By working together we were one team, and we had to let go of self and form one body," she said. By studying the Fa together every morning, they were able to collaborate well and help with ticket sales.
"Another thing I learned was that, when letting go of human notions, I found that local practitioners were almost as good as us in many aspects—such as their knowledge about Shen Yun and their ticket-selling skills – although we have been hosting Shen Yun performances for more than 10 years," Ms. Liu said.
Truth-Clarification by Young Practitioners
Xi Chen, 25, shared her experience of telling people about Falun Dafa at her workplace. Her father had been detained in China five times for practicing Falun Dafa and is currently still monitored by the police. One day, Ms. Chen went to the office of a senior leader at her workplace and talked about this. She could not hold herself together and was almost in tears. Nonetheless, she asked if she could give a speech, show a truth-clarifying film, or organize the employees to attend the The Art of Zhen Shan Ren (Truthfulness, Compassion, Forbearance) International Exhibition.
The senior leader did not provide a response to her request for several days. "This made me nervous, wondering if I had done the wrong thing, or if I should have found a different, more appropriate way to tell her about this. Anyway, I was a little embarrassed and when I saw her in the hallway after that, I sometimes walked in a different direction to avoid her," Ms. Chen said.
To her surprise, the first day after the senior leader returned from a vacation, she called Ms. Chen to her office. She said she had checked with the Human Resources Department and wanted to help Ms. Chen with this. "I learned a lot from that. I am now more eager to tell more people what's going on in China and what has happened to my family, so that they can know the facts," Ms. Chen continued.
Meiqian Li, 20, said she had joined other young practitioners for group Fa-study for two years, but still felt hesitant and fearful when telling people about Falun Dafa face-to-face.
In her spare time when she is not busy on her college campus, she works at a Chinese restaurant. She told the owner how her family members had suffered in the persecution, both physically and mentally, as well as about the forced organ harvesting in China. The owner was shocked, "I did not know much about it before. Now, I know it is real."
Ms. Li also identified her attachments as she told people about Falun Dafa and the persecution. "For example, when I talk with Westerners about it, they tend to accept it and I have a bit zealotry. When I speak with a Chinese person about it, he or she might not listen due to the hate propaganda. That makes me feel like I am losing face and somehow fearful. These are areas I need to work on," she said.
Remaining Humble
Sherry Hu began to practice in 2010, and she works in advertising design for a news media founded by practitioners. During this process, she has learned to validate the Fa instead of herself. "In the beginning, I did poorly cultivating myself. I was busy doing things, but did not have a mentality like a practitioner," she recalled. As a result, things did not go smoothly and even some easy tasks had difficulty proceeding.
Later on, she realized it was related to her cultivation. "There are all kinds of interference, both external and internal. Even when I worked hard and diligently, I found there was an attachment beneath it—that is, a strong desire to validate myself, together with resentment toward others," she said.
Realizing this, she tried to her best to help others and the project quietly. "When I truly became humble in my heart, I found the feeling of resentment that had bothered me for a long time was gone. I know when my mentality is righteous, Master helps me a lot to eliminate the attachments," she said.
Finding Her True Self
Gianna from Toronto said that, through constantly looking within and improving her xinxing, she had found some of her deep-rooted human notions.
"One problem was being overly self-conscious. This blocked me from speaking from my heart. Very often, I did not want to assert my opinion, because doing so might upset others," she said. She now knows that was not right, since it stopped her from doing projects related to Dafa or improving in cultivation practice.
"I know I do not need to hide myself. After all, my viewpoints could be meaningful or valuable to others. I almost never talked about myself in the past, and now I can comfortably do so no matter whether it's to a practitioner or an everyday person," Gianna said.
Practitioners who attended the event said it had encouraged them to improve their xinxing and do the three things well.