Atlanta Practitioners Tell Tourists About Falun Gong at Stone Mountain Park
July 12, 2019 | By a Falun Gong Practitioner in Atlanta
(Minghui.org) Falun Gong practitioners in Atlanta held activities in Stone Mountain Park on June 30, 2019, to tell visitors about the Chinese Communist Party's (CCP) persecution of Falun Gong. They set up displays about Falun Gong and the persecution in China and demonstrated the five exercises.
Stone Mountain is well known for the enormous rock relief (sculpture) on its northern face, the largest bas-relief in the world (a projecting image with a shallow overall depth). Practitioners have been telling tourists from all over the world about Falun Gong at this scenic site for the past 16 years.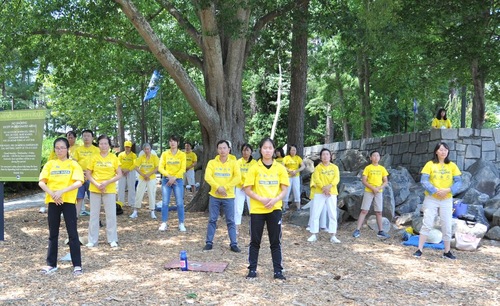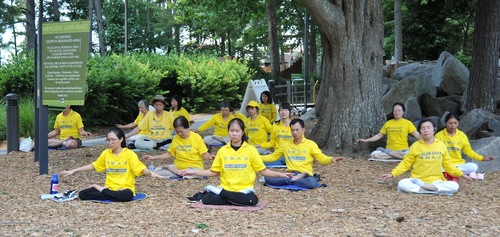 Practitioners demonstrate the exercises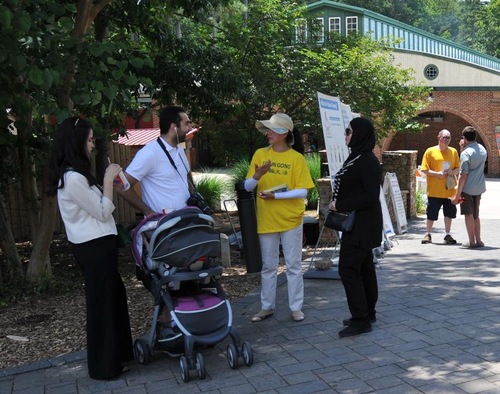 The Falun Gong display attracts tourists' attention
Lee and Kevin Hall came from Newnan, Georgia. Kevin had learned about the persecution of Falun Gong when he was online. Lee and Kevin spoke with a practitioner about the persecution and then read the displays. Lee said the persecution is very inhuman and appalling. Kevin said that the persecution was indeed happening in China and the torture was even worse than what they had read about on the display boards.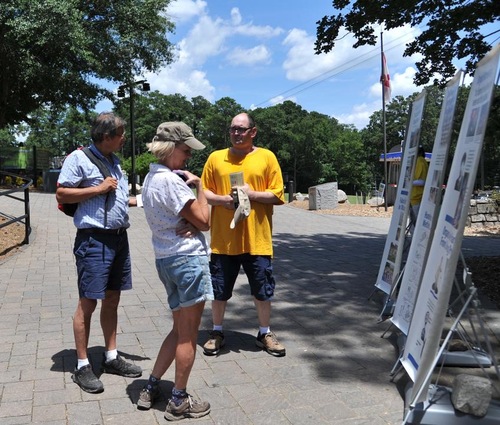 Lee and Kevin reading the display
Max Imanus, a high school student from Florida, was saddened to hear about the persecution in China. He told a practitioner that his family members had experienced similar persecution during World War II. He wanted to help stop the persecution. "We humans have climbed the tallest mountain in the world, crossed the deepest valley and largest ocean. We must be able to stop this persecution together! We need to stand up and tell others of the persecution and how wrong it is. We can initiate signature collections to get the American government's attention," he said.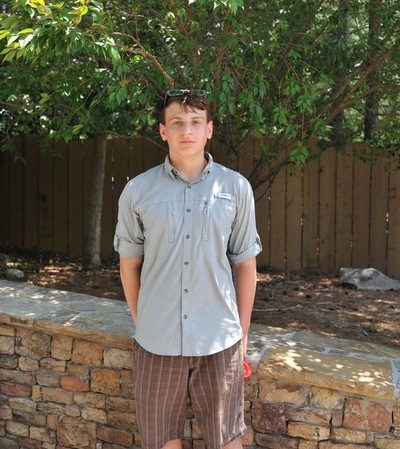 Max Imanus from Florida is saddened by the persecution of Falun Gong.
Practitioner Cody Scholberg came to Stone Mountain in 2001 when he was only 14, and saw the Falun Gong exercises for the first time. He remembered watching the exercises for a long time. He later obtained the book Zhuan Falun, and it answered many of his questions about life the very first time he read it. "The book stresses improving one's morality. I thought, 'This is righteous!' I can't ignore it!"
As Cody started cultivating himself according to Falun Gong's principles of Truthfulness-Compassion-Forbearance, his family and friends noticed that he had changed. "They saw that I no longer lost my temper like I used to. Even though I still make mistakes, I realize I'm wrong within a couple of seconds. Practicing Falun Gong has given me inner peace," he said.
Despite the hot summer day, Cody did his best to tell people about the persecution of Falun Gong. He said, "Falun Gong practitioners in China are still under a lot of pressure. It's so wrong! I would like to do my best to stop it. I learned about Falun Gong at Stone Mountain. I came back again to tell people about the persecution. It's a perfect circle."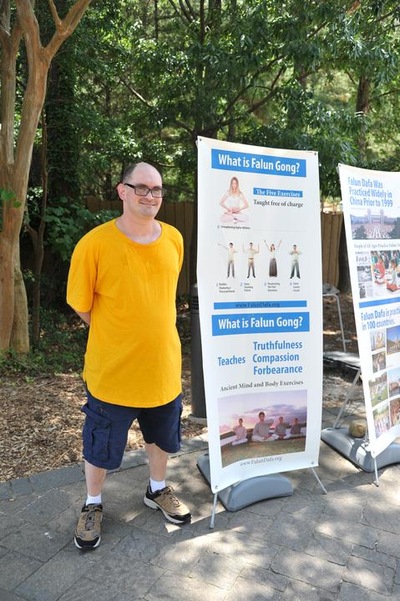 Practitioner Cody Scholberg
Practitioner Dzifa Amoa started to join the activities at Stone Mountain two years ago. "I can meet people from different places and take the opportunity to introduce Falun Gong to them," she said, "I have a feeling that cultivating myself is why I came to this world. Master Li (the founder) has reached out to save us. We should reach out to save others too."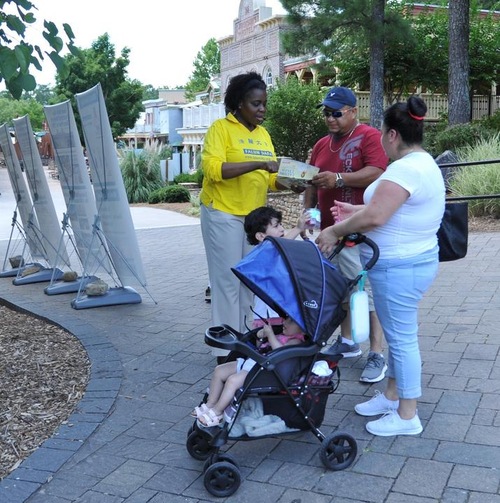 Dzifa Amoa tells tourists about the persecution.