Minnesota Falun Gong Practitioners Participate in Independence Day Parade
July 11, 2019 | By a Minghui correspondent in Minnesota, USA
(Minghui.org) Falun Gong, also called Falun Dafa, practitioners in Minnesota participated in the Independence Day Parade in Edina, a city 10 miles from Minneapolis, on July 4, 2019. The Falun Gong procession was very popular.
The Falun Gong float had a large lotus flower in the center, with each flower petal was about two meters long. Some of the practitioners on the float were dressed in traditional Chinese costumes, while the rest wore Falun Dafa T-shirts. They waved and smiled at the spectators. A woman watching the parade from the comfort of her air-conditioned car rolled down her window and called out to those on the float, "You are the best in the parade today!"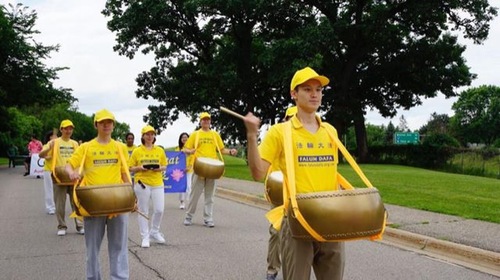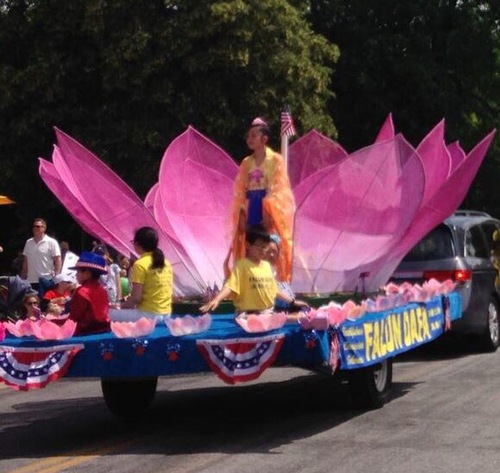 Falun Gong practitioners in the Independence Day Parade in Edina, Minnesota, on July 4, 2019.
With a population of 50,000, Edina is home to people with some of the highest levels of education and income in Minnesota. Businesses and organizations take pride in being part of the annual Edina Independence Day Parade. More than 100 groups participated in this year's parade, which attracted 20,000 people to the city's streets.
Spectators cheered the lotus float, and many took pictures of it even before the parade started. Some people sought out practitioners to find out more about Falun Gong.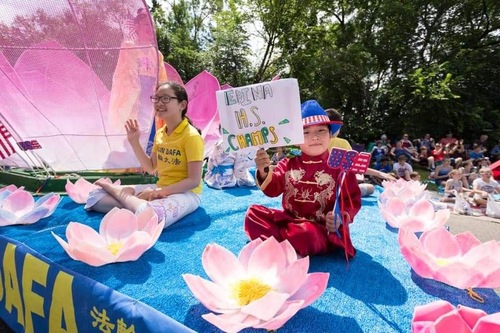 Falun Gong practitioners on the lotus flower float
A large banner led the Falun Gong procession. A young female practitioner dressed in Tang Dynasty costume stood on the float, smiling and waving. Young practitioners demonstrated the Falun Gong meditation and the younger children practitioners waved from the float. Adult practitioners played the drums to the beat of Falun Dafa Is Good. Following the drummers were banners that read "Falun Dafa" and "Truthfulness Compassion Forbearance." Cheers and applause rose as the Falun Gong procession passed the spectators lined up along the street. Many people gave practitioners thumbs-up and cried, "Gorgeous!"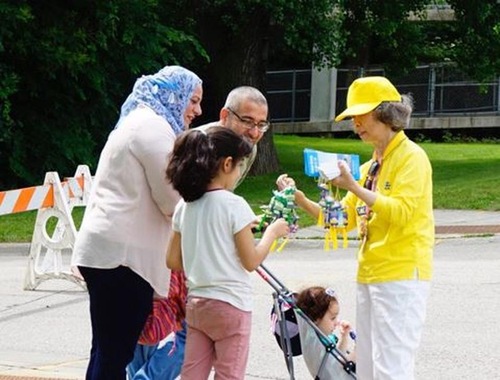 A practitioner introduces Falun Gong to the parade spectators.
Several practitioners distributed introductory flyers, bookmarks, and colorful paper lotus flowers along the route. People extended their hands to get information and started reading the flyers right away.
Chinese spectators were excited to see the Falun Gong procession. Some cried out, "Look! Falun Dafa!" Some took pictures with their cell phones.
Despite the heat, all the Falun Gong practitioners, from the very young to the seniors, walked the mile-long parade with genuine enthusiasm. They all look forward to bringing the message of Truthfulness-Compassion-Forbearance to the people of Minnesota again next year.