New Zealand: Practitioners Introduce Falun Gong at Events in South Auckland
June 27, 2019 | By a Minghui correspondent in New Zealand
(Minghui.org) Falun Gong practitioners from Auckland did the exercises and introduced the ancient spiritual practice at a market in south Auckland on June 22, 2019.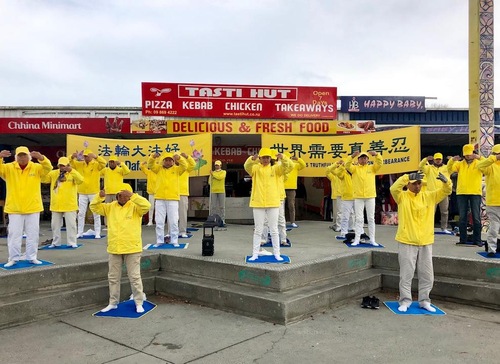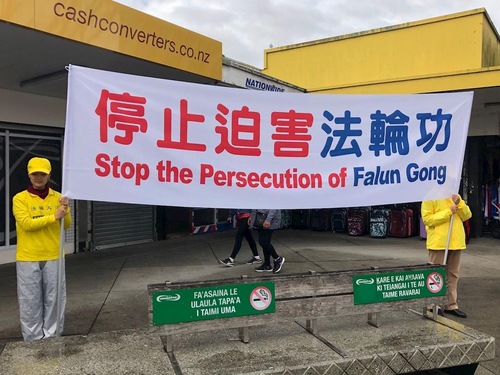 Practitioners from south Auckland held activities to introduce Falun Gong.
A continuous stream of people visited the morning market and stopped to watch as practitioners did the Falun Gong exercises. Many took photos and talked to practitioners. They were surprised to learn that such a peaceful practice is persecuted by the Chinese Communist Party (CCP). Several said they appreciated practitioners' work of spreading the information and calling for an end to the persecution.
People Support Practitioners' Efforts
Diana said that the practice looked beneficial and its principles of Truthfulness-Compassion-Forbearance should be practiced by more people in the world. She said, "I have been following the news. I know that Falun Gong practitioners have been imprisoned and their organs are being harvested."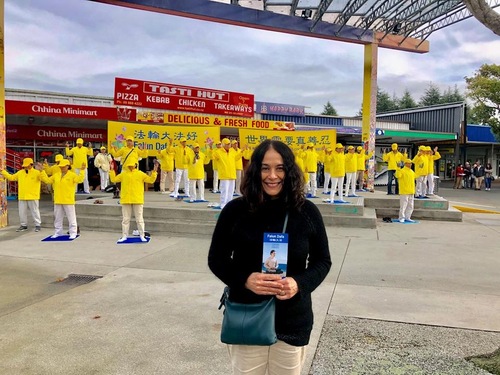 Diana feels it's a terrible crime to persecute people who are seeking spirituality.
As a natural therapist, Diana pays special attention to spiritual health and self-cultivation. She knows that people should search within to better themselves and need to view things from different perspectives. She feels that Falun Gong can help people do this.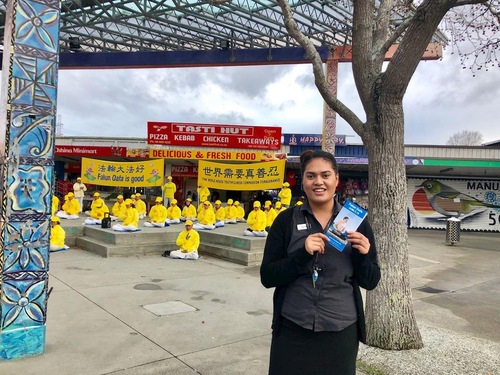 Hynda condemned the communist regime for killing innocent Falun Gong practitioners for their organs.
Hynda said that she noticed every Falun Gong practitioner looked very calm and peaceful. She was saddened to learn about the ruthless persecution in China. She believed everyone should enjoy freedom of belief, especially people who do such a peaceful practice. She hopes that people worldwide will learn what's happening in China. She also hopes the government of New Zealand will ban organ tourism to China.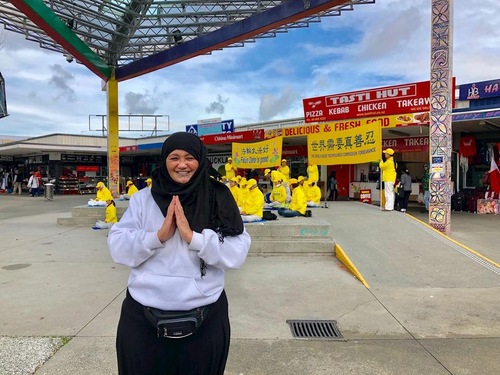 Ms. Gina Edmonds is the daughter of a Maori Chief. She has practiced Falun Gong for 11 years.
Ms. Gina Edmonds is the daughter of a Maori Chief and has practiced Falun Gong for 11 years. She has been coordinating the exercises in her tribe every day. When she arrived at the market she excitedly said, "I can feel the energy! It's very strong! It seems people have forgotten that kind of tranquility. People are busy every day and can no longer become tranquil."