Germany: Falun Gong Practitioners Protest the Chinese Communist Regime's Persecution During Chinese Vice President's Visit
June 02, 2019 | By a Minghui correspondent
(Minghui.org) Falun Gong practitioners held a peaceful protest near the German Presidential Palace on May 31, 2019 during the visit of Chinese Vice President Wang Qishan. They called for an end to the Chinese Communist Party's (CCP) persecution of Falun Gong.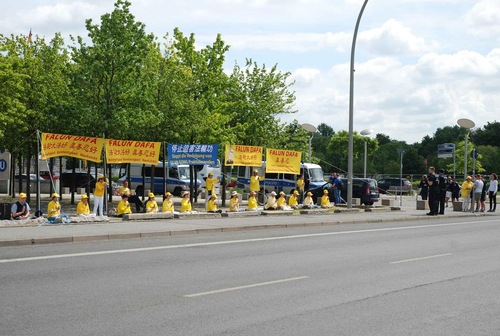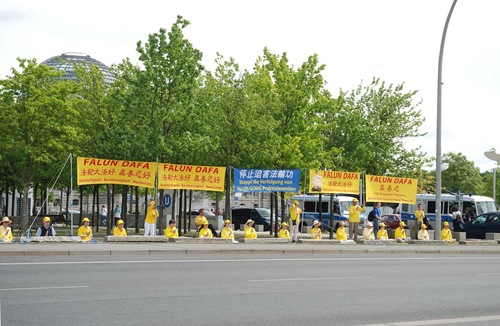 Falun Gong practitioners peacefully protest the CCP's persecution near the German Presidential Palace.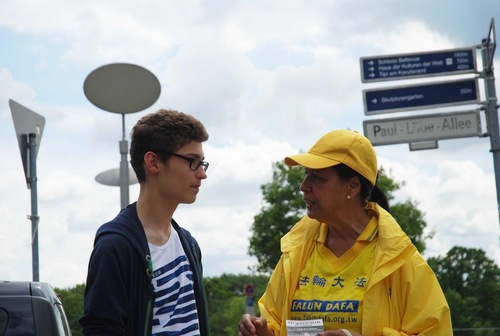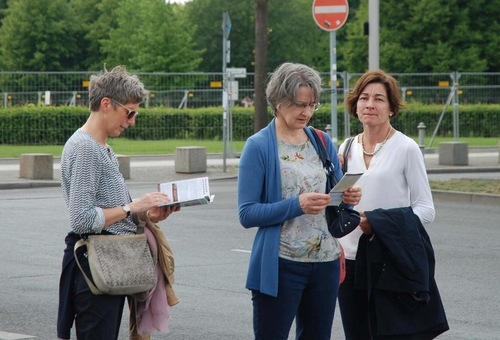 Passersby learn about Falun Gong.
Practitioners held up several large banners across the street from the Presidential Palace, demonstrated the Falun Gong exercises and exposed the CCP's persecution. Curious to learn more, many passersby stopped to ask about the protest, what Falun Gong is and why it is persecuted.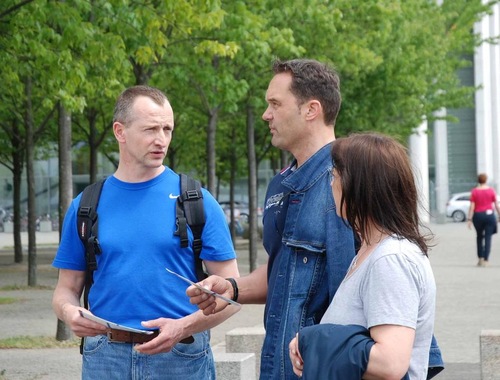 A practitioner (left) explains the facts about the persecution to Sasha (middle) and his friend Michaela (right).
Sasha is from Cologne and will soon work in China. He and his friend Michaela heard about Falun Gong and the CCP's persecution for the first time.
Sasha said, "The Falun Gong practitioners are doing a good job and should let everyone know about the persecution."
Sasha shared his thoughts about whether the human rights situation in China should be paid attention to during the high-level dialog between the German and Chinese governments for economic development, and said, "The economy of course needs development, but that is not without a bottom line. Comparing the human rights issue with the economy, I think that human rights are more important. Otherwise, people will face bad consequences."
Sasha pointed to the flyer in his hand and said, "I must learn about the CCP's persecution of Falun Gong."
Two tourists from Koblenz read the information about Falun Gong and the persecution.
Two tourists from Koblenz were visiting Berlin. They passed by the protest and took a leaflet which introduced Falun Gong and exposed the persecution.
One of the men said, "This cruel persecution has been going on for 20 years, but this is the first time I've heard of it. The media should report on this so that everyone would know the real situation in China."
He said that when he returned home he would browse the Falun Gong website and learn more.
The peaceful protest ended at 3 p.m.