Introducing Falun Dafa During the Eurovision Contest in Israel
June 13, 2019 | By practitioners in Israel
(Minghui.org) The Eurovision singing contest was held May 14-18 in Tel Aviv, Israel this year. As in previous years, thousands from around the world came to celebrate the event, which is held in a different European city each time.
Israeli Falun Dafa practitioners held public activities in Tel Aviv to give both tourists and locals the opportunity to learn about the meditation practice and how it is persecuted by the communist regime in China.
On the evening of Wednesday, May 15, practitioners from all over the country gathered on the Tel Aviv beach promenade at sunset to demonstrate the Falun Dafa exercises.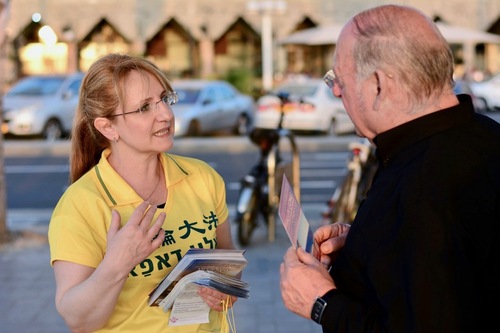 A ractitioner distribute postcards with information about Falun Dafa.
An Israeli practitioner taught the exercises to intrigued spectators. Together they formed a circle, which also included about 8 experienced practitioners. Others distributed postcards, explaining what Falun Dafa is and the tragic persecution still taking place in China today.
Israeli practitioners demonstrate the Falun Dafa exercises and help beginners learn the movements.
Some people were strolling along the promenade and stopped specifically to experience Falun Dafa, while others were drawn by the music and positive energy. They simply placed their belongings aside and joined the circle of practitioners.
Others stood by for a long while, just watching the exercise movements. In particular, a two-year-old boy was captivated by one of the Chinese practitioners and tried to imitate her movements. He did not want to leave the place.
Teaching the Exercises in a Park
During the Eurovision finals held on the morning of Saturday, May 18, dozens of Falun Dafa practitioners from all over Israel gathered for a special event at Yarkon Park, the city's main park.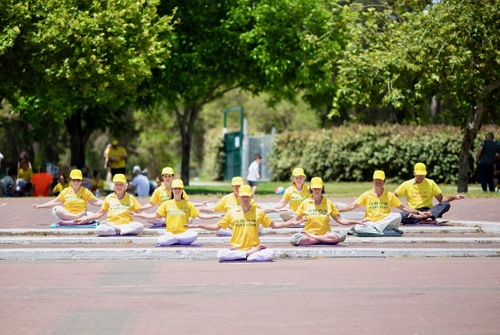 Practitioners demonstrate the Falun Dafa meditation practice.
Many people strolled through the park on foot or on bicycles, alone or with families. It was a fine day, and the atmosphere was peaceful and calm.
Some stopped to watch the practitioners demonstrating the gentle exercises of Falun Dafa, and some joined the circle to learn the exercises and hear more about the practice.
Practitioners handed out flyers and told passersby about Falun Dafa and the persecution that has persisted for nearly 20 years.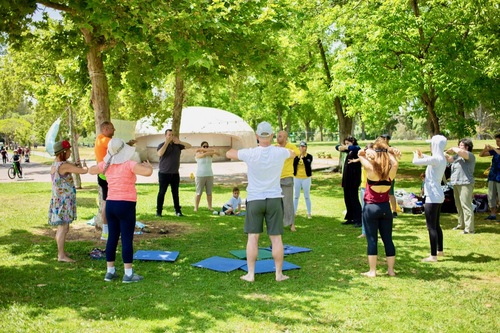 Passersby join the group exercises
Nearby, practitioners held a workshop and taught people how to fold origami lotus flowers. The lotus flower symbolizes beauty and purity in Chinese culture because it grows out of filthy swamps and flourishes without being tainted.