After Ten Years Behind Bars, Former Armed Police Officer Jailed Again for His Faith
June 13, 2019 | By a Falun Gong practitioner in Henan Province, China
(Minghui.org) A former armed police officer in Kaifeng City, Henan Province was secretly sentenced to prison for practicing Falun Gong, shortly after he was released from a previous three-year term, also for his faith.
Falun Gong, also known as Falun Dafa, is a mind-body discipline that has been persecuted by the Chinese communist regime since 1999.
Falun Gong practitioners who were released from Xinmi Prison in late 2018 related that Mr. Pang Liang, 44, is being severely tortured in prison for not renouncing his faith.
According to people who are familiar with his case, Mr. Pang found a job as a security officer after he finished serving his second prison term in 2016. He was soon arrested again after being reported to the police by a colleague for talking to him about Falun Gong. The authorities secretly sentenced him to a third prison term, the length of which remains to be investigated.
Prior to his latest prison term, Mr. Pang served four years in a labor camp and was sentenced to two three-year prison terms between 2009 and 2016. He was tortured in prison and one of his arms became disabled.
Below are details of the previous terms and the tortures that Mr. Pang suffered.
Four Years at Xuchang Forced Labor Camp
Mr. Pang was first given a three-year term at Xuchang Forced Labor Camp in 2002. The authorities later extended his term for another year because he refused to give up Falun Gong.
Shortly after he arrived at the labor camp, the guards shocked Mr. Pang with electric batons and beat him severely. His right arm became disabled as a result of the beating.
In June 2003, upon finding he had given a copy of the Falun Gong teachings to another practitioner, the guards tied Mr. Pang to a chair, placed an ear-bud in his ear and put a helmet on his head and played propaganda attacking Falun Gong through the ear-bud non-stop for a week. He was deprived of sleep and restroom use. His legs were swollen for two months afterward and the injuries to his right arm worsened.
Because his wife reported the torture to his armed police detachment and his supervisor visited him at the labor camp, the guards retaliated by torturing him with the "tied up" torture.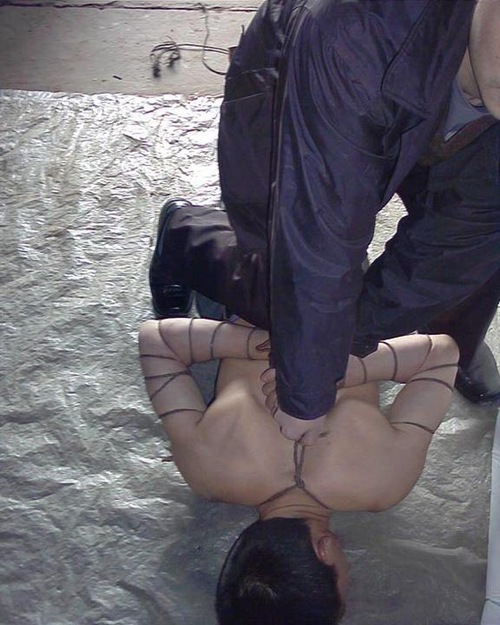 Torture re-enactment: tied up
In this torture, the perpetrators first wrap a rope around the victim's arms numerous times, then bring the arms behind the back, and finally bring the rope over the shoulders. The more the rope is tightened, the higher the arms are pulled up behind the body.
The torture causes excruciating pain and it only takes a few minutes to disable a person in this manner. Practitioners who have experienced this torture relate that when the rope is removed, the bones in one's arms feel like they are breaking, and afterward, the arms are numb for a long period of time.
The guards also forced Mr. Pang to do military training at noon under the baking sun and then ordered him to write "thought reports" afterward.
In summer 2006, because he didn't write the thought report as required, the guards ordered an inmate to pour boiling water on his legs.
Mr. Pang was fired by his detachment and had to move from place to place to escape arrest after he was released from the labor camp in 2006.
First Prison Term
After following and monitoring Mr. Pang for a long time, the police arrested him on September 11, 2009. His two young daughters, 6 and 2, were also brought to the police station and kept there for several hours.
Mr. Pang was sentenced to three years in prison by the Longting District Court and transferred to Xinmi Prison in Zhengzhou City on May 5, 2010.
The prison doctor forced him to take unknown drugs. Less than a year after he was taken there, Mr. Pang developed muscle atrophy in his legs and was unable to walk.
Second Prison Term
About 14 months after he was released, Mr. Pang was arrested again on November 18, 2013 and was sentenced to another three years in Xinmi Prison.
He developed a number of physical problems there, including unstable blood pressure, rheumatic heart disease and lumbar disc herniation. He was emaciated and had to be carried out by three inmates when his mother and sister-in-law visited him in the prison.
Related reports:
Court Hides Verdict in Secret Trial of a Veteran Officer
Zhengzhou Prison Continues Attempt to Make Falun Gong Practitioners Renounce Their Faith
The Four Stages of Persecution Implemented by the Number Three Forced Labor Camp, Henan Province
The Persecution of Dafa Practitioners in the Third Forced Labor Camp of Henan Province
Related report in Chinese: