Dallas, Texas: Introducing Falun Dafa at the Holistic Festival of Life and Wellness
June 12, 2019 | By a Falun Dafa Practitioner in Dallas
(Minghui.org) Falun Dafa practitioners in the Dallas area introduced Dafa at the Holistic Festival of Life and Wellness at the Plano Convention Center on June 1, 2019. Practitioners demonstrated the five sets of Falun Dafa exercises, introduced the benefits of this traditional self-cultivation system to visitors, and exposed the Chinese Communist Party's (CCP) persecution of practitioners in China. Most importantly, practitioners publicized the state-sanctioned organ harvesting from living Falun Dafa practitioners.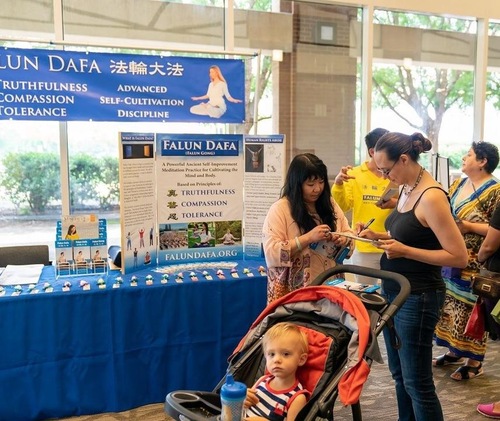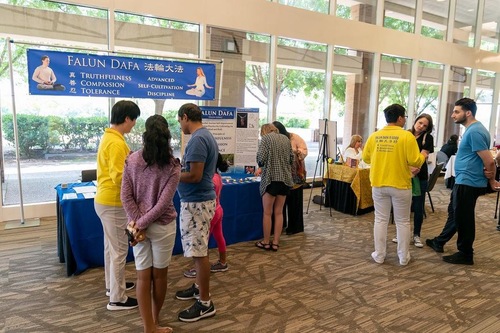 Falun Dafa practitioners introduce the practice
Attendees at the Festival Shocked when Hearing About the Persecution
Brenda Merac said that the CCP was notorious for violating human rights. She wasn't surprised that the Party is violating freedom of belief. However, she was appalled to hear of the CCP's genocide against Falun Dafa practitioners. She signed a petition calling for an end to the persecution and hoped the persecution would soon end.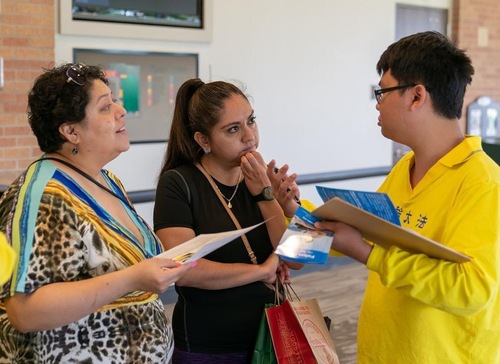 Brenda (left) learning about Falun Dafa
Mr. Krishna Rudraiah said that he had seen Falun Dafa activities in both India and the U.S., but he didn't know what Falun Dafa was. Upon hearing of the CCP's persecution of Falun Dafa in China, he said, "It's completely wrong. I don't think it should be allowed to continue, and that's why I would like to sign. This must end!"
Ms. Arlene Jones was an employee at the festival. She was fascinated by the Falun Dafa exercises and felt inspired to learn the exercise movements. Arlene told a practitioner that she liked Buddhism and thought inner cultivation was most important. She has been meditating every morning. The Falun Dafa exercises resonated with her and she said she would like to learn them.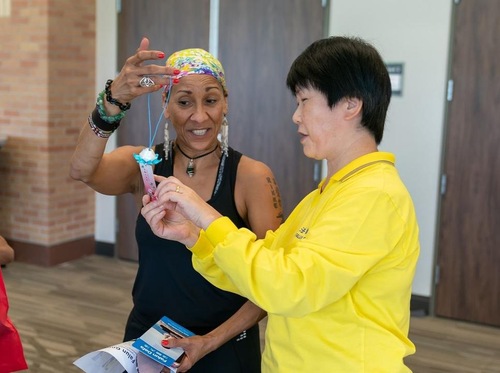 Arlene asks about learning the Falun Dafa exercises
Mr. Frank Prokop told a practitioner that he was a loyal reader of the English Epoch Times. He accidentally received a copy of the Epoch Times one Thanksgiving and liked it. He subscribed to the newspaper and learned about the CCP's crime of organ harvesting from the paper. He praised practitioners' parade in New York last month. After finding out more information from the practitioner, Mr. Prokop signed the petition, and planned to learn the Falun Dafa exercises.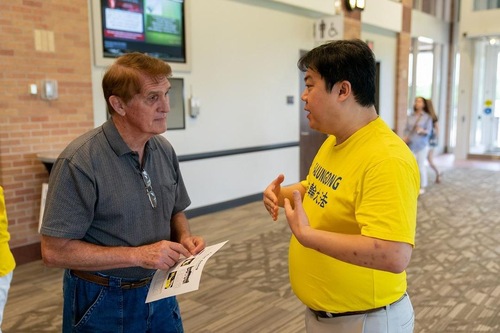 Mr. Frank Prokop learning about Falun Dafa
Another passerby, Mr. Garcia heard about Falun Dafa for the first time. He said that the persecution in China was terrible, and it is no secret that persecutions were often brutal in Communist countries. He would like to do whatever he could to help stop it.