Canada and Austria: Introducing Falun Gong at Local Community Events
May 27, 2019 | By a Minghui correspondent
(Minghui.org) May 13 is World Falun Dafa Day. To mark the 27th Anniversary of the introduction of this ancient spiritual practice to the public, practitioners around the world participate in community events, demonstrating the exercises and putting on performances of traditional Chinese culture and telling people about Falun Dafa (also known as Falun Gong).
Canada: Introducing Falun Gong in Brain Health and Body Health Show
Falun Gong practitioners participated in the Brain Health and Body Health Show in EY Center, Ottawa, Canada on May 4 and 5, 2019.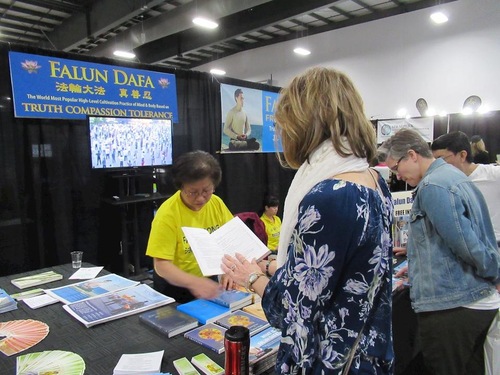 Visitors read Falun Gong books.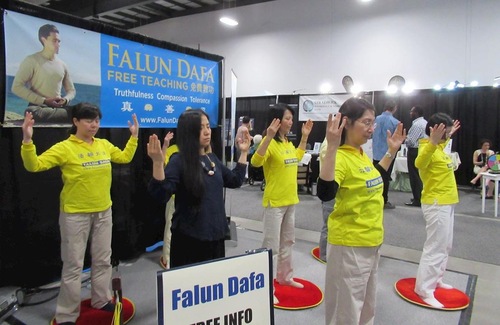 Practitioners demonstrate the Falun Gong exercises.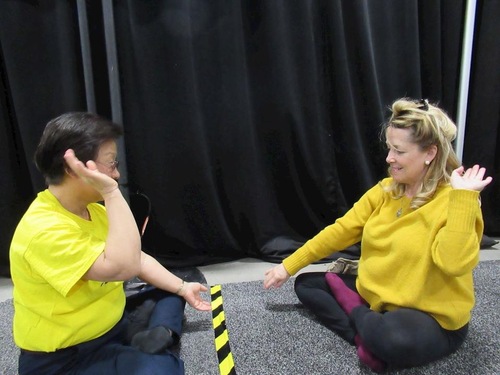 A practitioner demonstrates the fifth exercise.
Falun Gong practitioner and painter Kathy Gillis introduced the ancient spiritual practice during the health show. She also answered questions.
After Bernie Bedard and his wife Diane Macnaught listened to the introduction, Bernie said that he had seen practitioners practicing outdoors and now had a better understanding.
Diane said, "Truthfulness-Compassion-Forbearance focuses on the beauty of life. If people were kinder, they would be happier and more confident."
Ms. Sarah Roberts, co-founder of the show, said, "Our Brain Health and Body Health Show invited Falun Gong practitioners the first year. Whenever I pass by their practice site, I feel wonderful energy."
She said she hoped that the Brain Health and Body Health Show would be a platform where people came together to understand how their mental, emotional, and physical health are closely related and can influence each other.
Canada: Falun Gong Welcomed at Gatineau Cultural Festival
Experience Asia, an annual cultural and arts festival, was held in Gatineau on May 4, 2019. Fourteen Asian organizations showcased their cultures.
Falun Gong practitioners from Toronto, Montreal, and Ottawa were invited to participate. Practitioners from Toronto performed the lion dance.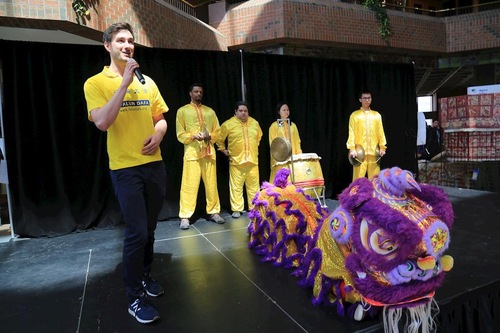 A practitioner introduces Falun Gong.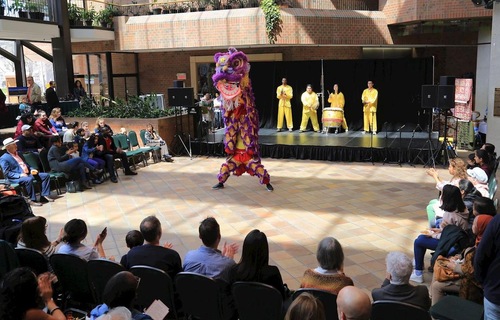 Practitioners traveled from Toronto to give a lion dance performance.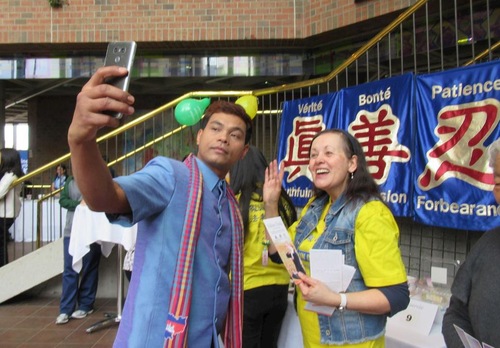 A visitor stops to take a photo in front of the Falun Gong booth.
Many eventgoers stopped at the practitioners' booth. Ms. Therese said she was very interested in learning about Falun Gong.
She said, "Falun Gong is very beautiful. It definitely gives you peace of mind." She said that people in modern society were always busy and can't become peaceful.
She feels that the world would be better if everyone followed Falun Gong's guiding principles of Truthfulness-Compassion-Forbearance, that the practice would help people to become healthy and calm.
Ms. Kai Whitcomb, the event coordinator, said that she appreciated Falun Gong's principles of Truthfulness, Compassion, and Forbearance. "If everyone believed in these values and put them into action, the world would be at peace. There wouldn't be so many problems."
She also praised the practitioners' performances and said, "The lion dance by the practitioners who came from Toronto especially for this event was really wonderful."
Austria: Practitioners Participate in Spring Fair in Graz
Falun Gong practitioners participated in the six-day-long Spring Fair held in Graz, Austria, which began on April 26, 2019. They introduced Falun Gong to visitors, held workshops, and demonstrated the exercises.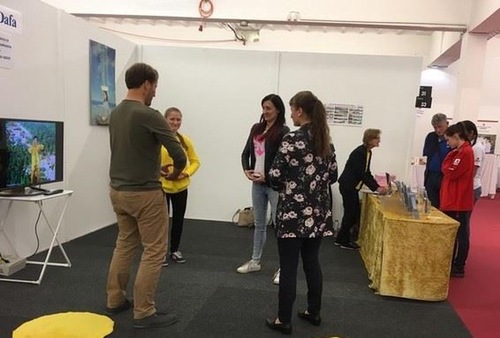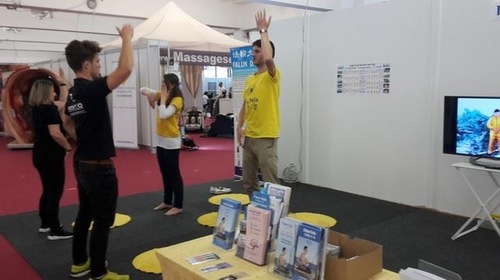 Demonstrating the Falun Gong exercises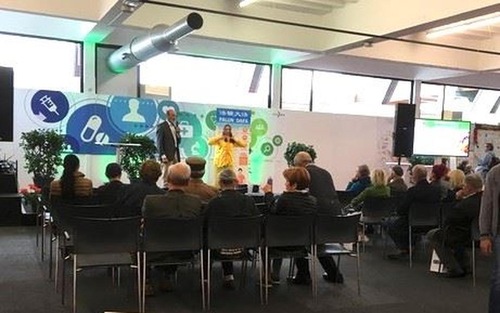 Workshop on Falun Dafa
Many people signed a petition that calls on the CCP to end its state-sanctioned harvesting of organs from living Falun Gong practitioners.
One woman watched the exercise demonstration for a long time. She said that she was immersed in it. Someone from the neighboring booth said that she could feel the positive energy coming from the Falun Gong booth.
Sixty-eight-year-old Christina and her friend were very excited to learn the Falun Gong exercises. She said that she felt a positive energy. She came every day during the fair to practice the exercises.
Christina, her friend, and Falun Gong practitioners
About Falun Gong
Falun Gong was first introduced to the public in 1992. Nearly 100 million people across China soon began practicing it after experiencing improvements in their health and character.
Jiang Zemin, former head of the Chinese Communist Party (CCP), perceived the spiritual discipline's growing popularity as a threat to the CCP's atheistic ideology and issued an order to ban Falun Gong on July 20, 1999.
Minghui.org has confirmed the deaths of thousands of Falun Gong practitioners due to the persecution over the past 19 years; the actual number is suspected to be much higher. More have been imprisoned and tortured for their faith. Evidence shows that the CCP harvests organs from detained practitioners, who are killed in the process, to supply the organ transplantation industry.
To have more people benefit from practicing Falun Gong and raise awareness of the CCP's persecution, practitioners introduce the practice to the public in local community events.
Relevant articles in Chinese: Canada and Austria