Practitioners Inspired to Improve in Cultivation Through Listening to Cultivation Experiences Shared at New York Conference
May 23, 2019 | By Minghui correspondent Hua Qing
(Minghui.org) The 2019 New York experience sharing conference was held at Barclays Center in Brooklyn on Friday, May 17, 2019. Around 10,000 practitioners from around the world attended the event and were touched by the cultivation experience articles that were presented. Practitioners were grateful for the opportunity to listen to other people share their experiences and understandings, and were inspired to become more diligent in cultivation.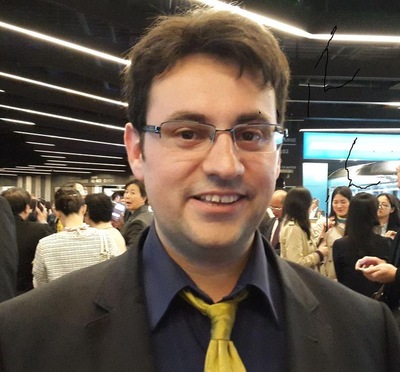 Alex Luchansky, a software engineer, shares the insights he gained through the conference.
Alex Luchansky was introduced to Falun Dafa in 2005 by his parents. He gained a lot from this year's conference in New York and said that he was encouraged by practitioners' stories that expressed their diligence and selfless work in different truth clarification projects. He sees room for improvement in these areas. He also shared that through listening to other practitioners' cultivation experiences, he realized that people who do not practice have different understandings about Falun Dafa. He should pay attention to people's different mentalities and put more effort into explaining things to people clearly.
Mr. Luchansky goes to the Liberty Bell tourist attraction in Philadelphia every weekend to raise awareness about the persecution. He tells Chinese tourists that the bell is a symbol of freedom and that people in America can practice Falun Dafa freely.
He said he once was clarifying the truth to a Chinese tourist, when the tourist asked him why Falun Dafa practitioners don't seek medical treatment. He told the tourist: "Falun Dafa teaches one to be a better person. However, if someone misunderstands or does not follow the teachings, is it fair to conclude that the practice is wrong? Dafa is not used to treat illnesses, but through following the principles, one becomes a person with high moral standards, one's mind is purified and consequently one's physical health improves." The tourist accepted his explanation and decided to learn Falun Dafa.
Mr. Luchansky said that another thing he learned during the New York conference was that while telling people about Falun Dafa, if you are unable to answer a question clearly you should find the answer and think about what is the crux of the issue. He is grateful to Master for giving him the opportunity to cultivate and said he has gained a lot through following the principles of Truthfulness-Compassion-Forbearance in his daily life and at work.
Esther Hack, a practitioner from Canada was especially touched by the sharing written by a Shen Yun performer.
Esther Hack is a practitioner from Canada. Attending this year's conference in New York made her realize that she needs to work harder in cultivation and do the three things well. She was especially moved by the experience paper shared by a Shen Yun performer who was injured during his dance practice and faced the possibility of leaving Shen Yun. With the support of his parents and fellow practitioners, and through Fa study and reflecting on what was lacking in his cultivation, he learned to appreciate and treasure what he has.
Esther shared that she recently went through a similar sickness tribulation. Frequent Fa study and sending righteous thoughts helped her to overcome the test quickly. She is able to read more than a lecture a day and do the exercises, but she realizes she needs to do the sitting mediation and send righteous thoughts more often. She hopes to do better in the future.
Overcoming tribulations through cultivation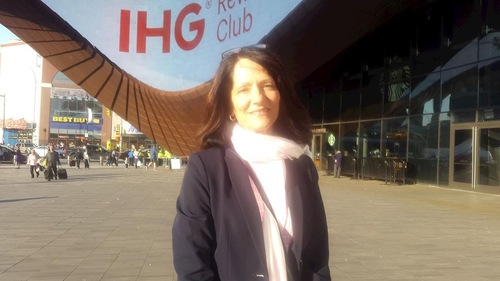 Cheryl Zocco shared that the experience-sharing conference reminded her of the importance of cultivating oneself.
Cheryl Zocco's son introduced her to the practice and gave her the book Zhuan Falun in 2009. She read it again and again. She said she gained a lot from listening to practitioners share their experiences at the conference about making progress in cultivation and doing better in truth clarification projects. She hopes to do the three things better in the future. When Master talked about the law of Formation, Stasis, Degeneration, and Destruction and the relationship with the old forces, she became more aware of the importance of cultivating well.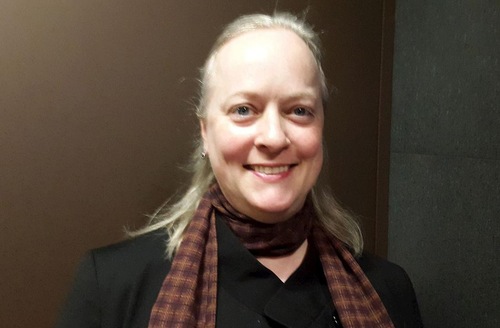 Genevieve Dame from Canada said: "One will be able to overcome tribulations through practicing cultivation."
Genevieve Dame a practitioner from Canada was moved by the cultivation experience paper shared by the first speaker, as she has also encountered a similar situation. Ms. Dame worked in a media project for several years and then quit. A practitioner had asked her to return to the project, but she did not accept the offer immediately. Listening to Master's lecture and the practitioners' sharing papers at the conference made her mind clearer. She has decided to go back to the project. She said the experiences shared by practitioners helped her to realize that she will be able to overcome any obstacles through self cultivation.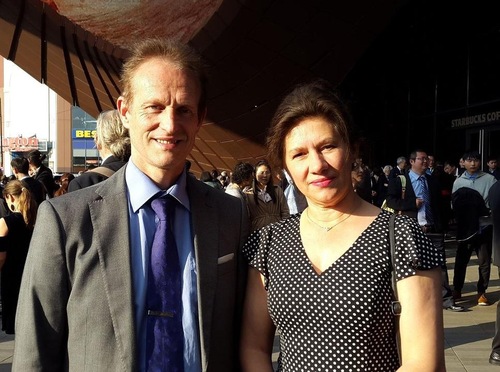 Couple from Belgium Welfiead H and Karen Claes believe doing the three things well and making progress in cultivation will help practitioners overcome obstacles.
Belgium practitioner Welfiead H said: "Today's conference has made me realize I need to improve in cultivation. I have been practicing for 13 years and I feel cultivation is getting harder. I thought this was just my personal feeling, but listening to so many practitioners' cultivation experiences today made me aware of how difficult it is to overcome tribulations. Therefore, we should be clear about how to practice cultivation, so as to conquer obstacles. Two practitioners spoke about making breakthroughs after letting go of themselves and having a compassionate mindset. I need to improve in this area and not let my ego get the better of me. I shall spend more time telling others about Dafa, and read the teachings and send righteous thoughts more often."
Karen Claes said most of her family members are practitioners. She was delighted and grateful for the opportunity to hear Master speak at the conference. She hopes to improve in cultivation and do the three things better. She thinks practitioners who paid attention to sending righteous thoughts were able to eliminate interference from the old forces and therefore do well in cultivation. She realizes she is lacking in this area and was inspired to do better when she gets home.