Ottawa, Canada: Rally Held in Front of Parliament Building in Celebration of World Falun Dafa Day
May 13, 2019 | By Minghui correspondent station in Toronto
(Minghui.org) Falun Dafa practitioners in eastern Canada held a rally and celebration in front of the federal parliament building in Ottawa on May 8, 2019. Thirteen elected officials, including several Members of Parliament (MP), attended the rally.
The spiritual and meditation discipline of Falun Dafa, also known as Falun Gong, was first taught to the public in Changchun, China on May 13, 1992 by its founder, Mr. Li Hongzhi.
Falun Dafa practitioners celebrate World Falun Dafa Day on May 13 to mark both the anniversary of Falun Dafa's public introduction and the birthday of Mr. Li.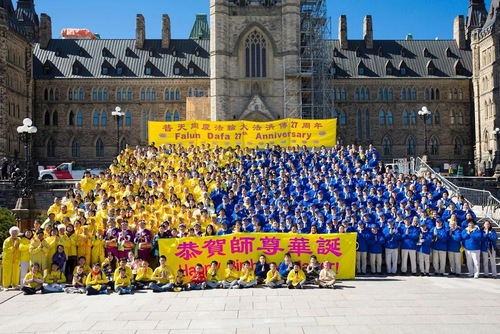 Practitioners celebrate World Falun Dafa Day in Ottawa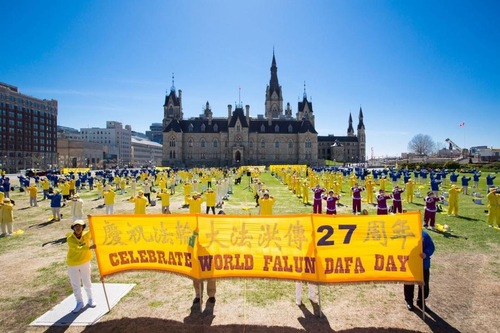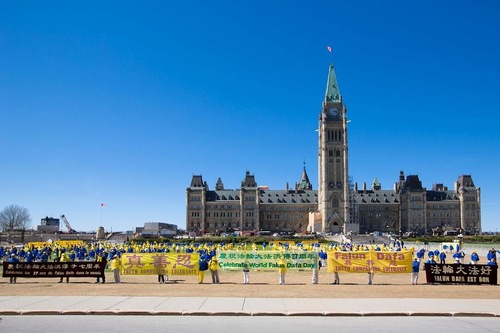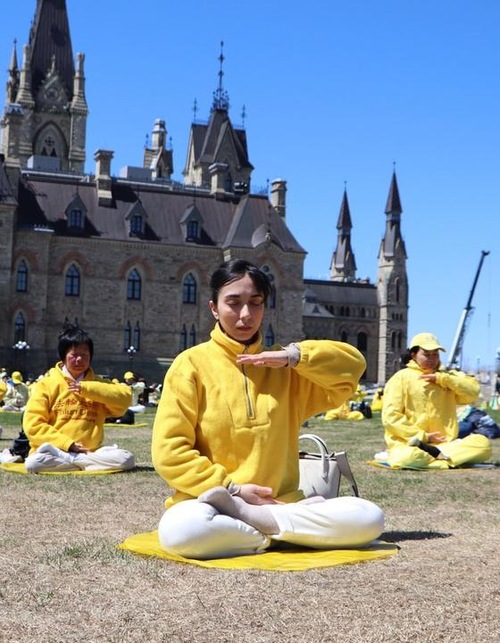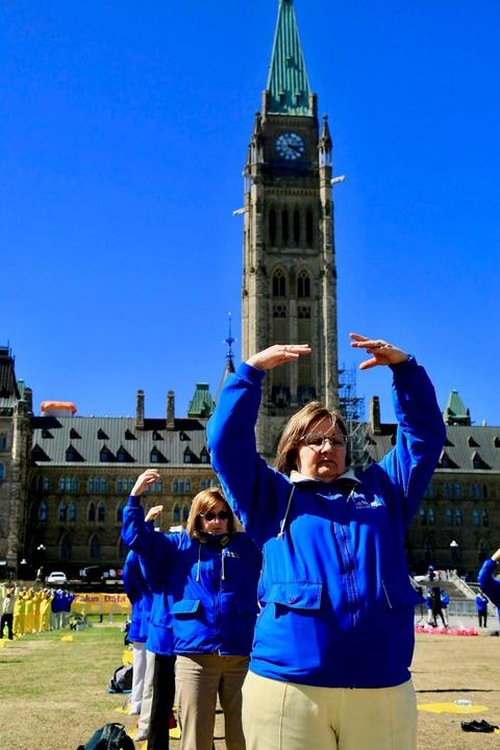 Demonstrating the Falun Gong exercises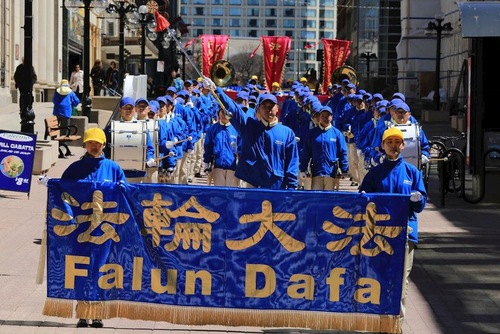 Tian Guo Marching Band in Ottawa parade
MP Touched by Values of Truthfulness-Compassion-Forbearance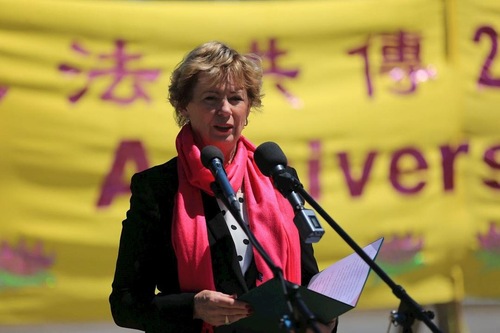 MP Judy Sgro speaks at the rally
The day in Ottawa was sunny with a light breeze. MP Judy Sgro spoke at the rally: "What a wonderful day. I know that we have stood out here in the rain, and in the cold many times. So truly God blessed us all today by giving us this beautiful weather. I welcome you all here of course to Parliament Hill!
"When I look out and always see the words truth, compassion, and tolerance, I thank each and every one of you for what you are bringing to Canada by promoting the very values that make a country strong."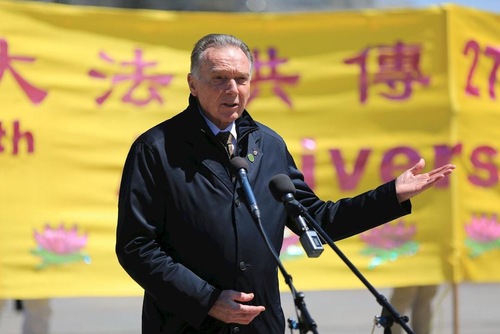 MP Peter Kent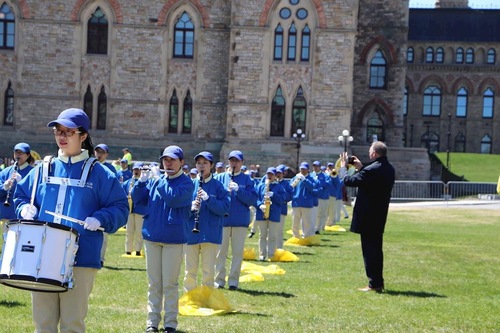 MP Peter Kent records video of the Tian Guo Marching Band.
MP Peter Kent said during the rally, "Thank you for your guiding principles of Zhen, Shan, Ren—Truthfulness, Compassion, and Forbearance."
"I come here today to express my support!"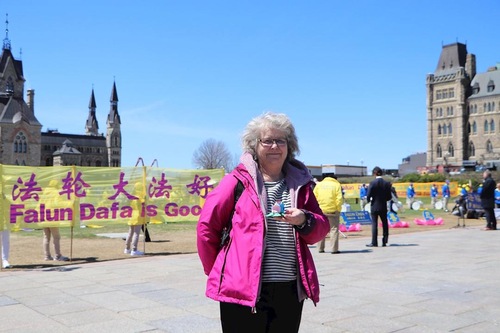 Judith retired from a government job
Judith, who used to work for the government and is now retired, listened to all the MPs' speeches at the rally. "When I was sitting on the bus today, I saw the band marching on the street," she recalled.
She said she decided to come and find out more because she was bothered by the Chinese Communist Party's (CCP) persecution of Falun Gong, including killing practitioners for their organs.
Judith said, "The government department I worked for was about training of Canadian doctors in the United States. Around 2008, I learned about the forced organ harvesting. At that time, I read a newspaper describing the persecution of Falun Gong practitioners in China. I was very sad when I read about the forced organ harvesting."
Judith continued, "I come here today to express my support!" She believed that what the practitioners were doing was the right thing.
"It Is Great to Have Falun Gong Books in French"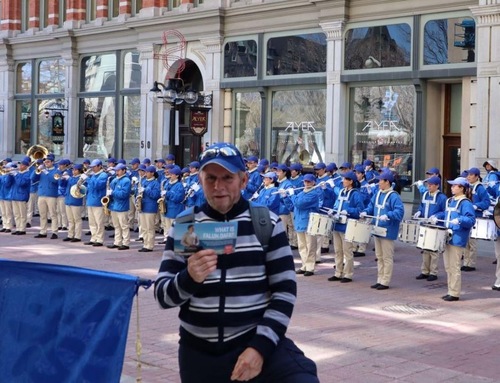 Claude from France
Claude from France paused when he heard the music played by the Tian Guo Marching Band. "The band's performance is fantastic," he said.
When he heard an introduction to Falun Gong and learned that the books were available in French, Claude was very happy. He said, "It's great to have French books. Although I can communicate in English, my mother tongue is French."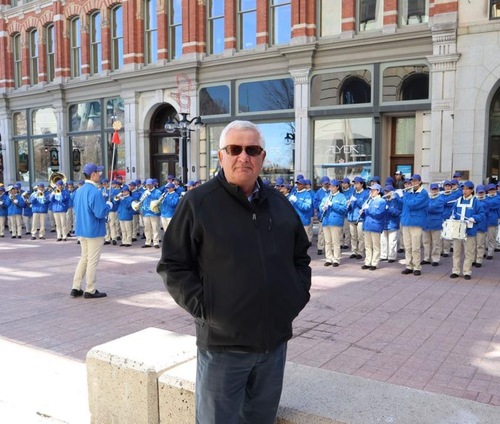 Local resident Mr. Methot
Mr. Methot, a resident of Ottawa, paused to enjoy the band's performance. He learned that the band members were Falun Gong practitioners. He also learned about the persecution in China.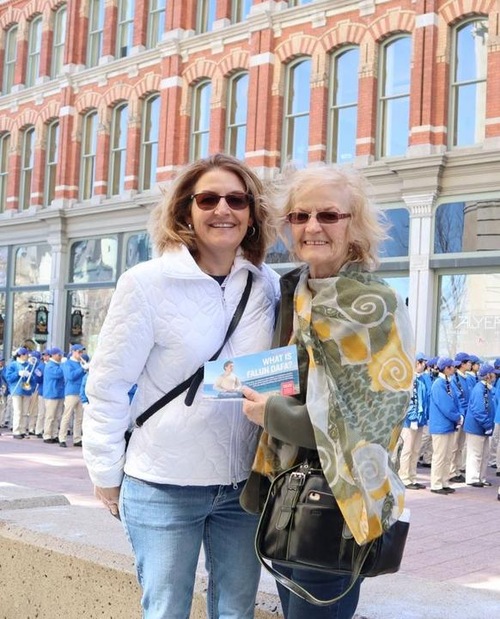 Ruth and Tracy
Ruth and Tracy smiled while listening to the band. They said it was their first time hearing the band and praised its performance.
Chinese Spectators Commend Peaceful Event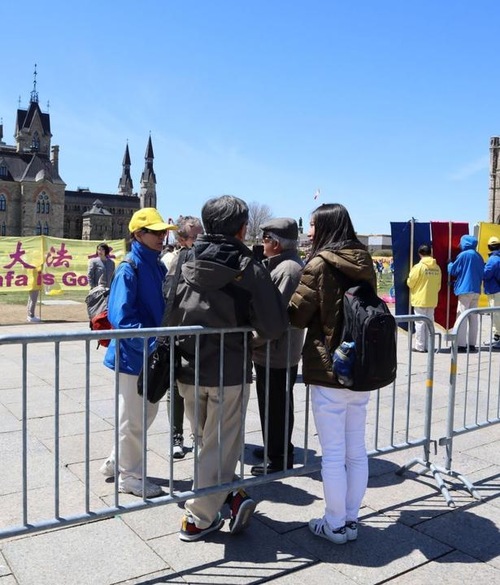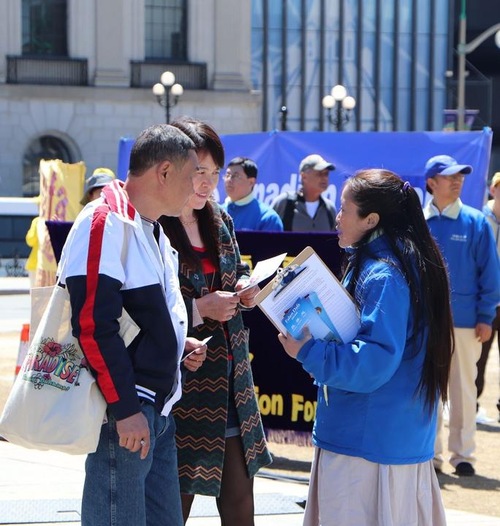 Chinese tourists listen to information about Falun Gong
Mr. Fan from Hualien, Taiwan, and his friends watched the celebration. He said that he graduated from Taiwan University and had been in Canada for more than 50 years. He started his own life insurance company in Toronto before he retired.
Mr. Fan said, "When I returned to Taiwan, I saw various activities of Falun Gong practitioners. They were very good. I felt that Falun Gong's activities are orderly. It gives people the feeling that they are well-educated.
"At the same time, I felt peace. Although they oppose the CCP's persecution of Falun Gong, there [were] no political issues. Because the Chinese people are kind, China and the CCP are different."
Ms. Kong from Chengdu, China, watched the celebration while taking pictures. She said, "I understand Falun Gong and know that it is brutally persecuted in China.
"I often travel to other countries. When I traveled to the United States, I saw several Falun Gong events. I think ... the [Chinese] government simply does not need to persecute Falun Gong practitioners.
"I also heard that practicing Falun Gong improves health. Many senior intellectuals are practicing," Ms. Kong added.
She said she should take the opportunity of being in a free country to learn information she couldn't in China due to the censorship there.