Canada and United States: Governments Issue Proclamations for Falun Dafa Day
May 12, 2019 | By Falun Gong practitioners in the U.S. and Canada
(Minghui.org) Falun Gong, also known as Falun Dafa, was first made public in Changchun, Jilin Province, China on May 13, 1992 by its founder Mr. Li Hongzhi. The practice has spread to over 100 countries since then.
May 13 was declared World Falun Dafa Day" in 2000. On the occasion of the 20th World Falun Dafa Day, many city and state governments have issued proclamations to honor the contributions of this ancient spiritual practice and to recognize the contributions that Dafa practitioners have made to their communities.
Mayor of Ottawa, Canada Issues Proclamation for Falun Dafa Day
Mayor Jim Watson, Mayor of Ottawa, Canada proclaimed May 13, 2019 as Falun Dafa Day in the city. The mayors of Ottawa have issued proclamations since 2001.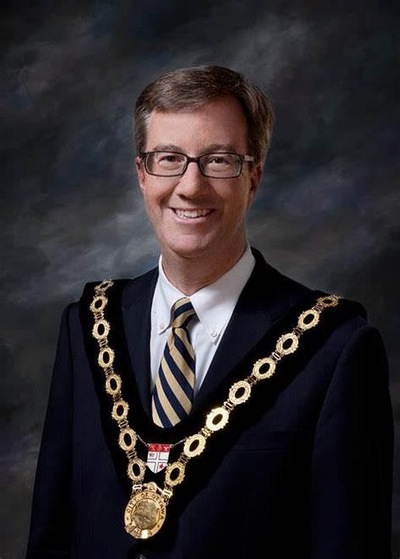 Mayor Jim Watson, of Ottawa Canada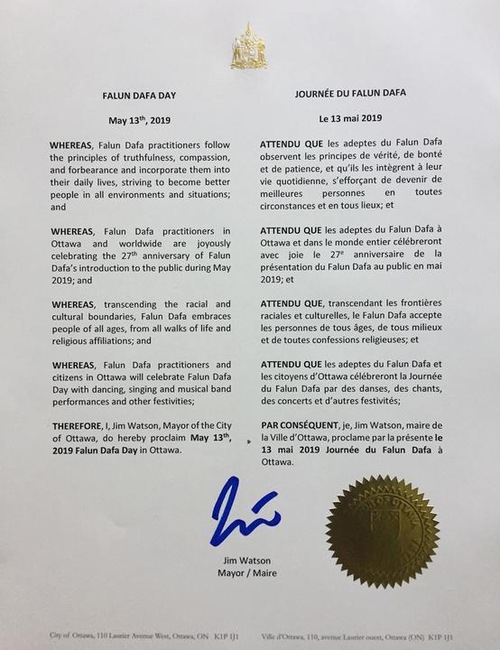 Mayor Jim Watson proclaims May 13, 2019 Falun Dafa Day in the city.
The proclamation states, "Whereas, transcending the racial and cultural boundaries, Falun Dafa embraces people of all ages, from all walks of life and religious affiliations; and
"Whereas, Falun Dafa practitioners and citizens in Ottawa will celebrate Falun Dafa Day with dancing, singing and musical band performances and other festivities.
"Therefore, I, JimWatson, Mayor of the City of Ottawa, do hereby proclaim May 13th, 2019 Falun Dafa Day in Ottawa."
Windsor, Canada: Mayor Drew Dilkens Proclaims May Falun Dafa Month
Mayor Drew Dilkens issued a greeting to celebrate the 27th anniversary of Falun Dafa's public introduction.
Mayor Dilkens stated in the letter, "Master Li Hongzhi, the founder of Falun Dafa, has helped tens of millions of people around the world to improve their health and moral standards, while deepening their understanding of life, humanity and the universe through the practice. Since its introduction to the public in May 1992 in China, Falun Dafa has also benefited many Canadians.
"Over the years, those engaged in this spiritual practice have had to fight for their freedom to believe, and to express their beliefs through this discipline. Today, people of all ages and backgrounds in over 114 countries worldwide practice Falun Dafa. It differs from other similar practices in its absence of fees or formal membership, lack of daily rituals of worship, its greater emphasis on morality, and the theological nature of its teachings."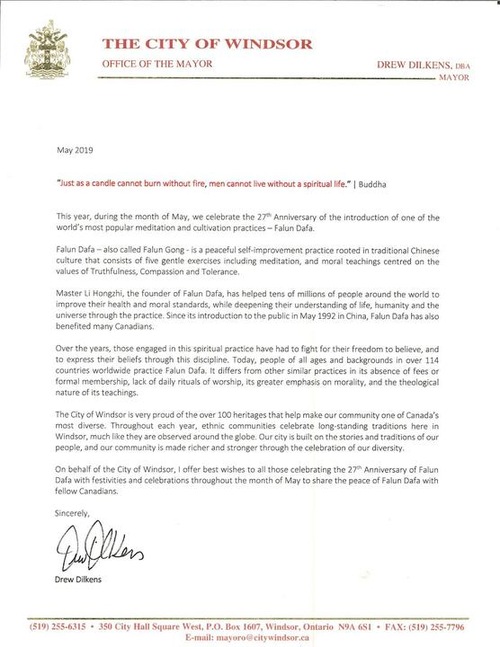 Letter from Mayor Drew Dilkens in recognition of Falun Dafa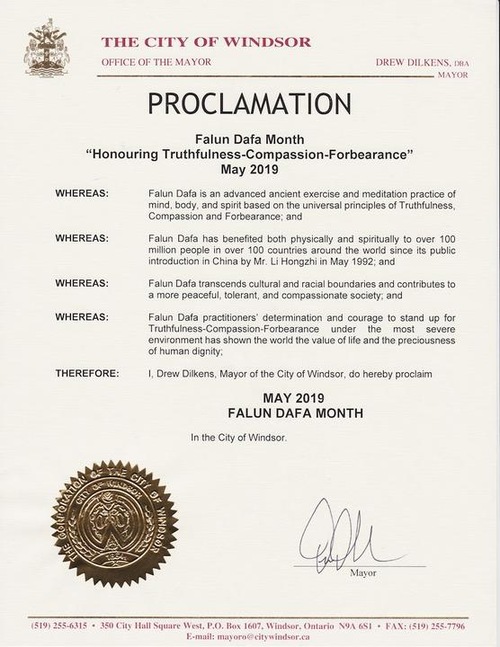 Proclamation of May 2019 as Falun Dafa Month in the City of Windsor
The proclamation states, "Falun Dafa practitioners' determination and courage to stand up for Truthfulness-Compassion-Forbearance under the most severe environment has shown the world the value of life and the preciousness of human dignity."
New Jersey: Senate and General Assembly Issue Joint Legislative Resolution
The joint resolution was initiated by Assemblyman Anthony M. Bucco and co-signed by 67 senators and assemblymen. It was jointly issued by Stephen Sweeney, President of the Senate, and Craig Coughlin, Speaker of the General Assembly.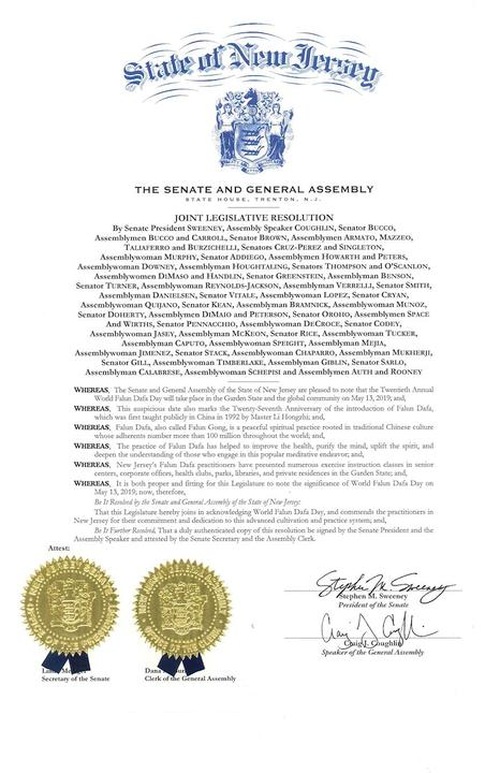 Joint Legislative Resolution from the Senate and General Assembly of New Jersey acknowledging World Falun Dafa Day
The resolution states, "New Jersey's Falun Dafa practitioners have presented numerous exercise instruction classes in senior centers, corporate offices, health clubs, parks, libraries, and private residences in the Garden State."
Three Cities in Missouri Issue Proclamations for Falun Dafa Day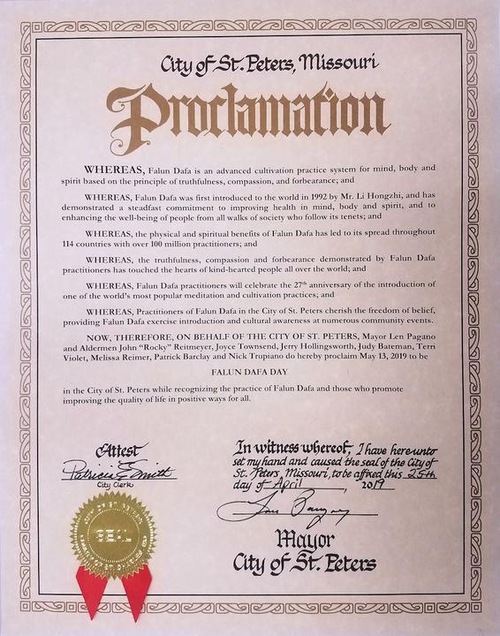 Proclamation from Mayor Len Pagano of St. Peters, Missouri, proclaiming May 13, 2019 Falun Dafa Day in the city
The proclamation states, "Practitioners of Falun Dafa in the City of St. Peters cherish the freedom of belief, providing Falun Dafa exercise introduction and cultural awareness at numerous community events."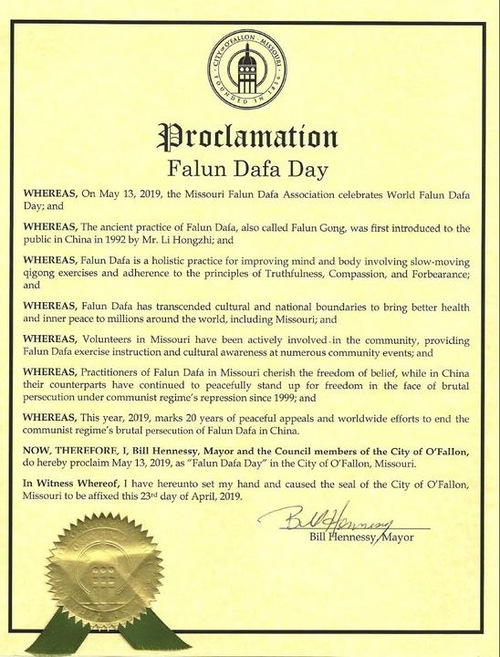 Mayor Bill Hennessy of the City of O'Fallon proclaims May 13, 2019 as Falun Dafa Day in the city.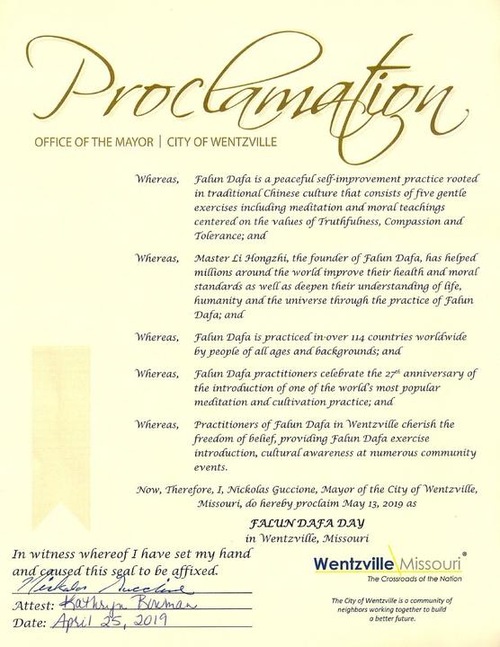 Mayor Nickolas Guccione of the City of Wentzville proclaims May 13, 2019 as Falun Dafa Day in the city.
Relevant articles in Chinese: Windor, Canada; New Jersey, U.S.; and Missouri, U.S.