[Celebrating World Falun Dafa Day] Brazil Printing Factory Receives Good Fortune for Supporting Falun Dafa
May 10, 2019 | By a Falun Dafa practitioner in Brazil
(Minghui.org) I had been thinking of what to write after seeing Minghui's call for submissions to commemorate World Falun Dafa Day 2019, and I suddenly thought of a particular printing factory. This factory has been printing Falun Dafa related materials, including booklets, invitations for the art exhibitions, etc, for 10 years and had experienced major growth after printing materials for us.
This is a story about how a company expanded its business steadily after supporting Falun Dafa.
I first met Mr. Aluyi 10 years ago in 2009 as I had wanted to print some cards containing the words "Falun Dafa is good" and "Assimilate to Truthfulness-Compassion-Forbearance," so I went to the printing industry streets. Following a worker's recommendation, I walked into Mr. Aluyi's tiny reception room, which was less than four square meters [43 square feet].
Mr. Aluyi, a medium built gentle-looking man, was hesitant when I told him about the artwork that I wanted. The reason was, at that time he had only three machines for printing and cutting business cards; he had no plate-making machines. Moreover, the cards that I wanted had a curved border, which made things difficult for him.
As I didn't know anything about printing, I encouraged him to give it a try. He eventually told me to return a week later to check his sample.
When I visited him recently to interview him for this article, he told me what had happened at that time.
"This was the first-of-a-kind project for me at that time. I spent three days to manually create the template that included the Chinese words. It really took me a lot of effort," he said.
From that moment, we built a good relationship. He was very supportive of the universal principles of "Truthfulness-Compassion-Forbearance" and was sympathetic toward believers who are persecuted by the Chinese communist regime.
As we sent Falun Gong materials to his factory for printing, his business entered a stage of rapid development: He went from renting a factory building with only three machines and his son helping him to owning a two-story factory building of nearly 2,000 square meters, employing 13 workers and designers, and having more than 20 advanced automatic plate-making machines and various printers and post-processing machines. His business has become a medium-sized company in the printing industry in our city, and it continues to make large amounts of investments annually.
Mr. Aluyi said, "Following Truthfulness-Compassion-Forbearance to be a good person, treating every client with kindness, and caring for every worker is my philosophy of life that I will not change."
"I started printing business cards in 1993, and for 16 years, my company was a family-style factory model, though I had been working hard," he lamented.
However, after getting to know Falun Dafa, his factory turned into a medium-sized company.
He said, "Do you know how many factories that were bigger than mine that had to close down? It must have been the protection of divine beings that allowed me to develop my business to this day!"
Mr. Aluyi's two sons are now married and have their own children. They have taken over the factory's daily management while Mr. Aluyi has semi-retired. As he is still in good health, he loves walking around the factory every day to listen to the sounds of the printing machines; he also misses the smell of the ink and paper.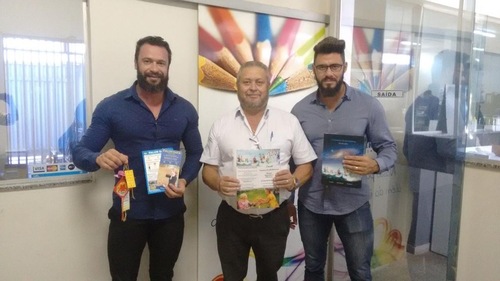 Mr. Aluyi and his two sons
The factory workers help each other like family and have their meals together. Everyone sits at the table to eat and chat, and I would join them whenever I went over to print materials.
The workers were shocked to learn how the Chinese regime restricts freedom of speech and religion, and also about the frequent occurrence of toxic vaccines, tainted milk powder, poisonous foods, etc, in China. They couldn't believe that these things would happen and said that Brazil would resolutely reject socialism and communism.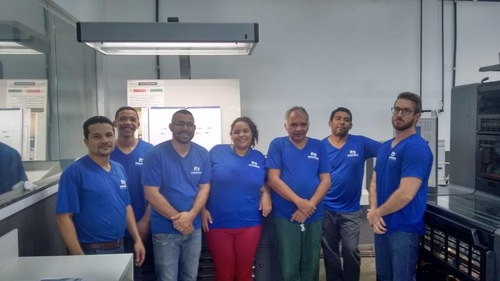 The factory workers get along in harmony like family.
There is a staff member named Carlos who is responsible for art design and typesetting. He is humble and kind and has learned a lot about Falun Dafa. When he learned about the persecution of the many Falun Dafa practitioners in China, he nearly cried.
He said, "They are just a group of people who believe in God, and the Chinese Communist Party uses such vicious methods to persecute them. This is something that has never been seen in history! The Chinese people are really suffering!" Then he told me, "Brazil is your home, we welcome you!"
I always had high requirements for the materials that I wanted to print. One of the reasons was financial issues; thus all the words and images had to be compressed to reduce the number of pages, and this made it difficult to typeset the page. However, Carlos would always do his best to patiently think of ways to arrange the content professionally.
Carlos has a beautiful daughter who has already graduated from college and is working. He often tells his family to always remember the universe's principles of "Truthfulness-Compassion-Forbearance" so that divine beings will bless them.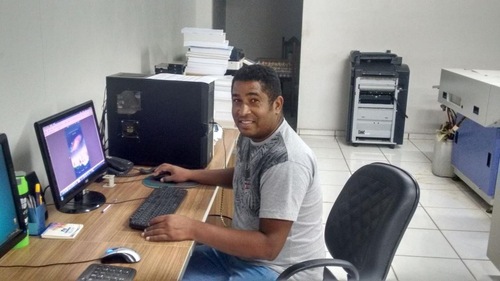 Carlos treats his work seriously and is kind to others.
Everyone in Mr. Aluyi's factory is very kind and supportive of Falun Dafa, thus they are blessed with a harmonious family and good career.
I hope there will be more such kind people in this world!
(Submission to "Celebrate World Falun Dafa Day" 2019 on the Minghui website)