London: British Parliament Expresses Concern about Forced Organ Harvesting in China
April 03, 2019 | By a Minghui correspondent
(Minghui.org) A debate titled "Forced Live Organ Extraction in China" was held in the British House of Parliament on March 26, 2019. Several Parliament members from multiple parties voiced their outrage and concern over the state-sanctioned crime of forced organ harvesting being carried out in China. BBC Radio 4 covered the debate during the "Yesterday in Parliament" program on March 27.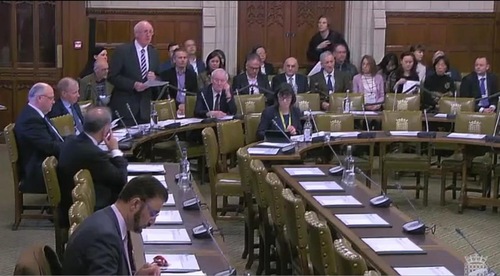 The debate on forced organ harvesting was held in Westminster Hall.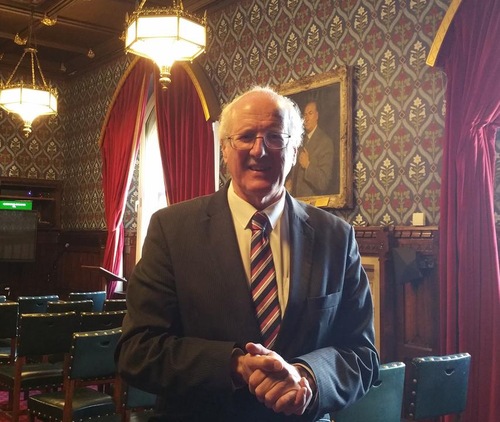 Jim Shannon, MP, is the debate host and chair of the all-party parliamentary group on freedom of religion and belief.
Twelve Parliament members from multiple political parties attended the debate, which was hosted by MP Jim Shannon, chair of the all-party parliamentary group on freedom of religion and belief.
The lawmakers urged the UK government to hold China accountable for an alleged crime that some might find too disturbing to believe: the practice of forced organ harvesting from prisoners of conscience.
In response to several speeches from MPs, Mark Field, Minister of State for Asia and the Pacific at the Foreign and Commonwealth Office (FCO), said he would raise the issue of forced organ harvesting internationally.
"Members today have outlined concerns that organs are not only being taken from executed death row prisoners, but also from prisoners of conscience, primarily Falun Gong practitioners, as well as other religious and ethnic minorities.
"Concerns have been raised that sometimes organs are removed while the victim is still alive, and without anesthetic," he said.
MP Jim Shannon strongly condemned the persecution of Falun Gong and other religions, as well as minorities in China.
"I would have felt, honestly, that maybe he could have been a bit stronger," said Shannon, but added, "I don't think that takes away from his commitment of what we're trying to change.
"We have to impress upon China that it's unethical. That it's murder on demand," he said.
Conservative Fiona Bruce MP called the forced organ harvesting "an utterly sinister act," and "a crime against humanity." "A form of genocide cloaked in modern medical scrubs," and "the crime of crimes."
She said, "In the case of killing or murder by way of forced organ removal from prisoners of conscience in China, there are no such victims to tell their stories. That is because no one survives. It is almost a perfect crime. Should that prevent us from speaking out? It should not."
Patricia Gibson MP from North Ayrshire and Arran said, "This barbaric, inhumane practice must end.… ...the international community, including the UK… ...must leave China in no doubt about how repugnant this practice is to any country that has any sense of decency or places any value on the dignity of human life. There can be no equivocation, no excuses, and no turning of blind eyes… The UK Government and the UN must do more about the vast industrial scale of this horror and what can only be categorized as crimes against humanity."
Andrew Griffiths MP from Burton compared the forced organ harvesting to the Nazi's Holocaust.
"People were persecuted for their faith, and we know where that ended, because millions of people died as a result of the Holocaust. If we look at history, we see that there were opportunities for governments to intervene and act, but they did not. Are we now at the point where we, as the western world, should say, 'This must stop?'" he said.
Carol Monaghan, MP from Glasgow North West, asked, "Given that the first report was published in 2006, does my honorable friend agree that the UK is 13 years overdue in calling for an inter-governmental investigation into Chinese practices?"
Afzal Khan MP from Manchester strongly condemned the crime, and said, "The world's silence on this barbaric issue must end."
Afzal Khan MP, Jim Cunningham MP from Coventry South, and Bambos Charalambous MP from Enfield paid special attention to the persecution of Falun Gong.
They pointed out that the main targets of the forced organ harvesting are Falun Gong practitioners, and it is time to stop this persecution.
MP Gibson said, "The fact that Falun Gong practitioners are targeted in this way in China goes to the heart of the matter, as the honorable member for Strangford articulated, because an attack on freedom of religion is an attack on all freedoms. The right of all people to worship their God in peace, however, they perceive their God, is a fundamental right. The threatening of that right endangers the very basis of freedom, in the widest sense."
Shannon also called for attention to the conclusion on this issue given by the People's Tribunal, which was set up to investigate forced organ harvesting in China. The Tribunal gave an interim judgment last December, with the chair, Sir Geoffrey Nice, saying that forced organ harvesting from prisoners of conscience has happened in China "on a substantial scale."
He also pointed out, "All that evidence has been reviewed by many different organizations across the world including parliamentary bodies, or Parliaments themselves, in Italy, Spain, Canada, Israel, Taiwan, Ireland, the Czech Republic, and the United States, as well as non-parliamentary bodies such as the UK Conservative Party Human Rights Commission."
Bruce also mentioned the work done by the people's tribunal and other investigators.
"The tribunal has done its work. It has conducted days of hearings, it has heard evidence from some 30 witnesses, and it is showing again and again that the evidence produced in the 2016 report by David Kilgour, David Matas, and Ethan Gutmann, which I believe is 700 pages long and is entitled "Bloody Harvest/The Slaughter: An Update," must be looked into at the government level. In his recent oral evidence to the tribunal, David Matas emphasized that although there are problems with establishing exact data, sufficient concern has been raised for this issue to be investigated at the most senior level, both by governments and the UN," she said.
At the time of this publication, 40 MPs had signed a motion (Early-day motion 2138 ), which calls on the UK government to condemn the alleged practice of forced organ harvesting. It also calls to introduce legislation banning citizens from taking part in organ tourism.
MP Gibson believes that passing such a law, "would put our moral position on the map and set a marker, which is very important… Ethically, it is very important that we introduce such measures and it cannot be beyond the wit of any UK Government to put them in place."
MP Bruce said, "Organ tourism, as it has been called, has been banned by several countries, including Italy, Spain, Israel, and Taiwan, and the Canadian Senate has approved similar legislation. We must do the same. It would send out a strong message of concern on the part of the UK Government."