Toronto, Canada: Young Practitioners Participate in Activities to Commemorate the April 25th Appeal
April 28, 2019 | By a Minghui correspondent in Toronto, Canada
(Minghui.org) Falun Dafa practitioners in Toronto, Canada, held a candlelight vigil outside the Ontario Legislative building on April 20, 2019, in solemn remembrance of fellow practitioners who were killed by the Chinese Communist Party (CCP).
Members of the Toronto Young Dafa Practitioners Club organized and planned the event. Through their involvement in this activity, they gained a better understanding of the significance of the April 25 appeal that took place in Beijing 20 years ago.
According to the coordinator of the event Ms. Li, some of the young practitioners were born after 1999 and had only ever heard about the peaceful appeal. She said, "For many of them, it was the first time they'd ever planned an event like this. However, everyone was patient and arranged everything meticulously. So that we could take photos of the vigil, we asked passersby to walk behind the photographer. Many young practitioners took this opportunity to tell people what Falun Dafa is and why we were holding this activity despite the rain."
The young practitioners worked hard preparing for the candlelight vigil, including searching for information on those who were tortured to death, choosing photos and designing display boards, making flower wreaths, preparing candles for the vigil, and so on. Ms. Li said she started to practice Falun Dafa outside China. When she was sorting through the photos of the deceased practitioners, she realized for the first time just how bad the situation in China was at the time of the April 25 appeal in 1999 and just how remarkable and historic the event was.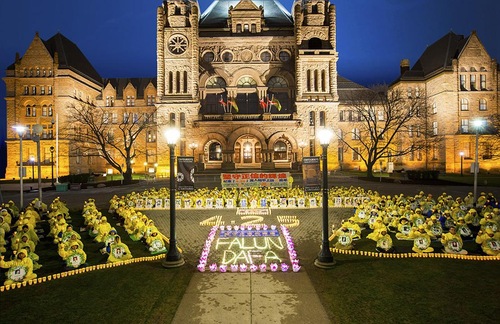 Toronto practitioners held a candlelight vigil outside the Ontario Legislative building on April 20, 2019, to commemorate those tortured to death by the CCP.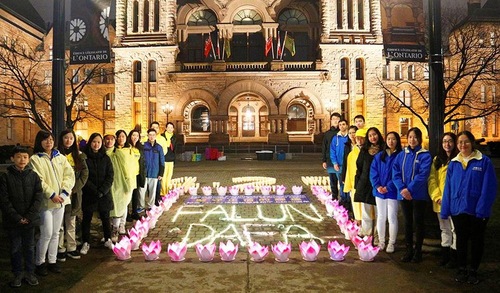 Young practitioners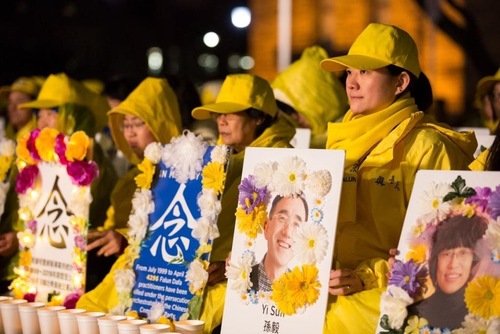 Ms. Li, coordinator of the young practitioners' group (right), holds a photo of Sun Yi, a practitioner who was persecuted to death.
Impressed by the Candlelight Vigil
Ms. Li told the building manager that, since so many practitioners were attending the vigil, some of them would have sit on the grass. The manager was surprised and asked if they didn't mind sitting on the wet, muddy ground. She told him that, although it rained in the afternoon, no one complained when they did the exercises.
Ms. Li said, "During the candlelight vigil, the building manager told me the character formation looked wonderful. He said the building staff looked at it from upstairs and were very touched. As we were leaving, the employees told us they liked our peaceful activity and hope to work with us again in the future."
Young Practitioners Share Their Thoughts on Participating in the Event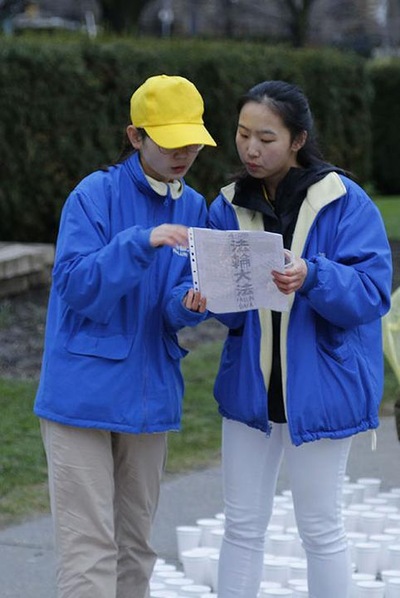 Bo Han (right) helped plan the event.
Bo Han, who is in 12th grade this year, began to practice Falun Dafa when she was very young. Reflecting on helping to organize the event, she said "This was an incredible experience. Although the weather was mild, the rain was cold. My legs and arms were numb and cold this morning when I did the exercises. But I could feel a warm current from the energy field. We were surrounded by noise, but I felt calm inside and forgot how cold it was."
That evening, Bo Han ran into difficulties getting ready for the vigil. A strong wind blew away the cups used to hold the candles. She sent righteous thoughts to clear up any negative thoughts she had. Other practitioners stopped what they were doing and came to help. She witnessed their selfless cooperation.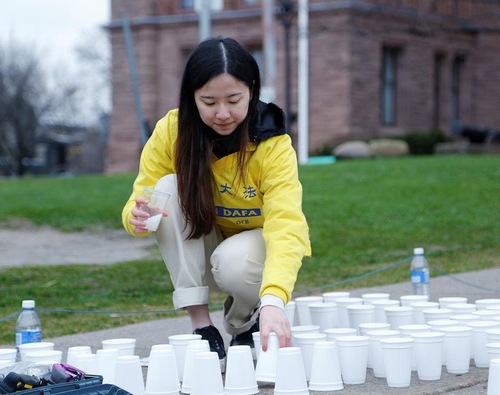 Ruby helps prepare for the vigil.
Ruby is 20 years old and has been practicing Falun Dafa for five years. She is a second-year student at Toronto University. She said, "When I arranged the candles, the police told us to leave 50 cm of space for people to walk through. But when we were nearly done, we were told we had to increase the space to 80 cm. Everyone did as they were told without any complaints.
"There were other last minute changes, but in the end, everything went smoothly, because everyone wanted the activity to be a success. We were selfless and lent a helping hand anywhere it was needed. This is the first time I've taken part in a candlelight vigil and it is an unforgettable experience. I am grateful for fellow practitioners' help. I feel we are one body and worked together seamlessly."
David graduated from the Actuarial Science Department at Toronto University and has been working for two years. He said, "I'm honored to take part in this activity. Despite the rain, everyone stood quietly to pay tribute to practitioners who were persecuted to death for their belief. It was a solemn moment. I could not see something like this in China where I grew up.
"As young practitioners, we are an energetic group. But today I saw a mature side. During the character formation, everyone was busy doing what they were supposed to do and the cooperation was unspoken. I learned a lot from working with other young practitioners."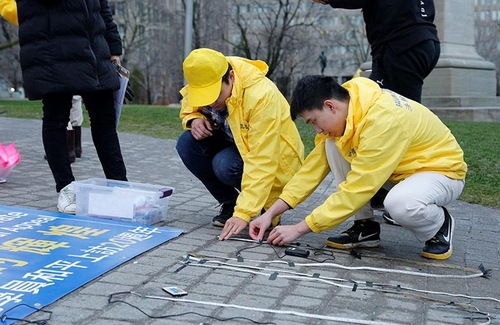 Mr. Sun (wearing a yellow cap) helps prepare for the candlelight vigil.
Mr. Sun is a third-year student at McMaster University and began practicing Falun Dafa when he was a child. He said, "April 25 is a special day. I feel very fortunate to take part in this solemn event. Being involved makes me feel that I'm showing respect for those who have sacrificed their lives for their belief. Although the night is dark, the candles illuminate the darkness and bring hope. I'm proud of what we did. Everyone in the team worked well together."