Successful Shanghai Businessman Sentenced to Four Years for His Belief
April 20, 2019 | By a Minghui correspondent in Shanghai
(Minghui.org) Mr. Deng Chenglian, a successful businessman in Shanghai, was arrested at home a year ago. He was sentenced to four years in prison and fined 8,000 yuan just four days ago.
Mr. Deng was brought into the Fengxian courtroom on April 16, 2019, in a wheelchair. Because of torture and mental abuse during his detention, his health had deteriorated.
Two attorneys hired by his family pleaded not guilty on his behalf. They also pointed out that police searched his home without a search warrant, that Mr. Deng was not at home during the search, and that the police did not provide a list of items confiscated.
Mr. Deng Chenglian was recently sentenced to a four-year prison term for practicing Falun Gong.
The attorneys also turned over a letter from the residents of Mr. Deng's hometown in Hubei Province. The villagers had signed a petition calling for his release.
They wrote, "The practice of Falun Gong changed him [Mr. Deng] into a better citizen who is of great help to the village. We hope he will soon regain his freedom."
Donated 280,000 Yuan for Road Construction
Mr. Deng, 48, grew up in Qichun County, Hubei Province. He later went to Shanghai and set up a successful business. Influenced by his friends, however, Mr. Deng indulged in many bad habits. His wife left him, and he suffered a nervous breakdown, as well as severe stomachaches.
Several months after he started practicing Falun Gong, however, he gave up his bad habits. He recovered from his digestive diseases and prostatitis. His family and friends were impressed after witnessing this, and supported him in his cultivation.
Seeing his hometown isolated from other towns due to an inadequate road system, he donated 280,000 yuan in 2010 to build several roads connecting the village to nearby towns. Every time he returned to the village, he helped families in need.
Arrest, Torture, and Humiliation
The Minhang District police arrested Mr. Deng at home on March 23, 2018, without showing a warrant or any other identification. They took him to the police department to interrogate him. He was given neither food nor anything to drink for the entire day.
After being detained at the Minhang Detention Center, he refused to give up his belief. Guards handcuffed him, chained his feet, and tortured him. When he went on a hunger strike to protest the torture, he was taken to the Shanghai Prison General Hospital and tied to a bed for 11 days without the ability to move or access to a toilet. A formal arrest warrant was issued on April 27, 2018.
Xu Junmin, an officer in the detention center, ordered six inmates to torture him in June 2018. They shaved off his hair to humiliate him. Two days later, guards handcuffed him and chained his feet. When Mr. Deng went on a hunger strike the second time in late June, guards force fed him through a urinary catheter. This resulted in swelling of his private part and urinary tract. They then tied him to a bed for nearly a month.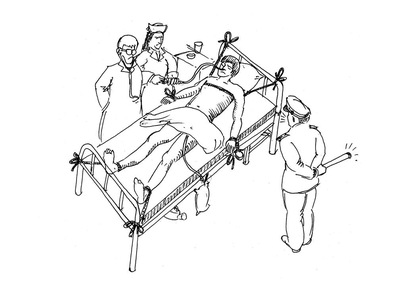 Torture illustration: Force-feeding while tied up in bed
Mr. Deng was taken to the prison hospital on July 3, 2018, and tied up in bed for 17 days. All four limbs were restrained and a strap across his chest held him motionless. He was force-fed through his nose, which caused swelling in his throat and nose. He developed chest pain, and bedsores on his back.
Court Hearing
When the police presented Mr. Deng's case to the Fengxian Court on July 23, 2018, they claimed to have found three cell phones in Mr. Deng's home. They said he used them to send Falun Gong-related messages to WeChat groups.
Mr. Deng told detention center officials on September 3, 2018, that he could not work the evening shift due to poor health, so they put him in solitary confinement. After Mr. Deng started his third hunger strike on September 4, he continued to be held in solitary confinement at night and was then tied to a bed for force-feeding during the day. He was not transferred back to a regular cell until September 17.
Rescue Efforts by Entire Hometown
Mr. Deng's third hunger strike has lasted over seven months and he is extremely weak. Officials have also given him injections against his will.
In response to the torture, Mr. Deng has worked with attorneys to sue the detention center officials.
Back in his hometown, villagers gathered names on a petition calling for his release. Everyone in the village signed the petition. The village committee, which had received multiple donations from Mr. Deng, also endorsed the petition.
They wrote in the petition: "We witnessed how Mr. Deng turned into a better person because of Falun Gong and we are happy for him. We are also thankful for the great contributions he has made to the village. We must help and support innocent people like him."