Taiwan: Falun Gong Practitioners Offer Help and Hope at Tourist Sites (Part 11)
April 19, 2019 | By Minghui correspondent Zheng Yuyan
(Minghui.org) (Continued from Part 10)
A Chinese tourist became separated from her group near Taipei's Sun Yat-Sen Memorial Hall earlier this year. She frantically looked for her group. Then she noticed the Falun Gong exhibit boards and recalled what her tour guide said, "If you're lost, you can ask Falun Gong practitioners. They will help you."
She approached a Falun Gong practitioner, but was too upset to clearly explain her situation. The practitioner, Lin Yaojin, calmly said, "Don't worry. Just say, 'Falun Dafa is great, Truthfulness-Compassion-Forbearance is great,' a few times. This will help clear your thoughts."
The woman followed Lin's advice and was able to tell him that she was lost. He asked for the tour guide's cell phone number and phoned him. Her tour group had already gone to another site and was looking for her. The practitioner told the tour guide that he would have a taxi bring the woman to her group. The woman and the tour guide were relieved and grateful.
While they waited for the taxi, Lin told the woman about Falun Gong and the persecution. He also answered her questions and explained the importance of withdrawing from the communist organizations. The woman decided to quit her membership in the Chinese communist organizations she'd joined.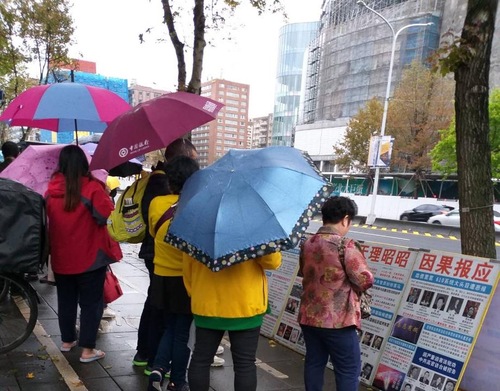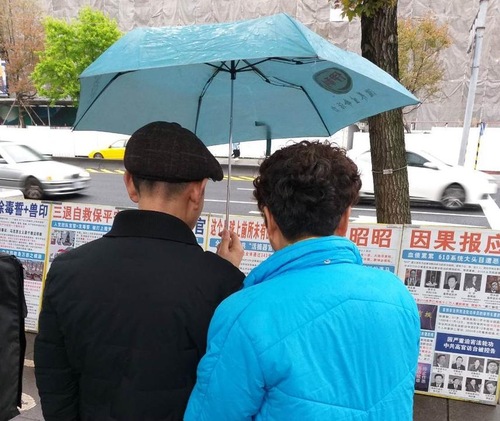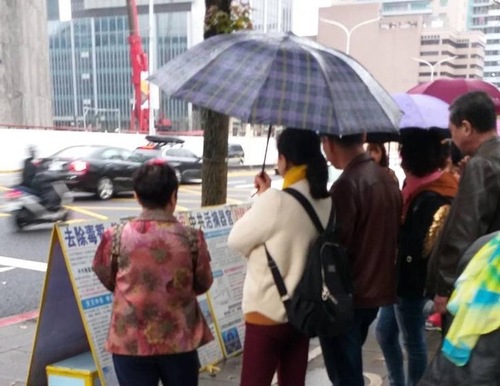 Tourists stop to read Falun Gong practitioners' exhibit boards about the practice and the persecution in China.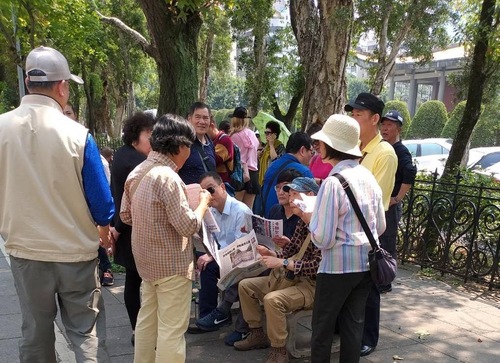 Falun Gong practitioners offer information about the practice and the persecution in China. They also provide directions and help tourists.
Helping Chinese People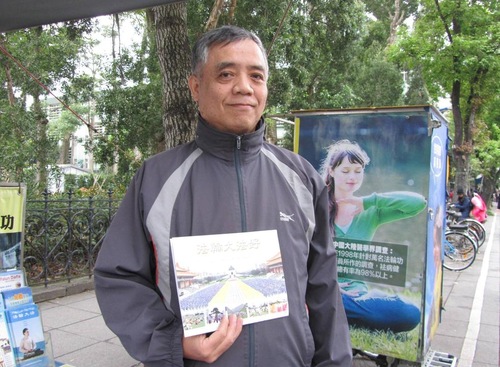 Mr. Lin Yaojin found the meaning of life in Falun Gong's teachings.
Lin was interested in Buddhism before he began practicing Falun Gong. When he was in his 40s, he developed a spinal condition. His limbs were numb and he couldn't sleep due to the pain. This went on for about five years. He said, "I wasn't even 50 years old. I kept wondering how I would survive and get through the rest of my life!"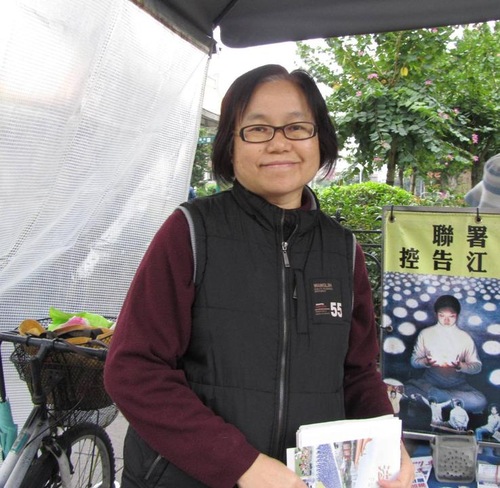 Ms. Lin Xueling, Mr. Lin Yaojin's wife, started practicing Falun Gong in 2012.
Lin began reading Zhuan Falun, the main book of Falun Gong's teachings in 2008. He recalled his excitement and said, "I was deeply touched by the writings. The book is written in plain Chinese yet so profound. Every sentence covers the core issues. Every word spoke to me. I realized that the true meaning of life was just revealed to me!"
Lin began reading all the books of Falun Gong's teachings. One day, he realized that he had forgotten to take his pain medicine, but his pain was gone. His health kept improving and he became a kind and more considerate person.
In 2010, he started to clarify the truth at Taipei's Sun Yat-Sen Memorial Hall, and has been going there every day. He said that it has not been difficult, "I don't think it's hard. I only focus on helping Chinese tourists understand what's truly going on in China. They need to know the truth about the persecution, and free themselves from the mind control of the Chinese Communist Party (CCP). I know I need to be here every day. I cannot bear to think that someone may miss such a precious opportunity because we were not here. I have to come."
Tour Guide: Introducing Falun Gong to Tour Groups
Most tour guides are familiar with Falun Gong practitioners and know that they are at various sightseeing attractions in Taiwan.
When one tour guide trained a new group of guides six months ago, he told them, "Read the information that Falun Gong practitioners hand out. What they say is true. Falun Gong is good, but the CCP is persecuting them." He gave his trainees brochures and other materials that practitioners typically hand out and said, "Read these materials and introduce Falun Gong to your tour groups."
Chinese Tourist: "I Quit the Communist Organizations with My Real Name"
A Chinese man recently chatted with Lin Yaojin and learned about the persecution. When Lin offered to help him quit the communist organizations with an alias, he immediately said, "No. I will quit with my real name. I'm a CCP member, but I want to quit!"
A visiting scholar from China recently visited the Sun Yat-Sen Memorial Hall. She spent quite some time reading the information. She told a practitioner, "What you are doing is very meaningful." She also gave some suggestions to help make the information even more relevant to mainland Chinese.
When a young Chinese couple visited the Sun Yat-Sen Memorial Hall, the man said he admired the freedom in Taiwan and complained about the lack of freedom of speech in China. He said, "We've gotten a lot of information by circumventing the Internet firewall. Visiting Taiwan, we see more of the contrast between a free society and the regime in China."
The couple withdrew their memberships in the CCP and thanked the practitioner who helped them. They said that quitting the communist organizations made their trip even more memorable.