Russia: The Art of Zhen Shan Ren International Exhibition Held in Irkutsk
March 17, 2019 | By a Falun Gong practitioner in Russia
(Minghui.org) The Art of Zhen Shan Ren (Truthfulness-Compassion-Forbearance) International Exhibition was held in Irkutsk, Russia, March 6-26, 2019, and was well attended.
Several of the artworks depict scenes of the persecution of Falun Gong practitioners by the Chinese Communist Party. Many people expressed their sympathy and their desire to see the persecution ended.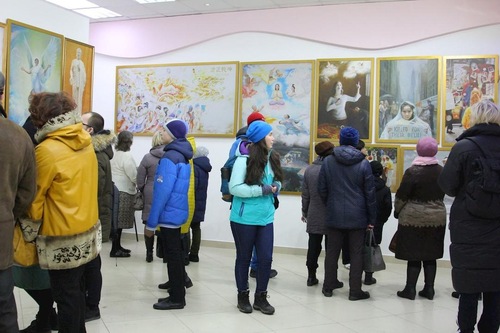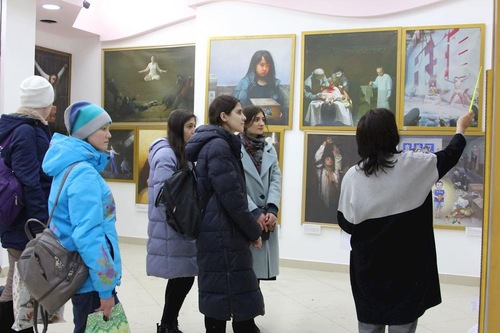 Many people came to the Art of Zhen Shan Ren International Exhibition in Irkutsk, Russia.
After viewing the artworks, many people said that they were impressed by the principles of this ancient spiritual practice, Falun Gong, and felt uplifted.
Irina said, "I came into this beautiful world today by chance. It's a short visit, but it has brightened my heart with compassion and beauty. Thank you for your art and contribution! It's so important for today's world!"
Another visitor said she was deeply moved: "It touches my heart and makes me want to cry. Everyone needs to know about it [the persecution]."
One visitor wrote in the guest book, "Wonderful paintings with compassion, peace, and ideas of respect and morality! Many thanks to the artists and exhibition organizers!"
Another admirer wrote, "These paintings by artistic masters around the world have touched my heart deeply! They were created under the guidance of the highest Master and Gods of the Universe!"
One visitor who expressed his gratitude said, "Many thanks! It's a beautiful and compassionate art exhibition! I hope more and more people will practice Falun Gong!"