Bedridden Woman Tortured in Liaoning Women's Prison
March 17, 2019 | By a Minghui correspondent in Liaoning Province, China
(Minghui.org) Ms. Qiu Sihui from Anshan City, Liaoning Province, has been repeatedly arrested for refusing to renounce her faith in Falun Gong, a spiritual discipline being persecuted by the Chinese communist regime. She is currently incarcerated in Liaoning Women's Prison.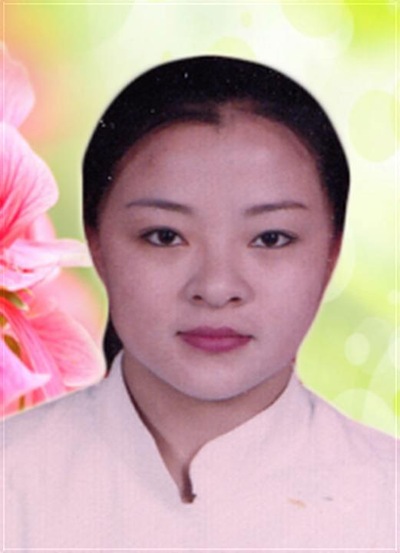 Ms. Qiu Sihui
After the persecution of Falun Gong started in July 1999, Ms. Qiu and her husband were arrested when they went to Beijing to appeal for the right to practice in October. The couple was taken to Anshan Third Detention Center although Ms. Qiu was nearly two months pregnant at that time.
The second arrest came in the winter of 2001 when she was arrested at a rented house. In an attempt to escape, she fell from the fourth story of Shengli Police Station and had to be taken to a hospital, where a steel plate was inserted into her back.
Ms. Qiu was incontinent after the surgery and the muscles in her left leg atrophied. The doctors told her that she would be bedridden for the rest of her life. Despite her condition, she was sentenced to three years in a labor camp but allowed to go home "on probation." She recovered after practicing the Falun Dafa exercises at home.
In the summer of 2002, Ms. Qiu was arrested again and sentenced to seven years in prison. She was released in September 2003.
After her most recent arrest in 2008, she was sentenced to twelve and a half years in prison and has been in Liaoning Women's Prison ever since.
Below is her personal account of what she has endured in prison:
I was arrested at home on August 19, 2008, and taken to Anshan First Detention Center two days later. On May 13, 2009, I was taken to Liaoning Women's Prison for a physical exam. The prison refused to accept me because I was paralyzed.
A few days later, doctors from Shenyang Orthopedic Hospital x-rayed me and confirmed that the steel plate implanted into my back was firmly intact. The prison then accepted me even though I was bedridden and needed someone to take care of my needs.
In the summer of 2010, when the skin around the steel plate nail became red and swollen, I was taken out of my cell to a corridor, where an inmate, under the instruction of the prison doctor, cut open my skin at the site, although I objected to it. That night I had a high fever.
The next day, I was taken to the infectious disease ward where the same inmate once again cut open my skin following the order of the team captain. When I objected to it, other inmates stuffed my mouth with cloth and put tape over it to silence my cries.
In the following days when my fever did not subside, I was put on an IV drip and tied to the bed. Later, I was taken to the hospital again when my wound did not heal and I was still having a fever.
At the hospital after an X-ray, I heard the doctor say that the steel plate nail had loosened and said that I shouldn't have been imprisoned in this condition.
After a private conversation with the doctor, the team captain told me that the nail had popped out because my bones had healed. I refused to accept this, pointing out that the nail was not nailed into my bones and I knew that my swollen skin was due to the inmates torturing and beating me at the instigation of the captain.
I gradually recovered after doing the exercises regularly and could finally get out of bed.
Since my recovery, I have been asking the authorities to punish those responsible for my condition, but they said that the "operation" was done due to an emergency, a claim I disputed since I was still conscious at the time.
I also wrote a letter to the prosecutor and the prison warden in September 2017 to request that the captain be prosecuted and those who participated apologize and bear all criminal responsibilities. However, a month later, I was told that I was not allowed to sue those responsible and the authorities had prevented my lawyer, hired by my family and friends, from entering the prison.