(Minghui.org) According to information compiled by Minghui.org, 101 Falun Gong practitioners in China were arrested and 86 were harassed for their faith in February 2019.
Among them, 35 practitioners had their homes ransacked; 61 remain in detention at the time of writing.
Falun Gong, also known as Falun Dafa, is a spiritual discipline based on the principles of Truthfulness, Compassion, Forbearance that has been persecuted by the Chinese communist regime since 1999.
With strict information censorship in China, persecution cases cannot always be reported in a timely manner, nor is all the information readily available.
Eleven of the targeted practitioners in February 2019 were above 65 years old, including an 85-year-old woman in Heilongjiang Province, who was arrested for distributing informational materials about Falun Gong. One 77-year-old retired doctor in Guizhou Province was held and interrogated for eight hours at a train station after security personnel checked his identification and discovered that he practices Falun Gong.
The targeted practitioners come from 21 provinces and centrally-controlled municipalities. Jilin, Liaoning, and Heilongjiang Provinces all had double-digit arrests, while the remaining provinces and regions had single digit cases.
Harassment of practitioners intensified in February prior to the National People's Congress meeting held in Beijing on March 5-15.
In Hegang City, Heilongjiang Province, 32 practitioners and some of their family members were harassed by police during Chinese New Year. The officers videotaped their homes and asked whether they still practiced Falun Gong.
Ms. Chen Hua, a resident of Shanghai, reported that the police had been monitoring her daily life and following her wherever she went since February 25. Similar harassment cases have also been reported in Tianjin, Beijing, Shandong, and Liaoning Provinces.
Ms. Li Jiarong, a resident of Huanghua City, Hebei Province, fell into a coma after police knocked on her door and raided her home at 4 pm on February 14, 2019. She didn't respond when her neighbors called her at 5:30 pm. Her neighbors went to her home at 7 pm to check on her, only to find her lying on the ground unconscious. They sent her to the hospital. Doctors found that she had had a stroke and operated on her brain immediately. She is still in critical condition at the time of writing.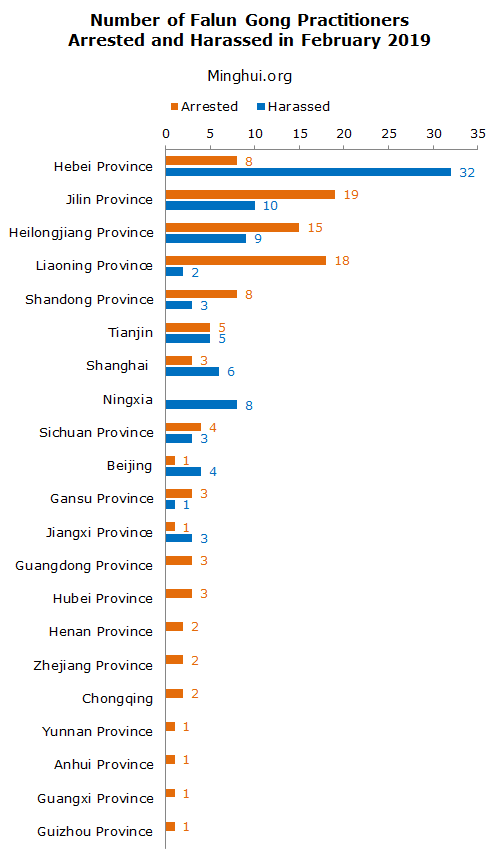 Elderly Practitioners Targeted for Their Faith
The oldest practitioner arrested in February was 85-year-old Ms. Lu Guifang, from Daqing City, Heilongjiang Province. Officers broke into her home on February 22, 2019, ransacked her residence, and confiscated her Falun Gong books and other materials.
At the police station, officers interrogated Ms. Lu to find out where she received informational materials about Falun Gong and threatened her not to distribute the materials in the future, or they would frequently harass her at home. Officers grabbed Ms. Lu's hand and forced her to sign an agreement not to distribute materials in the future before letting her go home.
Ms. Zhou Cuie, 80, from Wuhan City, Hubei Province, was arrested on February 25. She developed some physical conditions after one week of detention and has been taken to a police hospital for medical treatment. Ms. Zhou's son currently resides in Toronto. He is calling for international attention on his mother's case.
Ms. Jin A'na, 79, from Panjin City, Liaoning Province, was seized by police at her home on February 27, 2019, as a part of their "stability maintenance" work prior to the National People's Congress. Officers told her son that Ms. Jin was considered a target because she was reported for talking to people about Falun Gong in December 2018. Ms. Jin's family later discovered that their landline was tapped by the police after her arrest.
In addition to the abovementioned cases, it was also reported in February that 65-year-old Ms. Dai Jinlan, from Gejiu City, Yunnan Province, was arrested and had her home ransacked on January 30.
After she tried to persuade the officers not to participate in the persecution of Falun Gong, they held her on the ground, punched her head, and kicked her lower back in front of her son, daughter-in-law, and granddaughter. Her eyes became red. Her face was swollen and covered with bruises. The officers also cut her hair short in order to humiliate her. She was held at the police station for nearly three hours before being released.
Australian Citizen Arrested While Visiting Family in China
Ms. Yin Sen immigrated to Australia three years ago. The 65-year-old woman returned to China on February 4, 2019 to visit her family and celebrate the Chinese New Year with them. She was arrested as soon as she arrived at customs in Shenzhen, Guangdong Province.
The police held her in custody for ten days in Shenzhen before sending her back to her hometown in Dalian City, Liaoning Province. Ms. Yin is currently held at Dalian City Detention Center. Her arrest has been approved by the procuratorate, and she is facing indictment for her faith.
Jilin Woman, 60, Detained for Telling People How Falun Gong Restored Her Health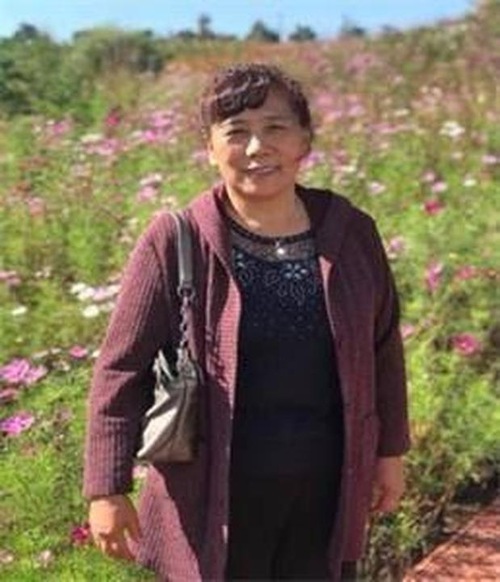 Ms. Zhang Junling
Ms. Zhang Junling, a 60-year-old resident of Huichun City, Jilin Province, was arrested on February 14 for telling people about Falun Gong and the health benefits she gained from it.
Ms. Zhang began to practice Falun Gong shortly after she had a mastectomy in 2007. She used to suffer from chronic back pain caused by the amputation of her left calf after a train accident in 1981. The pain was gone after she started to practice. Her many other physical problems, including severe heart disease and kidney and liver problems, also disappeared.
Ms. Zhang felt compelled to tell people how she benefited from practicing Falun Gong and was arrested during the Chinese New Year. The police ransacked her home and confiscated her Falun Gong books and materials.
She was held at the detention center for 15 days and denied family visits. She suffered from some medical conditions and was placed on house arrest on March 1.
Resident of Jiangxi Province Arrested for His Faith, Daughter Terrified by Police Raid
Mr. Geng Decheng, a resident of Yingtan City, Jiangxi Province, was arrested on February 27 when he went to visit a relative in Jinxi County about 40 miles away.
Five officers ransacked his home the next day. They confiscated his Falun Gong books, 300 yuan in paper currency printed with information about Falun Gong, and her daughter's flash drive with her favorite music.
His daughter was so terrified by the police that her face turned pale and she began to mumble nonsense.
The police told Mr. Geng's wife, Ms. Shangguan Binying, that he had been arrested the day before and that he is now held at Jinxi County Detention Center and put in criminal detention. They didn't elaborate further on what triggered the arrest.
Mr. Geng, a former reporter at Yingtan City Radio and Television Bureau, has been repeatedly targeted, along with his wife, over the past 20 years for not renouncing their faith in Falun Gong.
Their daughter, who was still a little girl when the persecution of Falun Gong began in 1999, suffered a mental breakdown because of the stress and fear from the repeated home-ransacking, arrests, and detention of her parents.
She was dealt another blow when her father was arrested again in February.
Related reports:
Minghui Report: 181 Falun Gong Practitioners Arrested in January 2019
Minghui Report: Nearly 9,000 Falun Gong Practitioners Arrested or Harassed in 2018 for Their Faith
Family of Yunnan Woman Kept in the Dark of Her Status Following Arrest for Practicing Falun Gong
A Resident of Jiangxi Province Arrested for His Faith, Daughter Terrified by Police Raid
77-Year-Old Retired Physician Interrogated at Train Station for His Faith
Jilin Woman, 60, Detained for Telling People How Falun Gong Restored Her Health
Related article in Chinese: