Taiwan: Persecution of Falun Gong Spotlighted During Indo-Pacific Conference
March 14, 2019 | By a Minghui correspondent
(Minghui.org) The persecution of Falun Gong was brought up by high-ranking officials including Sam Brownback, U.S. Ambassador for International Religious Freedom, and William Brent Christensen, Director of the American Institute in Taiwan (AIT), at a recent international conference on religious freedom in the Indo-Pacific region.
The two-day conference, "2019 Regional Religious Freedom Forum: A Civil Society Dialogue on Securing Religious Freedom in the Indo-Pacific Region," kicked off in Taipei on March 11. About 70 representatives of religious organizations from 15 nations attended the conference. Among the topics discussed were the Chinese Communist Party's (CCP) persecution of Falun Gong practitioners, Christians, Tibetans, and Uyghurs.
US Ambassador: Religious Freedom Should Be the Norm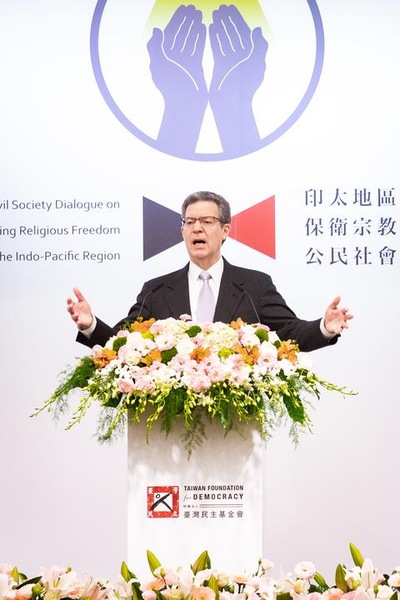 Sam Brownback, U.S. Ambassador for International Religious Freedom, speaks at a forum for religious freedom in Taipei on March 11, 2019.
In the keynote address at the forum, Brownback called on Beijing to end all forms of religious persecution in China. "The Chinese government is at war with faith. It is a war they will not win," he stated. Ambassador Brownback listed human rights abuses against groups such as Catholics, Muslims, Tibetans, and practitioners of the spiritual meditation practice, Falun Gong.
"The Chinese government detained and reportedly tortured Falun Gong practitioners with credible estimates putting the number of Falun Gong practitioners in prison in the thousands," Brownback remarked. According to the Minghui website, at least 4,200 Falun Gong practitioners are documented to have lost their lives in or as a result of police custody since the group was suppressed in 1999. Due to the information blockade in China, the number is likely to be much higher.
"Like you can do here in Taiwan, [religious freedom] should be the norm for everybody throughout the region and the world," added Brownback.
Taiwan Officials: Support Those Oppressed by Authoritarian Regimes
During the forum's opening ceremony, Taiwanese President Tsai Ing-wen acknowledged that freedom of belief is at risk in many parts of the world. She said that after witnessing the pain of being deprived of one's rights and identity, Taiwan will "Stand with the people who are deprived of their religious rights or oppressed by authoritarian regimes."
William Brent Christensen praised Taiwan's democratic model and how it has been "tremendously successful at providing legal protection and respect to a wide range of faiths," which include "loosely organized gatherings of Falun Gong practitioners meditating in a city park at dawn." He said that religious freedom is part of the universal values that transcend nations or race.
Ending Religious Persecution
Brownback thanked Taiwan for being, "A friend and partner promoting a free and open Indo-Pacific region." He added, "Promoting religious freedom worldwide is a top foreign policy priority for the United States, and certainly for this administration."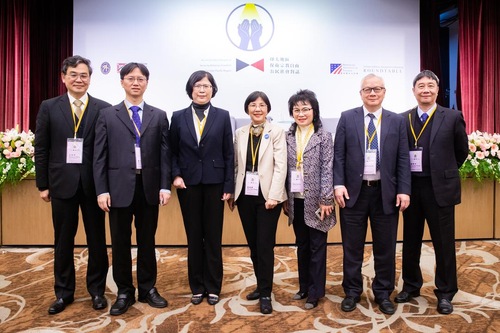 Seven Falun Gong practitioners joined representatives of other religious groups during the forum on religious freedom.
At a press conference Brownback was asked whether the U.S. government would take any action in the near future to stop the persecution of Falun Gong in China, and about the possibility of using the Global Magnitsky Act to target Chinese officials affiliated with religious persecution. Passed into law in 2016, the act allows for sanctions against individuals who commit human rights violations, including freezing their U.S. assets and barring them from entry into the United States.
In his response, Brownback said that he could not provide details of the U.S. government's plan. He confirmed, however, that there were indeed discussions taking place in Congress on how to, "pursue more aggressively on religious freedom." One example is pastor Andrew Brunson, who was successfully rescued from a 2-year imprisonment in Turkey through sanction efforts by the U.S. government.
Ambassador Brownback pointed out that religious freedom would promote human rights and with it a stronger economy and social prosperity.