Puerto Rico: Families Discover Falun Dafa at San Juan Botanical Garden
March 11, 2019 | By Falun Dafa practitioners in San Juan, Puerto Rico
(Minghui.org) Under the canopy of giant trees shimmering in the sunlight, hundreds of families celebrated the San Sebastian Festival for Children at the San Juan Botanical Garden. In an atmosphere of vibrant music and dance, many had their first experience with Falun Dafa.
Many families stopped to look over the exhibit displayed by local Falun Dafa practitioners, and stayed to chat and try the exercises.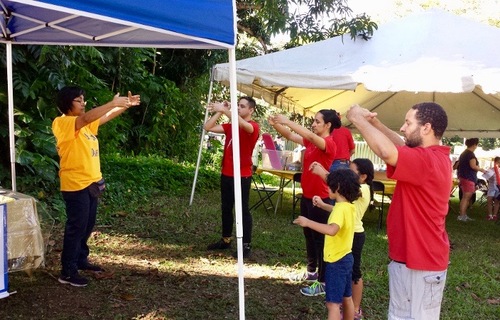 A family tries the Falun Dafa Standing Stance exercise.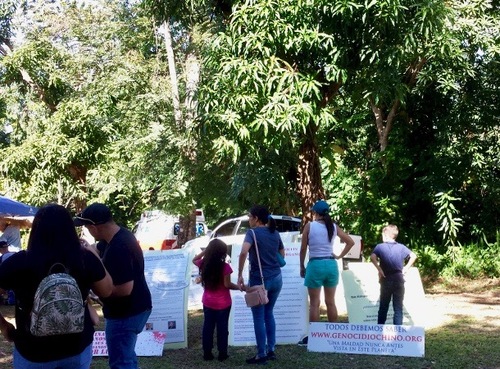 Family groups read the displays documenting the persecution of Falun Dafa in China.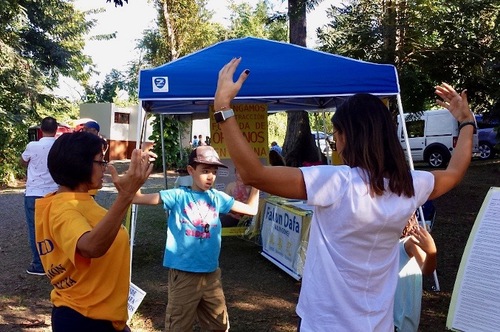 Mother, son, and daughter try the Falun Dafa Standing Stance exercise.
A man who was selling his sculptures at the festival read the display boards and then asked about the persecution. He found it inconceivable that someone could be persecuted for meditating. "I meditate at the beach," he said.
The practitioners invited him to try one of the Falun Dafa exercises. As he finished, he kept his eyes closed, his face radiant and smiling. "How do you feel?" he was asked. He opened his eyes slowly and said, "So calm. Even with all this festival music all around. Thank you."
A mother and her son stopped in the middle of reading a banner about the persecution and asked, "Is this really happening now?" As the practitioner explained and showed her other supporting documentation, she was visibly distressed. "No! My heart breaks to see this!" She walked up to the Doctors Against Forced Organ Harvesting petition to the United Nations and signed it, saying as she left, "Keep this up!"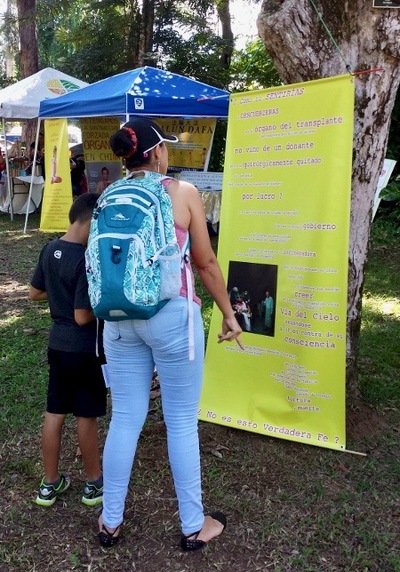 Mother and son read about the forced organ harvesting in China. "My heart breaks to see this!" she said.
A teenager read through the banners and then asked questions about the practice. She took a brochure and agreed to try one of the exercises. As she finished, she was smiling, delighted. "How was it?" she was asked. Her face was radiant as she searched for words, "I feel here, centered! How do I learn this?"
A grandmother with her three daughters and three grandchildren asked practitioners to explain everything about Falun Dafa and the persecution in China. They listened, read through the displays, and then came back to sign the petition. When they were invited to try one of the exercises, they quickly agreed. After finishing, they were eager to tell each other how they felt. "I felt tingles around my arms," said the grandmother, surprised and delighted. "I felt a current through my body," said one daughter." "I feel so quiet and calm," said another.
A schoolteacher who tried the exercises remarked how he was able to hold his arms up in the air longer than he expected. He was genuinely surprised, and mentioned it several times. "I usually have trouble keeping my arms up in the air like this," he said, "but I just did it quite easily!"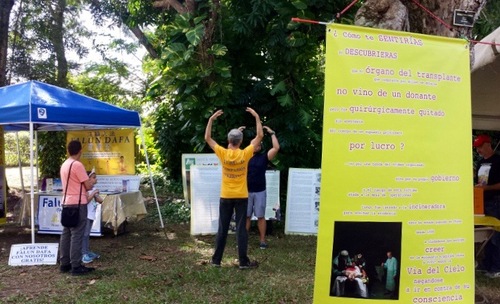 A schoolteacher who did the Falun Dafa Standing Stance exercise said, "I usually have trouble keeping my arms up in the air like this, but I just did it quite easily!"
As practitioners demonstrated the exercises throughout the day, many people stopped to watch and then came over to talk and ask questions.
On several occasions, children, some of them toddlers, formed a group in front of the practitioners, imitating their movements. The parents were surprised at how they were inexplicably drawn to the activity.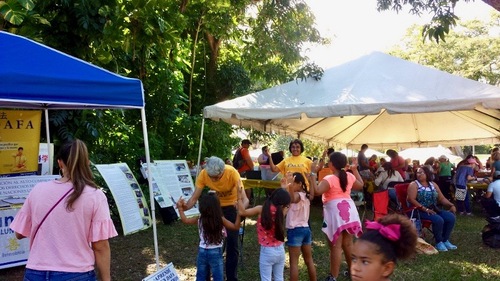 Children, drawn to the exercise demonstration, joined in.
On one occasion as they opened their eyes, a man, a girl, and a boy had joined in and were following the movements. As they finished, the girl was so elated that she jumped forward to embrace the practitioners. The man said that he was her uncle and that she had been diagnosed with lupus. He said they were waiting in a line nearby, and when she saw the exercise demonstration she brought him over to join in. "When she saw you, she wanted to join you. Thank you. This is really special."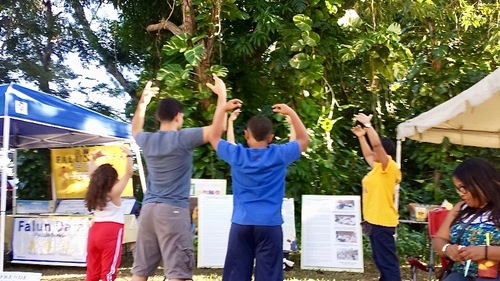 A man and his niece do the exercises along with the practitioners. "This is really special. Thank you!"
Over the two days of the festival, many people, young and old and from different parts of the island, told the practitioners that they had never heard of Falun Dafa before. Many were also disturbed upon learning of the ongoing, inhuman persecution in a world they thought they knew. And more than a few were moved to silence as they reflected on the dauntless faith demonstrated by so many, under conditions that no civilized peoples could ever condone.