Taiwan: Falun Dafa Practitioners Gather to Meditate and Send Chinese New Year Greetings to Master Li
February 04, 2019 | By a Falun Dafa practitioner in Taiwan
(Minghui.org) Falun Dafa practitioners from Taitung City gathered at Taitung Beach Park to wish Master Li Hongzhi (Falun Dafa's founder) a Happy Chinese New Year. They introduced the ancient spiritual practice to tourists and did the exercises. During the group photo, they wished Master Li Hongzhi: "Greetings Master! Happy New Year!"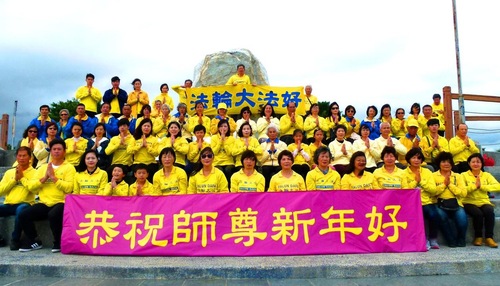 Practitioners gathered at Taitung Beach Park to wish Master Li Hongzhi a Happy Chinese New Year.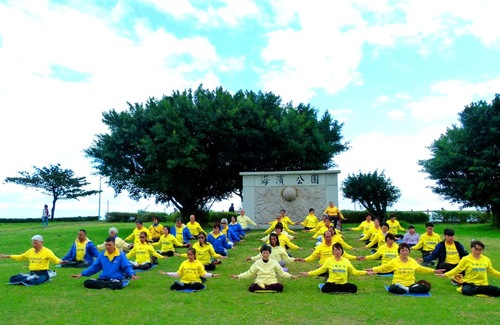 Practitioners do the Falun Dafa exercises at Taitung Beach Park.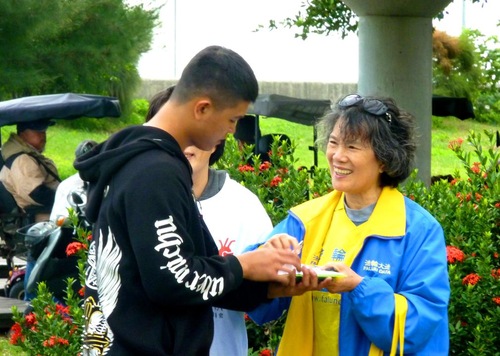 Practitioners talk to tourists about the merits of Falun Dafa.
A young tourist couple from China stopped to watch the practitioners doing the exercises and took photos. They smiled and said that they knew that many Chinese people practice Falun Dafa.
An elderly man from northern China who was visiting relatives in Taiwan said he knows that Falun Dafa is very good and that many people regained their health due to the practice. He pointed out the contrast between Taiwan and China, and said that in Taiwan people enjoy freedom of speech, whereas in China people dare not speak out against the communist regime.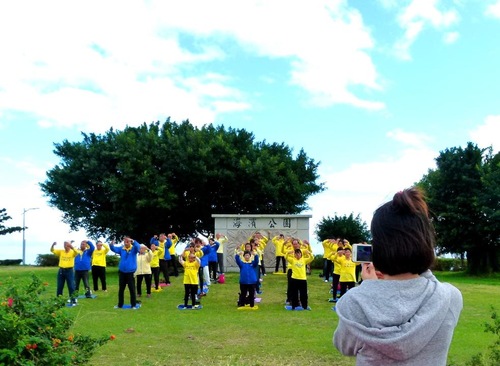 A tourist stops to take photos of practitioners doing the exercises.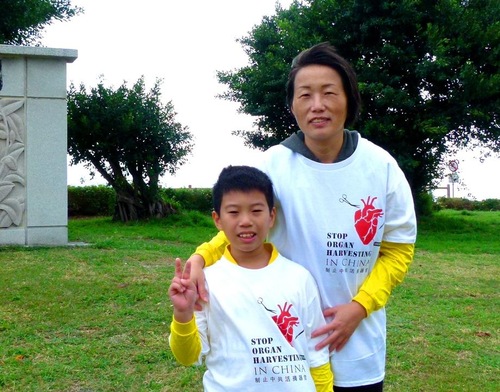 Wearing specially designed T-shirts, practitioner Jia-lin and her son talked to people about the persecution of Falun Dafa in China and the crime of state-sanctioned forced organ harvesting.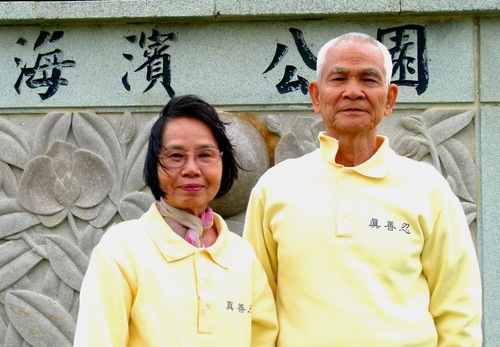 Mr. Liu Chun-san and his wife Ms. Hsiu-feng are grateful to Master.
Liu Chun-san is 83 years old now, but says he feels more energetic than when he was young. After he began practicing he noticed that his memory improved and he was able to think clearly. His wife, Hsiu-feng, said practicing Falun Dafa cured her urticaria allergy that had troubled her for more than a decade. She became more considerate of her colleagues and friends and her relationships with them greatly improved.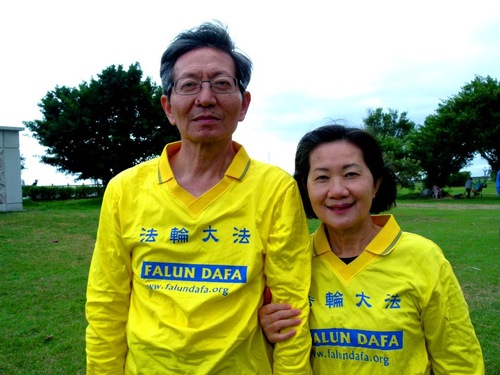 Mr. Chang Yi-long and his wife. Mr. Chang said following Falun Dafa's principles helped him remain upright while handling challenges at work.
Chang Yi-long, a retired teacher, said that following Falun Dafa's principles helped him to treat people and any challenges he encountered with a higher moral standard. Before retiring, he was in charge of general affairs for elementary schools throughout Taiwan. His upright and responsible handling of his duties was praised by his superiors.
Seeing the positive changes in him, his wife decided to practice. She said that the teachings helped her to be more patient while taking care of her elderly parents, and her frequent headaches disappeared.