Australia: Introducing Falun Gong at Inala's Chinese New Year Celebration
February 02, 2019 | By a Minghui correspondent in Queensland
(Minghui.org) Falun Gong practitioners participated in the two-day Lunar New Year celebration held by the Vietnamese community in Inala, Queensland, Australia from January 25-26, 2019. The grand celebration consisted of traditional performing arts, lion dances and a variety of Vietnamese food.
The gentle, simple movements of the exercises, as well as the practice's core values of Truthfulness-Compassion-Forbearance, attracted many people to the Falun Gong booth.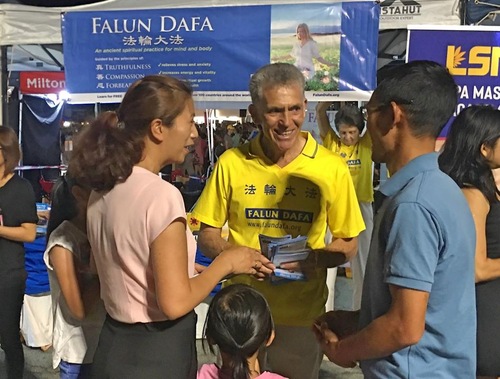 People stop at the booth to learn more about Falun Gong.
Doan, a Vietnamese Australian, stopped to watch the exercise demonstration video. He excitedly told a practitioner, "I heard about Falun Gong years ago and I've always wanted to learn it. Now I've finally found you!" He asked where the group exercises were held and said he planned to attend.
"An Honest and Compassionate Person"
Thanh, a young Vietnamese practitioner, said he felt like a new person after he began practicing. He discovered Falun Gong on the Internet. His herniated lumbar disc which he suffered from for years, disappeared soon after he took up the practice. Within a month, he was able to step away from smoking, drinking, and gambling.
Thanh said that he's now happy and healthy, "Falun Gong taught me how to be good, and I strive to be a righteous, honest, and compassionate person. I've learned how to place others' needs before mine."
"I now understand why I suffered, and my view of life and the universe has changed and become positive. A cultivator should follow the principles of the universe, Truthfulness-Compassion-Forbearance."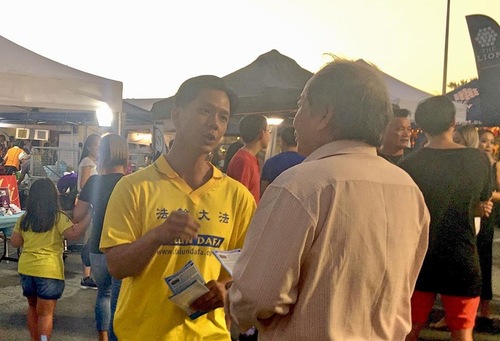 Thanh talks to people about Falun Gong during the Lunar New Year celebration.
Thanh said, "I ask people not to be misled by the Communist Party's lies, but instead read Zhuan Falun and decide for themselves. The truth is in the book."
Another practitioner, Tea, shared how she learned the practice: "I was browsing the Internet about three months ago, when I suddenly found the Falun Dafa website. Intrigued, I began reading Zhuan Falun online. To my surprise, my insomnia, which I'd had for quite some time, was gone, and I slept very soundly that night!"
"Unfortunately, I became busy and stopped reading. When my insomnia returned, I thought, 'Did reading Zhuan Falun help me get rid of the insomnia?' I started reading the book again and slept well that night!
"From my experience, I knew Falun Gong was amazing! I searched the Internet for local practitioners. It was hard, but I didn't give up. I finally found practitioners in the Vietnamese community. I was so excited!"
Tea then began attending the Fa study and group exercises. She's also introduced Falun Gong to her family and friends. She came to the New Year celebration to share her experience with others in the Vietnamese community.