Sydney: Falun Gong in Lunar New Year Parade
February 19, 2019 | By the Minghui reporting bureau in Australia
(Minghui.org) Falun Gong practitioners participated in the Lunar New Year parade in Chatswood, a major business and residential district in the Lower North Shore of Sydney. The area is about 10 kilometers from the Sydney Central Business District, and over a third of its population is of Asian ancestry. The event took place on Victoria Avenue, the main street, on February 16.
The Falun Gong procession featured a float, celestial maidens, waist drums, and the Tian Guo Marching Band. Spectators, who complimented the music and colorful costumes, also showed an interest in learning more about the practice of Falun Gong and its persecution by the communist regime in China.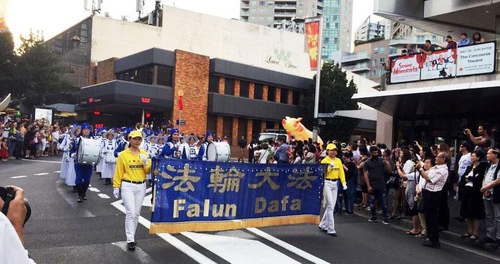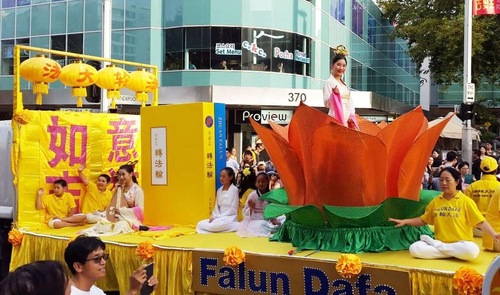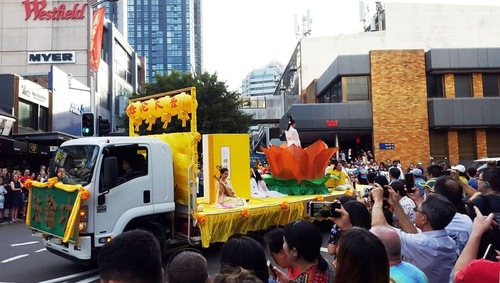 Falun Gong practitioners participated in the Lunar New Year Parade in Chatswood on February 16, 2019.
Spectators Amazed by Marching Band and Float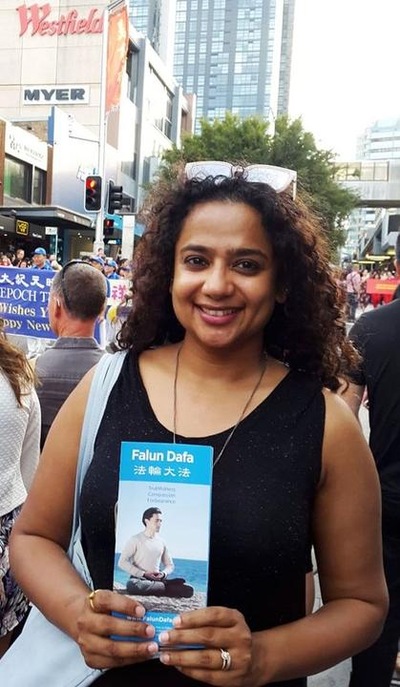 Sneha Rao liked the Tian Guo Marching Band's music and the waist drum team.
Sneha Rao, who was among the spectators, said, "I really like the Falun Gong performances. They are the most attractive. It was interesting to see such a professional marching band and even a waist drum group today. Their compositions and performances are very professional. The meditation demonstration on the float was beautiful."
She took a flyer and said that she would like to learn more about the practice.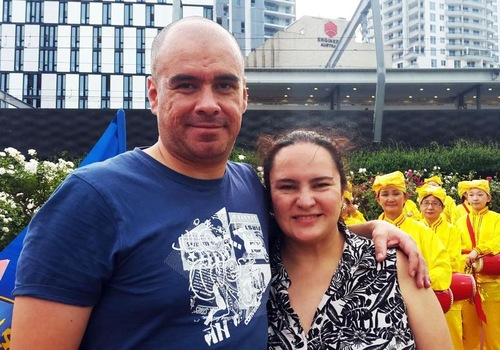 Anbrea Sieura and Miguel Sieura
Anbrea and Miguel Sieura live in the area. They said that they liked the Falun Gong procession, especially the waist drum team and the celestial maidens. They remarked, "We are also impressed by the Falun Gong exercises—they are so peaceful."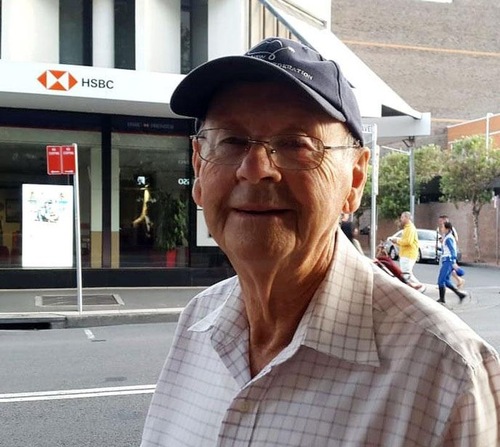 Robert Heath
The music and traditional costumes of the Tian Guo Marching Band were Robert Heath's favorite parts of the parade. The band was no stranger to him. As a local, he has seen the parade quite a few times.
Caroline and Alex Rafaloeitch
Caroline and Alex Rafaloeitch, who are from Canada, said they love traditional Chinese culture and were inspired by the peaceful meditation and cultural features the Falun Gong practitioners presented. Alex also said that he knew about the persecution in China and saw Falun Gong practitioners as a peaceful group. He said that he had seen practitioners in Australia and Canada. As someone who grew up in the former USSR, he knew a great deal about crimes committed by communist dictatorships.
Spreading Information About Falun Gong
Mr. Ouyang, a businessman from Hong Kong, was also happy to see Falun Gong at the event. "Falun Gong is the biggest entry in the parade today! I'm a frequent traveler, and I see Falun Gong in every country. I hope they can develop and become more powerful. I often share the information I have learned about Falun Gong with my friends on Facebook. I hope they can join me in supporting Falun Gong!"
Perseverance in Raising Public Awareness
Mr. Deng, an immigrant from Hong Kong who has lived in Australia for many years, said with tears in his eyes, "I sensed such a connection when the Falun Gong group passed by. I can't describe it. They stand out and radiate such positive and peaceful energy. Sharing authentic, traditional Chinese culture with everyone is so great. Falun Gong is the biggest and liveliest group in today's parade!"
Mr. Deng also said that he had known about Falun Gong for a long time. "I admire its practitioners for their perseverance in raising public awareness of the persecution in China. I see Falun Gong here, and I see Falun Gong in Hong Kong. I like the independent Epoch Times newspaper. The Chinese Communist Party cannot affect Falun Gong."