Sydney, Australia: Vietnamese People Wish Master Li a Happy Lunar New Year
February 19, 2019 | By a Minghui correspondent in Sydney
(Minghui.org) Falun Gong practitioners were invited to participate in the Vietnamese community's annual celebration of the Lunar New Year on the Fairfield Showgrounds in Sydney, South Wales, February 8-10, 2019. The Vietnamese who know about Falun Gong wished its founder, Master Li Hongzhi, a happy Lunar New Year.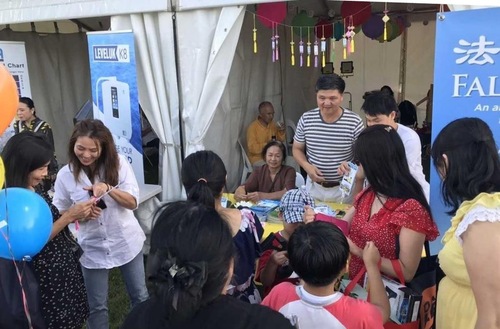 Falun Gong practitioners participated in the Lunar New Year celebration.
Fairfield City is known for having the largest Vietnamese community in Australia. This year's celebration included traditional dances, fireworks, lion dances, and martial arts performances, among other activities. Over 40,000 visitors attended the event.
Two visitors discussing a Falun Gong flier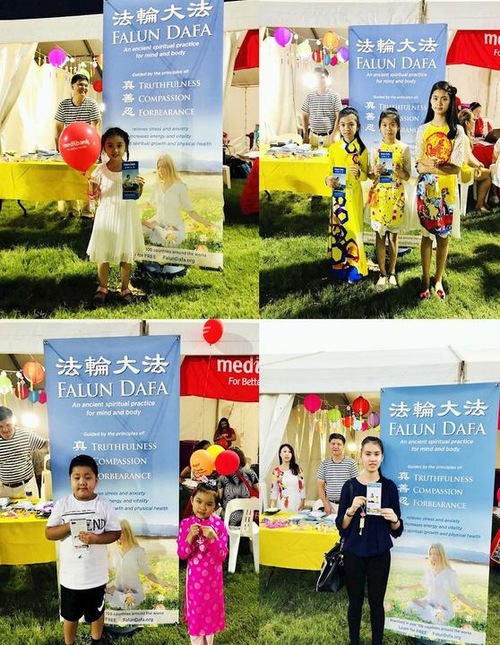 Young people took Falun Gong information and bookmarks.
Wishing Master Li Happy New Year
Trang Huynh, a Vietnamese lady, said, "In this Lunar New Year, I would like to wish Master Li Hongzhi wellbeing and abundant health, so he can help more people around the world gain benefits from Dafa."
She said she has known about Falun Gong for years, initially in reference to the Chinese Communist Party's (CCP) persecution of the practice. She started to learn more, and the more she learned, the more interested she became in Falun Gong.
"I decided to find out more about Falun Gong," she said, "because this is a cultivation practice of the Buddha School. I have also heard that it has many benefits, such as people have recovered from illnesses. I know this practice method adheres to the principles of Truthfulness-Compassion-Forbearance, which I think this is great. Because I am hot-tempered, I think this practice would help me become more patient.
"When I recently went back to Vietnam, I saw many people doing the exercises, but I had no time to learn it. Every time I went to the city center, I saw practitioners doing the meditation. That really made me want to participate, but the location was far from where I lived, so I could not learn it then.
"I saw the documentary film Human Harvest – Illegal Organ Trade in China, which is about the Chinese Communist Party's (CCP) crime of state-sanctioned organ harvesting from living Falun Gong practitioners.
"I am pleased to discover that there is a Falun Gong practice site in Cabramatta. That is very convenient for me. I will definitely take up the practice."
She took some Falun Gong information for her friends, "I will give these brochures to my friends and help more people learn about the positive benefits of this cultivation practice."
Chinese People Need to Know That Falun Dafa Is Good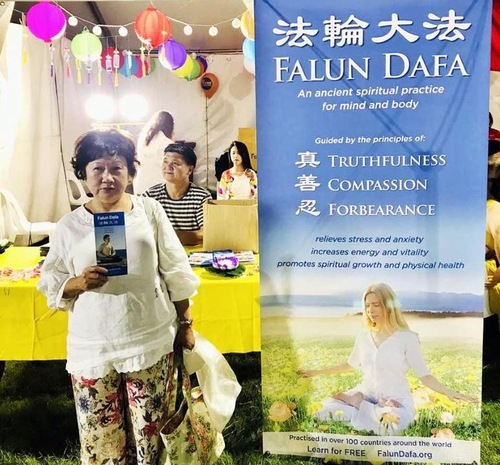 Ngoc Ngo hopes that Chinese people will understand that Falun Dafa is good.
Ngoc Ngo, a 60-year-old Vietnamese lady, stopped at the Falun Gong booth and asked for Falun Gong fliers in Chinese, English, and Vietnamese. When a practitioner asked her why she needed the fliers in Chinese, she said, "I am aware that the Chinese communist regime persecutes Falun Gong. I have some Chinese friends. They do not know their government is persecuting Falun Gong. In China, the CCP refuses to tell people the truth.
"Even though they live in Australia, they are still controlled by the Chinese government and do not have the opportunity to learn the truth. Many Chinese people here still do not know what true freedom is and why the CCP persecutes Falun Gong.
"The Party is evil. It fears honesty and the fact that people can run into and learn the truth about Falun Gong. Many Chinese people still remember campaigns of persecution carried out in China in the past and are afraid of the Party, which continues to feed them lies and mislead them."
She has found that many people are simply indifferent to what is going on in China. She noted that, if people want to find out the truth, they should surf the internet, where they can easily find out whether something is based on the truth or a rumor. But she's noticed that they do not want to—they just want to follow that regime because they think they benefit from it.
"I have known about Falun Gong for quite some time," she said. "The CCP is so cruel in its persecution of Falun Gong practitioners. It imprisons them and forces them to renounce their faith. The Party uses torture to impose its will and harvests organs from living practitioners for profit.
"The CCP conceals the truth. More people need to hear about the persecution. Evil is afraid of the light of truth. If we tell everyone we know the truth, it will spread like wildfire.
"I am happy to see your Falun Gong booth. I will take these fliers to my Chinese friends who are misled by the CCP's lies and propaganda.
"At today's celebration, I wish Master Li a happy Chinese New Year!"