Japan: Peaceful Protest at Chinese Consulate in Kumamoto on Eve of Lunar New Year
February 18, 2019 | By a Falun Dafa practitioner in Japan
(Minghui.org) Falun Gong practitioners from the Kumamoto area in Japan held a peaceful protest in front of the Chinese Consulate in Fukuoka on February 4, Chinese New Year's Eve.
The activity was held to protest the 19-year-long persecution of Falun Gong (also called Falun Dafa) in China and to commemorate the countless practitioners who have died as a result of the persecution.
The journey to the consulate for this protest on the eve of the lunar new year has been a tradition for practitioners in the southern part of Japan for the past 19 years. They held the first protest after the Chinese Communist Party and then party leader Jiang Zemin ordered the persecution of Falun Gong in July 1999, and have held annual protests every year since.
On the evening of February 4, 2019, practitioners gathered in front of the Chinese Consulate and held banners with the following messages: "Falun Dafa Is Good," "Dissolve the Communist Party and Stop the Persecution," "Stop the Persecution of Falun Gong Immediately," and "Immediately Stop Forced Organ Harvesting from Living Falun Gong Practitioners."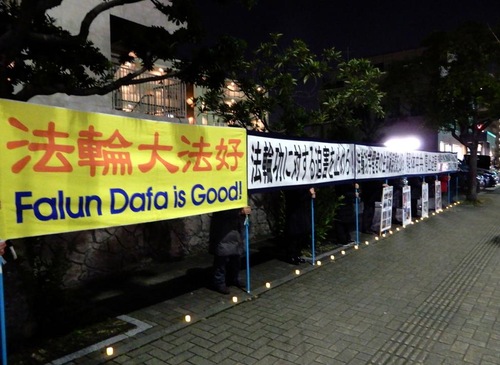 Falun Dafa practitioners staging a peaceful protest in front of the Chinese Consulate in Fukuoka, Japan.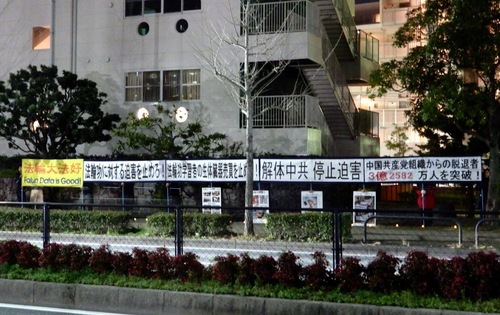 Passersby and even motorists called out to voice their support. "Your appeals are all correct. These are facts. I support you. Sa! (Go Falun Gong!)" a man called out to the practitioners.
"It's hard work for you. Hold on, please hold on!" another man called out.