(Minghui.org) According to information collected by Minghui.org, 181 Chinese citizens were arrested and 65 were harassed in January 2019 for refusing to renounce Falun Gong.
Falun Gong, also known as Falun Dafa, is a mind-body practice based on the principles of Truthfulness-Compassion-Forbearance. Since the Chinese communist regime launched a nationwide campaign against the practice in 1999, numerous Falun Gong practitioners have been harassed, arrested, tortured, or jailed for their belief. In 2018 alone, nearly 9,000 practitioners were arrested or harassed.
Exact numbers of arrests, incarceration, torture, harassment, and deaths are not yet known due to the difficulty in obtaining information from China. Actual numbers are likely much higher than the documented cases.
Among the practitioners targeted in January 2019, 79 had their homes ransacked and two had 10,000 yuan extorted from them by the police. At the time of writing, 117 of the practitioners who were arrested remain in detention.
Several practitioners were beaten by police while in custody. An 82-year-old woman in Shandong Province died hours after being arrested for distributing Falun Gong materials. Her lawyers noticed a large area of bruising on the back of her head and planned to further investigate the cause of her death. The attorneys, however, were threatened with license revocation and had to drop the case.
The targeted practitioners are located in 24 provinces and centrally-controlled municipalities. Hebei Province has 42 practitioners arrested and 28 harassed, the highest in both categories. Shandong Province registered 32 arrests, followed by 26 in Sichuan Province. Chongqing ranked the second in the harassment list, with 11 cases.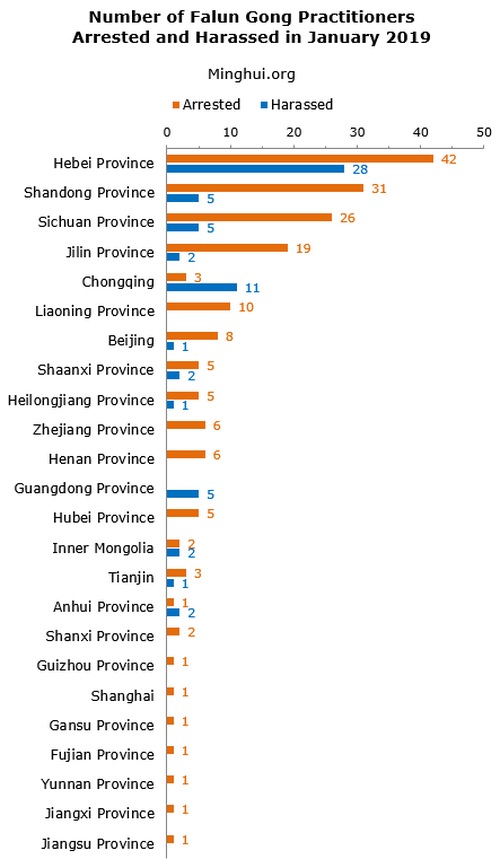 Twenty of the arrested practitioners were over the age of 65 years, including 16 above 70 years.
82-Year-Old Woman Dies Hours After Being Arrested for Distributing Falun Gong Informational Materials
Ms. Guo Zhenxiang, a resident of Zhaoyuan City, Shandong Province, died hours after she was arrested for handing out informational materials about Falun Gong on January 11, 2019. She was 82.
Ms. Guo was seized at a bus station by officers from the Mengzhi Police Station early in the morning of January 11. At around 10:00 a.m., her family was summoned to the police station, where they were told that their loved one had died.
The police claimed that Ms. Guo became ill after being taken to the police station and died in a local hospital despite resuscitation attempts. But when Ms. Guo's lawyers examined her body at the funeral home, they found a large area of bruising on the back of her head. When they questioned the police about the bruises, the officers changed their narrative and said that she died after taking a fall.
As the lawyers were preparing to file complaints against the police for Ms. Guo's death, the police used every means to stop them. They monitored and harassed the lawyers and Ms. Guo's family.
The lawyers were also threatened with license revocation. They were thus forced to drop the case.
The police tried to settle the case with Ms. Guo's family by offering a small sum of money. The family rejected the settlement. Ms. Guo's body remains at the funeral home.
Police in Hebei Province Arrest and Harass Practitioners Ahead of Chinese New Year
Prior to the 2019 Chinese New Year, Falun Gong practitioners in Hebei Province faced escalated persecution against their faith.
Mr. Wang Deyou, a resident of Cang County, was arrested on January 4 while distributing Falun Gong-themed Chinese New Year artwork at a fair in neighboring Huanghua City.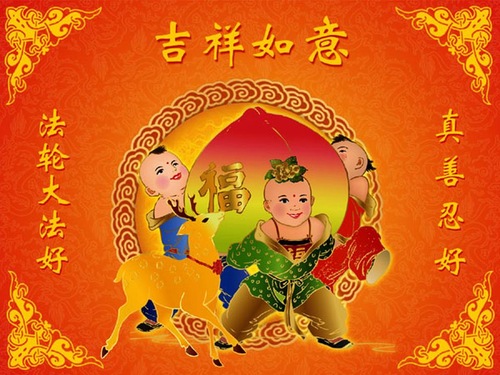 A typical Chinese New Year design distributed by Falun Gong practitioners. The phrases read "Falun Dafa is good" and "Truthfulness-Compassion-Forbearance is good."
The police reported Mr. Wang's arrest to the Huanghua City Domestic Security Office, which in turn notified authorities in Cangzhou City.
Officials in Cangzhou City ordered Cang County and Huanghua City, both under the administration of Cangzhou City, to intensify the persecution of local Falun Gong practitioners.
Mr. Wang was interrogated under torture on January 7. The police attempted to force him to reveal the source of the Falun Gong artwork. His wife, who is on dialysis and dependent on her husband to take care of her, was distraught to learn about Mr. Wang's arrest. She visited the police station numerous times requesting her husband's release, but to no avail.
Through phone tapping and other technologies, the Cang County police followed Mr. Teng Yiquan and a female practitioner surnamed Zhuang, both from Huanghua City, and three elderly female practitioners in Junmazhan Village who are in their 70s. The five practitioners were arrested at 4:00 p.m. on January 10 as soon as they arrived at the home of another practitioner in Junmazhan Village. They are currently held at the Cangzhou City Detention Center.
On the same day that the five practitioners were arrested, the police set up a highway barricade near Junmazhan to search for Falun Gong practitioners.
Later that evening, police officers harassed many more practitioners in Junmazhan and nearby villages. They confiscated Falun Gong-related books and New Year artwork. Mr. Teng's minivan was also taken away by police.
Another 15 Falun Gong practitioners in Shenzhou City, which is about 80 miles from Cangzhou City, also had their homes ransacked and five practitioners were arrested between January 9 - 11, 2019.
The police seized personal belongings, including computers, printers, MP3 players, Falun Gong books, and informational pamphlets.
83-year-old Man Imprisoned Following Arrest
Mr. Li Peigao, 83, from Kunming City, Yunnan Province, was taken to the Yunnan Province No. 1 Prison in January 2019.
Mr. Li had been sentenced to four years in prison for his faith on October 8, 2016, by the Xishan District Court in Kunming City. He was ordered to serve time at home.
Because of his continued efforts to raise awareness about the persecution of Falun Gong, Mr. Li was arrested twice, in September and November 2018. The police ransacked his home both times and confiscated Falun Gong books and related materials.
The police imprisoned Mr. Li after his latest arrest, to serve the remainder of his sentence.
67-Year-Old Woman Arrested Three Times in Less than Ten Months for Her Faith
Ms. Zhou Yufang, 67, a resident of Fushun City, Liaoning Province, was arrested on January 4, 2019, for her faith in Falun Gong, the third time in ten months. She was previously arrested on March 21 and December 10, 2018.
Following her first arrest, Ms. Zhou was released within hours after the local detention center declined to admit her due to poor health.
She experienced difficulty breathing and lost consciousness after she was taken to Nangou Detention Center after her second arrest.
The authorities sent Ms. Zhou to a local hospital for emergency treatment. The doctors sent a notice of critical condition to her family, which stated that the cause of her dizziness remained unclear and that she could die at any time. Her family was warned that she could develop a stroke or go into shock.
After she was sent home, Ms. Zhou gradually recovered through doing the Falun Gong exercises, only to be arrested again three weeks later for distributing Falun Gong materials.
She was admitted to the Nangou Detention Center this time. Her family was given the run-around when they tried to seek her release. They are now very concerned about her safety but have nowhere to turn for help.
Newly Widowed Man Arrested for His Faith, Denied Admission by Detention Center for High Blood Pressure
While Mr. Wang Wenqing's family was still mourning the recent loss of his wife, they were saddened to hear that the 76-year-old Wuhan City, Hubei Province resident was arrested for his belief in Falun Gong on January 11, 2019.
The police ransacked his home, confiscated two copies of Minghui Weekly (a publication about the practice of Falun Gong), and pushed him into a police car.
The police interrogated Mr. Wang at the Yaojijie Police Station before taking him to Huangpi District People's Hospital for a physical checkup. His blood pressure was found to be at a critically high level.
The police attempted to keep Mr. Wang in detention but the Bali Detention Center rejected his admission due to his advanced age and high blood pressure.
The police released Mr. Wang after ordering his family to pay 2,000 yuan for bail. A neighbor was ordered by the police to monitor him. The police also installed a surveillance camera in front of his home.
Officers from the Huangpi District Domestic Security Division and the Yaojijie Police Station have frequently harassed Wang Wenqing over the past several years. They have often searched his home, taken his photograph, and interrogated Mr. Wang at the police station.
Shenyang Man Tortured and Interrogated at Police Station
Mr. Cui Rishao from Shenyang City, Liaoning Province, was subjected to severe abuse, including freezing, interrogation, and beatings following his arrest on January 2, 2019.
The officers stripped Mr. Cui of most of his clothes and then opened the window and subjected him to the freezing temperature of -4 °F.
After nearly two hours of this torture, the police interrogated Mr. Cui for an hour before they left for dinner. Mr. Cui was locked in the same room and continued to be subjected to the freezing torture.
The officers came back drunk. They slapped Mr. Cui's face more than 20 times and struck his chest and abdomen. When his mouth filled with blood, the police didn't allow him to spit it out but forced him to swallow it.
The police later ransacked his home, confiscating his Falun Gong books and more than 2,000 yuan in cash.
Mr. Cui was held at the Kangping County Detention Center for more than 20 days before he was released. He is currently experiencing discomfort in his head.
Police Beat Shaanxi Woman Unconscious
Ms. Xue Lulian, a resident of Baoji City, Shaanxi Province, was arrested on January 3, 2019, after being reported to the police for practicing Falun Gong.
She was beaten into unconsciousness at the police station for refusing to cooperate with the police interrogation. The officers poured cold water over her and then took her to the hospital for medical treatment. Ms. Xue was sent to the Baoji City No. 2 Detention Center the next day and held for seven days.
Related reports:
Minghui Report: Nearly 9,000 Falun Gong Practitioners Arrested or Harassed in 2018 for Their Faith
82-Year-Old Woman Dies Hours After Being Arrested for Distributing Falun Gong Informational Materials
67-Year-Old Woman Arrested Three Times in Less than Ten Months for Her Faith
Newly Widowed Man Arrested for His Faith, Denied Admission by Detention Center for High Blood Pressure
Cangzhou, Hebei Province: Six Falun Gong Practitioners Arrested and More Harassed Ahead of Chinese New Year
Police in Hebei Province Persecute 15 Practitioners Within Three Days