San Francisco Falun Gong Group Shares Culture and Joy with Chinese New Year Parade
February 12, 2019 | By Minghui correspondent Jia Wei and Wang Ying
(Minghui.org) The San Francisco Falun Gong group put on a Chinese New Year parade in the city center and Chinatown on February 9. Tourists and locals were delighted to experience a timely and spirited celebration of traditional Chinese culture. "Amazing! Stunning!" were common reactions from the Chinese spectators, many of whom were surprised to see Falun Gong outside the context of the persecution in China.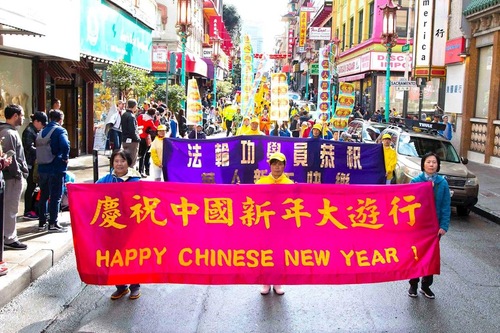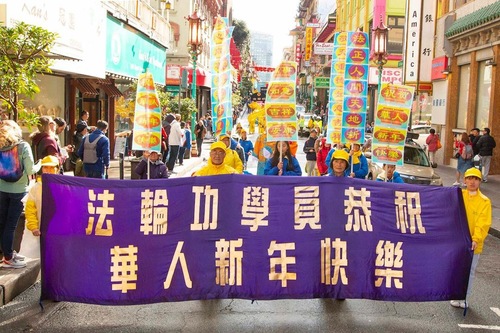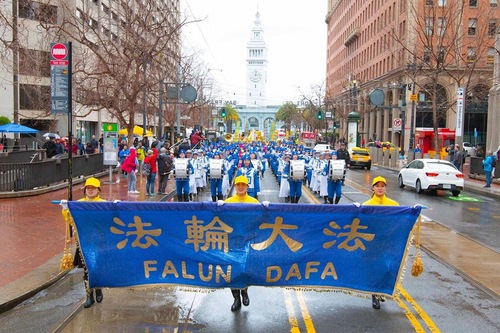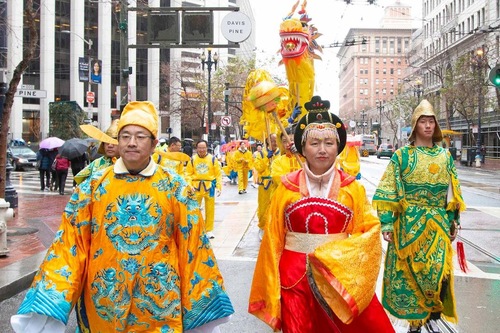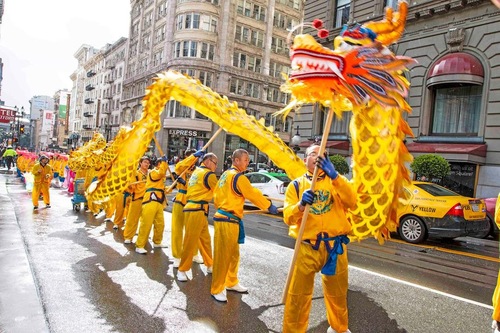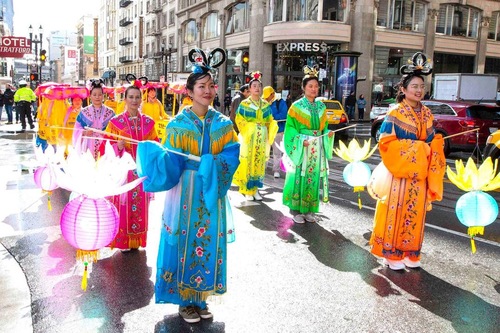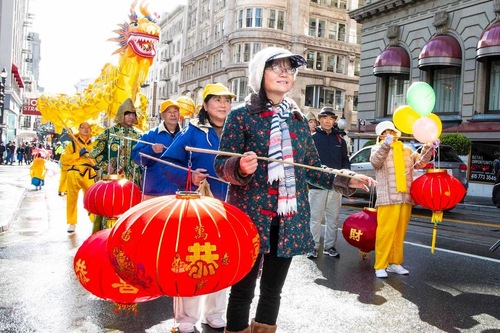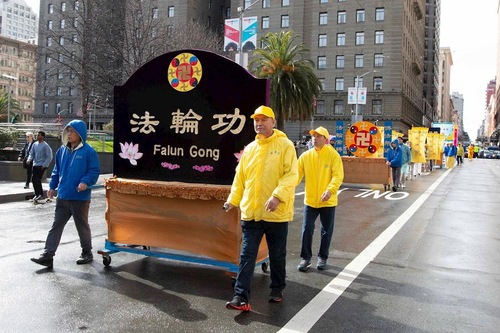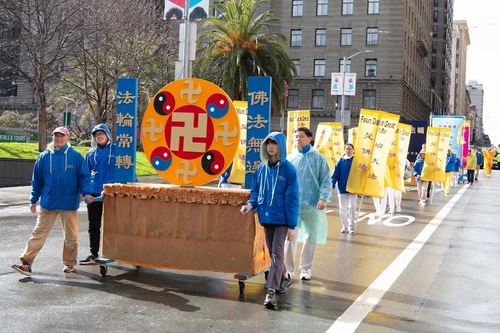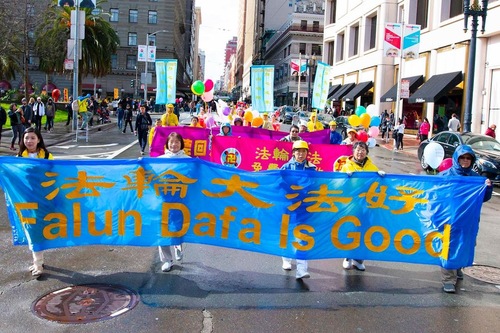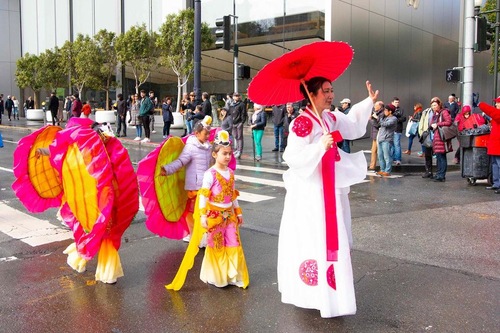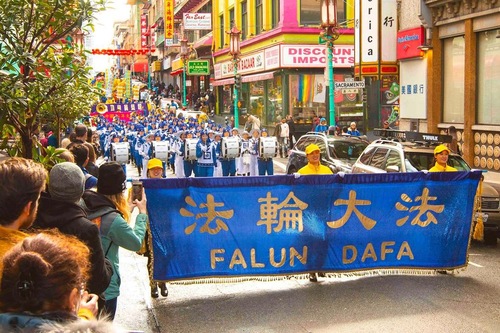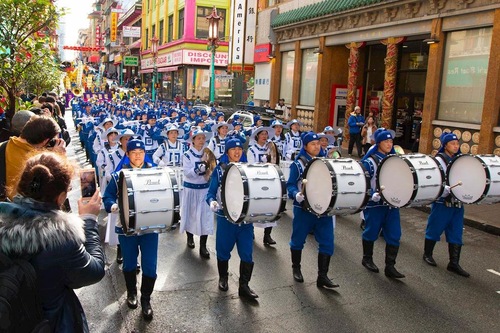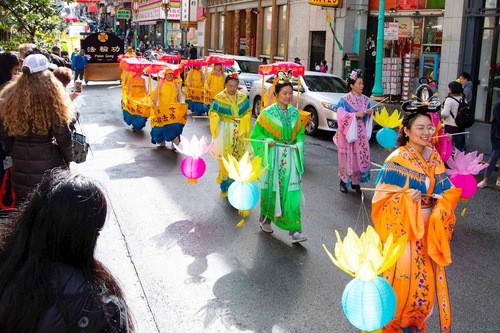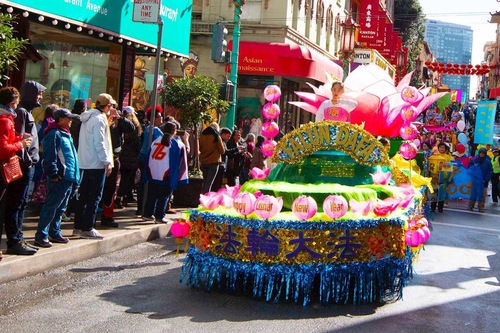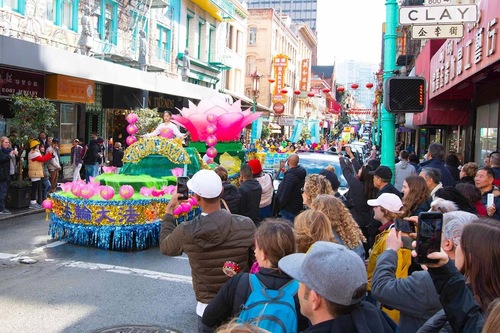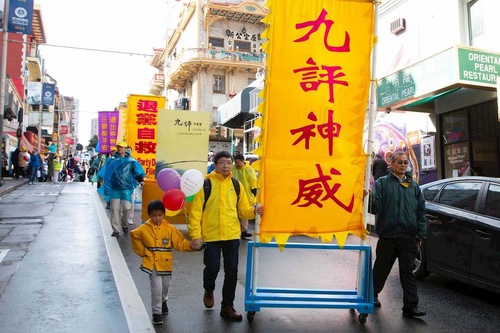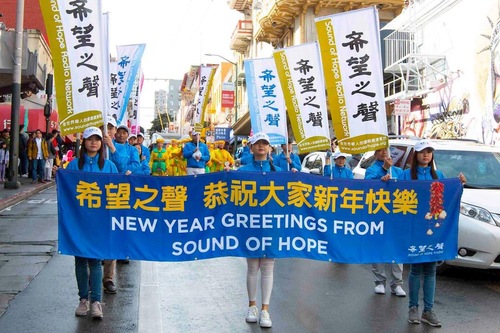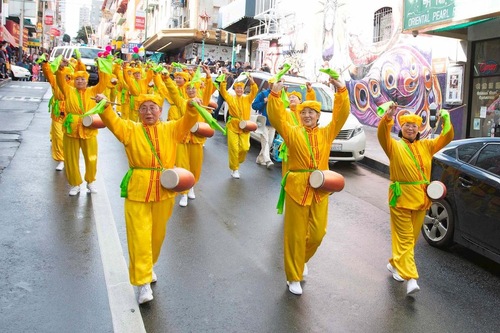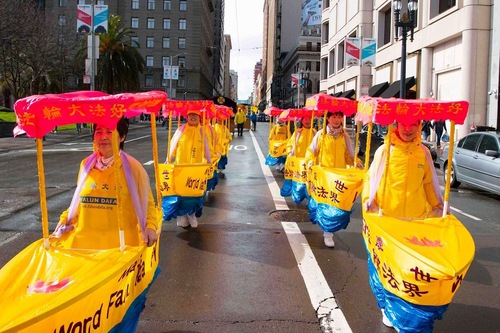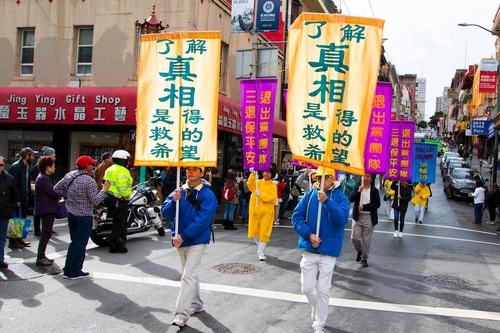 Falun Gong practitioners held a Chinese New Year parade in San Francisco's city center and Chinatown on February 9.
"Supporters of the Innocent Will Be Blessed"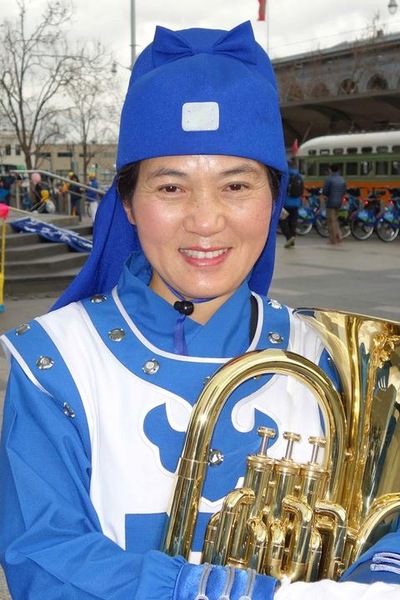 Falun Gong practitioner Ms. Liu
Ms. Liu, a former Chinese government official, said that she didn't want to miss any Falun Gong activities since she immigrated to America. She was illegally detained for 6 months in China for practicing Falun Gong.
She explained, "Falun Gong is an ancient cultivation way to improve the mind and body. It is beneficial to everyone. The Chinese communist propaganda [against Falun Gong] is full of lies. I believe that those who learn the facts and support the innocent will be blessed."
"Health, Peace, and Joy"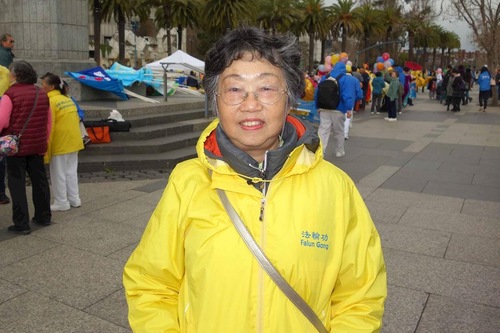 Ms. Xia Guiqi
Ms. Xia Guiqi is 80 years old and has practiced Falun Gong for over two decades. "My friends asked me, 'Why do you bother to continue your cultivation? Falun Gong is being persecuted. You have to bear a lot of suffering to continue. Won't you regret it if there is no heaven?'
"I said to them, 'I won't regret. I have one foot in heaven, a happy place. I am happy every day. Falun Gong has answered the questions I had about life. I have health, peace, and joy.'"
Seeing her changing during the past ten years, her friends are no longer skeptical. "I hope more people can get to know the preciousness of Falun Gong. If they do so, they will obtain divine blessings. The Buddha light illuminates everywhere. It is good for people."
Biological Researcher: "Look at the Facts about Falun Gong"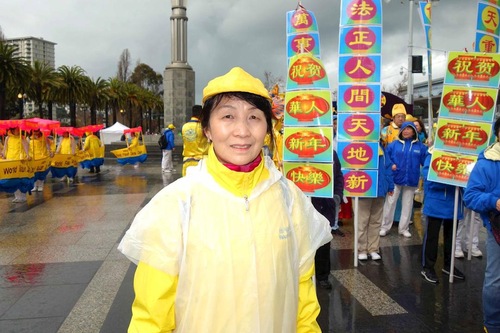 Ms. Chang Qun
Ms. Chang Qun has cultivated for six years, and lived outside of China for over 30 years. Her profession is in biological research. She said that she was curious why people would persevere in their belief in Falun Gong despite the brutal persecution. Curiosity prompted her to read the Falun Gong books, and she took up the practice as a result.
"I wish everyone a happy Chinese New Year," she said, "I hope people will look at the facts about Falun Gong, form their own opinion, and make their own choice."
Spectators Impressed by the Elaborate Display of Chinese Culture
Amaury
"The music is great!" said Amaury, a visitor from France, referring to the performance of the Tian Guo Marching Band, which led the procession. He added, "I'm very happy to get to know the culture and see the colorful costumes. Happy New Year!"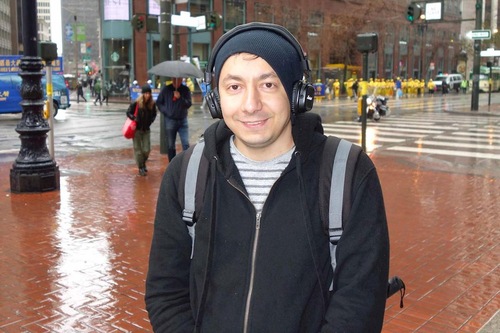 Mohamad
Mohamad, from Egypt, learned about the Chinese New Year and the persecution of Falun Gong through the parade. "This is great. We can learn more about different cultures and thus know what's going on. We should interact with and care about others more."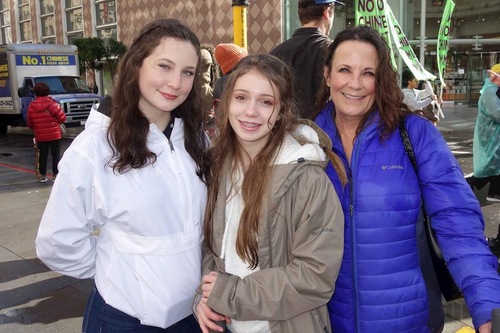 Sue (right) came to San Francisco to celebrate her birthday
Sue came to San Francisco to celebrate her birthday with friends. She said the parade was beautiful. Speaking of the persecution in China, she said, "The persecution must stop. People should have freedom of belief no matter where they are."
As the weather became sunny again, she added, "I'm very touched. These people held the parade in the rain. Now the sun has come out. They put on the parade for an issue that is very important to them. This in itself is significant. Happy New Year!"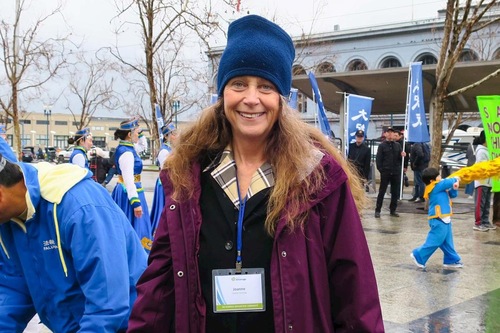 Joanne Hastings
Joanne Hastings was visiting San Francisco for a conference. She stopped to watch the Falun Gong exercise demonstration. She said, "I think I'm very lucky to have met such a kind group."
Joanne followed the parade until it ended.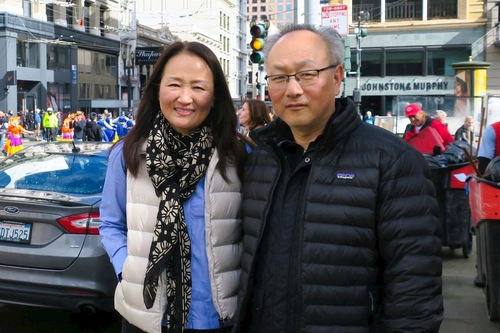 Jun Chung and her husband
Jun Chung came from New Jersey. She and her husband were sightseeing and came across the parade. "Today's parade is special; it's an excellent display of traditional culture and history. America is a melting pot of diverse cultures. Today's parade is representative of that."
A young couple from Beijing saw the parade in Chinatown. Mr. Zhang shared, "It's a special experience! I have read about news of Falun Gong parades in Hong Kong but didn't believe it. If we didn't make this spontaneous trip to Chinatown before leaving for home tomorrow, we wouldn't have seen a Falun Gong parade. It's really amazing!"