Puerto Rico: Introducing Falun Dafa at the San Juan Wellness Festival
December 18, 2019 | By Falun Dafa practitioners in San Juan, Puerto Rico
(Minghui.org) Falun Dafa practitioners recently set up a booth at San Juan's main annual wellness festival. From many parts of the island and from all walks of life, thousands of people of all ages encountered Falun Dafa for the first time, discovered a new way to wellbeing, felt a tranquility they had rarely felt before, and were awed by the example of Falun Dafa practitioners in China who continue to counter the persecution after 20 years with dauntless faith.
While telling visitors about the benefits of the meditation discipline and its persecution by the communist regime in China, practitioners also gave them the opportunity to sign a petition to the Honorable Samuel D. Brownback, U.S. Ambassador-At-Large for International Religious Freedom.
Amid the crowd of over 20,000 people, the Falun Dafa booth offered displays that could be read at a glance by those passing by as well as detailed exhibits for those who stopped to learn more.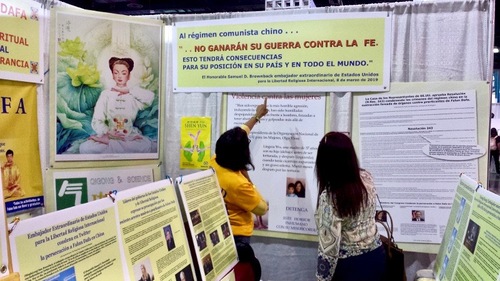 "You will not win your war on faith." --The Honorable Ambassador Samuel D. Brownback's condemnation of the Chinese regime's crimes displayed at the exhibition on the persecution of Falun Dafa in China
Visitors could work their way through the documentation of the crimes against humanity perpetrated for more than 20 years by the Chinese Communist Party and study for themselves exhibits of torture and forced organ harvesting as well as resolutions, reports, and testimonials by the U.S. Congress, the U.S. Commission for International Religious Freedom (USCIRF), the U.S. Congressional-Executive Committee on China (CECC), Doctors Against Forced Organ Harvesting (DAFOH), and various U.S. Senators and Representatives.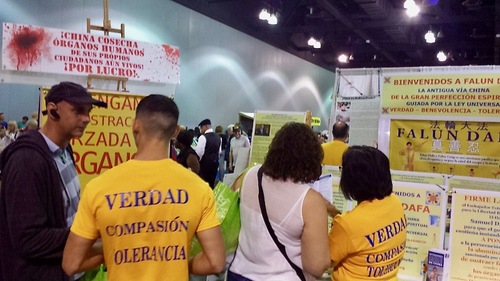 Visitors read exhibits and ask questions.

Visitors quickly found that practitioners had a petition to the very ambassador whose quote was displayed, and they were curious to learn what this "war on faith" was about. As they went through the exhibit and began to realize the horror of what they were discovering, many were shocked, pained, and speechless. They read the petition asking the ambassador to continue urging the Chinese government to stop its brutal persecution of Falun Dafa and other prisoners of conscience. Without fail, as they read the petition, they signed it.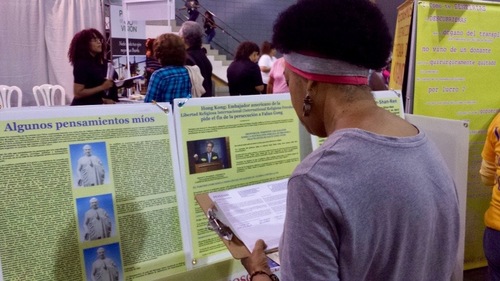 A visitor reads the petition

Many visitors were shocked to learn of the Chinese regime's killing of Falun Dafa practitioners for organs. They took brochures and pictures and said they would tell their family and friends. Some thanked the practitioners and said, "Well done!"
A woman sobbed as she looked at a poster showing images of how practitioners are tortured in China. With her head bowed and her hand over her mouth, she approached a practitioner for an explanation of the horror she struggled to understand.
One gentleman, after a quick glance around, said, "I'm a Cuban… and I know what communists can do. None of this surprises me. Where do I sign?"
Several nurses stopped by. As one of them read the DAFOH brochure on forced organ harvesting, she said, "This is monstrous… I find this very disturbing." Another nurse commented, "You don't see any of this in the public media." Yet another suggested, "Students of nursing and criminal justice should see this exhibition." Another nurse signed the petition and said, "I commend you for what you're doing here today."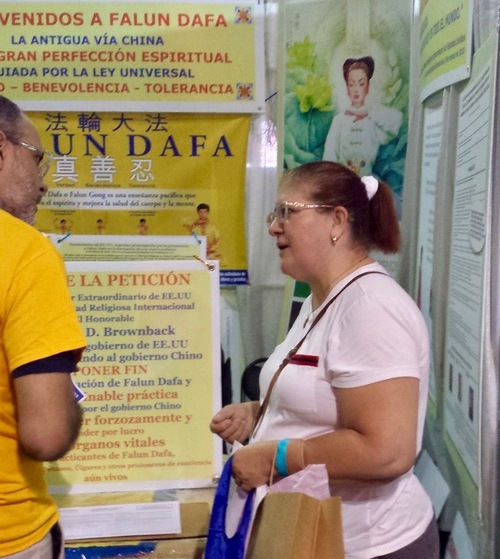 A nurse, alarmed by the killing of practitioners for organs in China, asks questions.

Learning the Dafa Exercises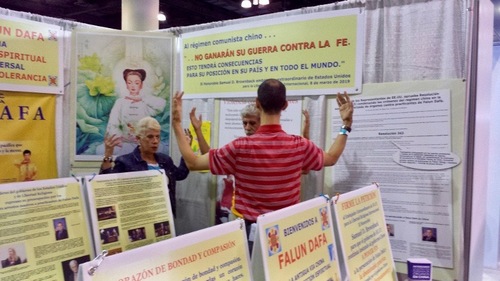 Mother and son tried the Falun Standing Stance exercise and said they felt "serene" and "very peaceful" afterward.

Several visitors learned the Falun Dafa exercises at the booth. A mother and son enthusiastically tried the Falun Standing Stance. In a few minutes, they were able to concentrate peacefully amid the loud music and noise of the festival. When they finished the exercise, they thanked practitioners for the opportunity. With a gentle smile, they said they felt "serene" and "very peaceful."
Another woman who tried the Falun Standing Stance was deeply moved. In just a few minutes, she was not only tranquil but visibly energized. She said "…a current went through me. I feel so wonderful. Thank you!"