Mexico: Practitioners Learn from Each Other During Falun Dafa Experience Sharing Conference
November 15, 2019 | By Falun Dafa practitioners in Mexico
(Minghui.org) Falun Dafa practitioners held a conference in the city of Cholula in Puebla, Mexico on November 9, 2019, during which they shared cultivation experiences. Nineteen practitioners spoke about how their faith in Falun Dafa helped them overcome tribulations and how they improved their moral character through following the principles of Truthfulness-Compassion-Forbearance. They also talked about their experiences while working together on projects to raise awareness of the persecution in China.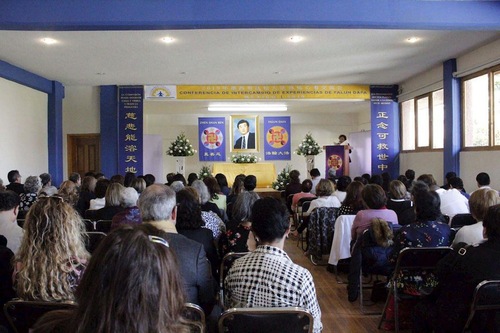 Practitioners held a conference in Cholula City, Mexico.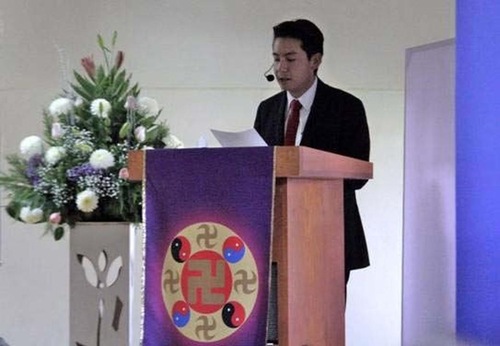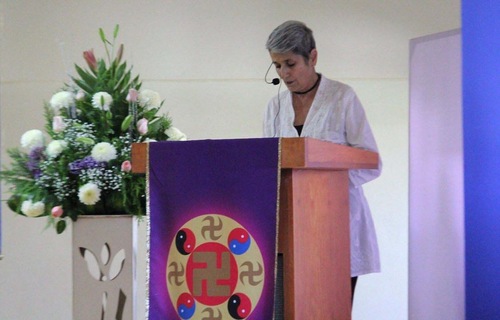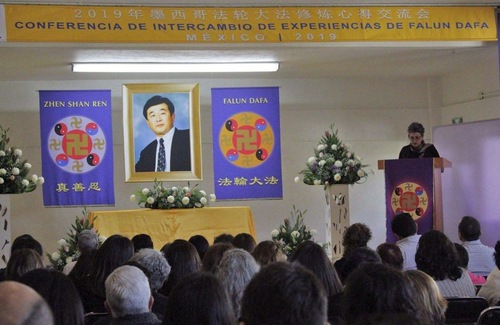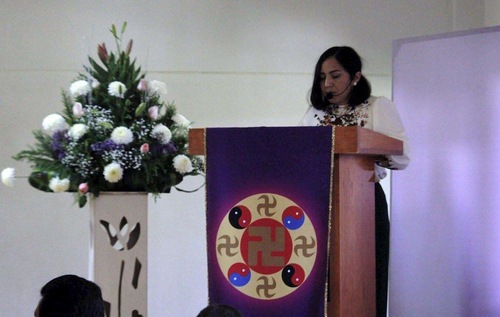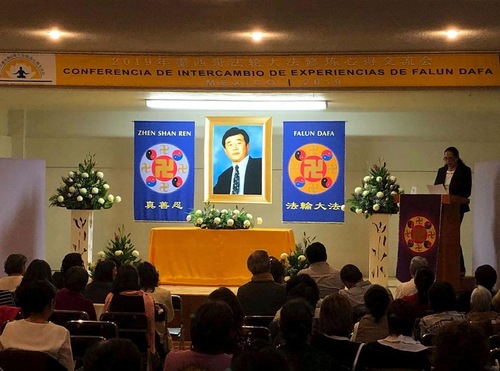 Practitioners read their papers.
Becoming a Better Person Through Practicing Falun Dafa
Angelica went through many hardships in her life. Her face was burned in an accident when she was young. She became pregnant at a young age and her boyfriend abandoned her. She was hit by a car while at work and had to undergo surgery. At her lowest point, she even thought of taking her own life.
Through practicing Falun Dafa, she realized that hardships in life are caused by karmic debt incurred in the past. She tried her best to follow the teachings and gradually got rid of her bad habits. She stopped mistreating her daughter, gave up competing with others for personal gain and learned to solve problems at work. She tries to help others as well.
Angelica began to do the three things required by Master Li (the founder) and does the exercises outdoors. She started to pay attention to sending righteous thoughts and helps with Dafa projects. She also took part in promoting Shen Yun Performing Arts shows.
Eliminating Jealousy
Alma talked about how she made progress in her cultivation while promoting Shen Yun shows. One time, after working in the kitchen the entire day, she saw other practitioners taking a break in a restaurant nearby. Through this experience she discovered that she had a very strong jealous heart. She paid attention to this attachment through Fa study. She was moved by the other practitioners' hard work and professional work ethic.
Practitioners rented a kitchen in a culinary institute during the Shen Yun performances. Alma had to deal with non-practitioners often and it made her realize how important it was to study the teachings diligently so that others can see the goodness of Falun Dafa practitioners.
Looking Inward for One's Shortcomings
Carmen has been practicing for six years. The city she lives in was very successful in selling Shen Yun tickets last year. Tickets were sold out a month before the company came. But the 2019 ticket sales were not so easy and she started to look at what areas she needed to improve in. She became aware of certain notions she had that were incorrect. For example, she did not try and sell expensive tickets.
Through Fa study, Carmen understood the importance of Shen Yun.
Recovering from a Serious Illness
Rosa spoke about recovering from an illness soon after she began to practice Falun Dafa. Her family asked her to see a doctor and take medication. However, she had strong faith in the teachings of Falun Dafa and regained her health.
Two years later, she suffered from another serious illness and it seemed that she might need surgery. However, after studying the Fa for two days, her symptoms disappeared.
Eliminating Attachments While Promoting Shen Yun
Cristina said she was very excited when she learned that Shen Yun would be performing in Mexico. She lived in a different city. As soon as she arrived in Mexico City, she joined a group Fa-study. She felt the power of Falun Dafa. She helped with logistics during the performances.
Cristina joined the sales team in 2015 and learned how to sell tickets. After she ran into problems she saw her attachments. She realized that she needed to improve in cultivation.
She gradually learned to get rid of attachments such as lust, seeking comfort, resentment, and jealousy. Through Fa-study and talking with other practitioners, she learned to appreciate the cultivation environment that she had and she became more diligent in cultivation.
Falun Dafa Answered Many Questions
Jennifer began to practice Falun Dafa in 2011 after her aunt gave her a copy of Falun Gong. Soon after, she began reading Zhuan Falun and realized she found the answers in life that she had been searching for.
She shared about how she became more compassionate in the process of promoting the book How The Specter of Communism Is Ruling Our World and is making a greater effort to tell people about Falun Dafa. She also talked about how she became aware of jealousy and eliminated it.