Those Who Persecute Falun Gong Will Be Denied Entry Into Taiwan
October 08, 2019 | By a Falun Gong practitioner in Taiwan
(Minghui.org) The Legislative Yuan, Republic of China (Taiwan) Foreign and National Defense Committee invited government units, including the National Security Council and National Immigration Agency, to report and answer questions on the "Draft amendments to certain provisions of the National Intelligence Work Act" on October 2, 2019.
When questioned by Taiwan Legislative member Yuan Wang Ting-yu, the immigration agency division said that those who were involved in the persecution of Falun Gong, or have broken the law, will now be denied entry into Taiwan.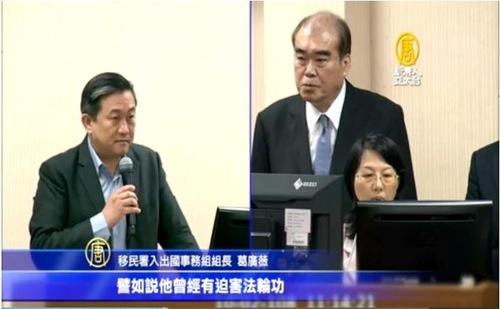 Taiwan Legislative Yuan member Wang Ting-yu (left)
Ge Guangwei, head of the entry and exit affairs division of the National Immigration Agency said: "Chinese officials will be denied entry into Taiwan if they were involved in the persecution of Falun Gong, or have broken Taiwanese law.
Member of Taiwan Legislative Yuan: Government's Declaration an Important Announcement
When interviewed, Wang Ting-yu said that the immigration agency has made it clear that whether it is Communist Party officials, or visitors from China who want to enter Taiwan for studies or travel, if they have broken the Taiwanese law – for example, if they were involved in the persecution of Falun Gong, have attacked democracy in Taiwan, or disrupted Taiwan society – the immigration agency will often deny them entry after a joint review.
Wang emphasized that this is a very important announcement, and has not been mentioned in the past by any Taiwanese government department. He said the Taiwan government welcomes anyone from anywhere in the world to visit Taiwan, but will not permit the communist regime to use the democratic system in Taiwan to persecute those who have already been persecuted in China. Wang clarified, "Taiwan is a very important democratic country in Asia. We should uphold our responsibility to protect people, and safeguard democracy and freedom."
Mainland Chinese Academic: Legislature Is Very Timely
According to Lai Jianping, who holds a Master's degree in international law from China University of Political Science and Law, the stance given by Taiwan's Immigration Office is very timely.
He said: "Everyone must respect others' basic human rights and freedom, including religious freedom. If anyone who persecutes religious followers is barred by the Taiwan government from entering its borders, I think this falls within its sovereignty and is in line with the current trend of world governments. Therefore, I think this is a very timely and excellent legislature."
Taiwan: Falun Gong Practitioner Submits List of Persecutors to the Mainland Affairs Council
Theresa Chu, the spokesperson for the Falun Gong human rights legal team, said on October 4: "We support the Taiwanese government's decision to deny those with a record of persecuting Falun Gong practitioners in China entry into the country. She said that on June 4 this year she submitted a list of more than 100,000 Falun Gong persecutors, collected by the World Organization to Investigate the Persecution of Falun Gong (WOIPFG) to the Mainland Affairs Council. She hopes the Taiwanese government will bar every single person on the list from entering the country, including human rights violators. They are not welcome in Taiwan's democratic system.
United States: Falun Gong Practitioner Submits List of Persecutors to the U.S. Government
The Communist regime's 20-year-long persecution of Falun Gong practitioners has gained international attention. Many countries worldwide have taken actions to curb such human rights violations in China. A U.S. official told practitioners in America that they can submit a list of persecutors to the government. They will tighten visa approvals, may deny visas to human rights violators, and those who persecute religious beliefs. This applies to both immigration visas and non-immigration visas such as for tourism, or visiting relatives and businesses. Visa holders, including those who have already granted permanent residence (green card), may be denied entry.
Individuals on the recent name list submitted include leaders from the Propaganda Department, the Political and Legal Affairs Committee (PLAC), and the 610 Office, as well as doctors involved in forced organ harvesting, judges, and officers from prisons and labor camps. Their involvement includes issuing policies, giving instructions, and carrying out orders.