Mother of US Resident Suffers Persistent High Blood Pressure While Detained for Her Faith
October 05, 2019 | By a Minghui correspondent in Shandong Province, China
(Minghui.org) A 68-year-old woman in Qingdao City, Shandong Province, was stopped by four plainclothes officers as she returned home from grocery shopping on September 10, 2019. They pushed her into their car and drove her away.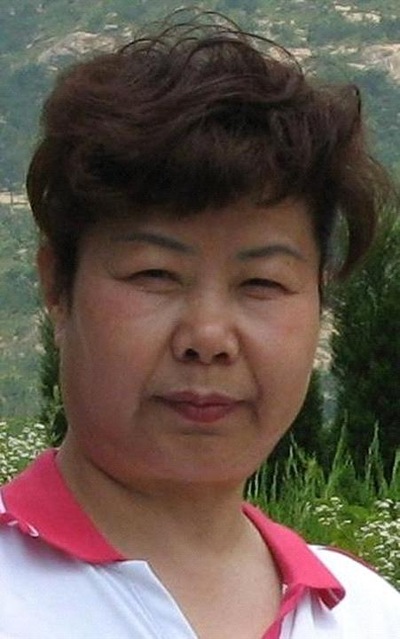 Ms. Song Jiling
Ms. Song Jiling was taken to the Pudong Detention Center later that afternoon. She was found to have high blood pressure, high blood sugar, and an irregular heartbeat during the required medical exam, but the police forced the detention center to accept her.
This mother of a San Francisco resident was later put in criminal detention for refusing to give up her faith in Falun Gong, a spiritual discipline that has been persecuted by the Chinese communist regime since 1999. The police confiscated her personal belongings but never provided her family with a list of confiscated items.
When Ms. Song's lawyer recently visited her in the detention center, she appeared to be gaunt and exhausted. She told the lawyer that the guards and doctors in the detention center were forcing her to take blood pressure pills every day, but her blood pressure was still high. She had intense headaches and felt very dizzy.
This was the second time Ms. Song has been targeted for her faith in the past 17 months. Shortly after she was seized by the police on April 20, 2018, she suffered a heart attack and was taken to a hospital, where the police handcuffed her to the hospital bed and had about six officers taking turns monitoring her. She was released on bail on April 28.
In addition to Ms. Song's own ordeal, her husband and son, Mr. Wang Zhansuo and Mr. Wang Xia, have also been repeatedly targeted by the authorities for their faith in Falun Gong.
The older Mr. Wang, a former judge and prosecutor, was sentenced to four years in Shandong Prison in 2010 and subjected to brutal torture aimed at forcing him to give up Falun Gong. His law license and his pension were suspended during his imprisonment.
The younger Mr. Wang was arrested with his father in 2010. Although he was released shortly afterward, the authorities forced his employer to fire him.
Ms. Song's daughter, Ms. Wang Xiao, who moved to the US in 2005 and currently resides in San Francisco, invited her parents to the US to visit her after Mr. Wang was released from prison in 2014. The authorities denied the couple's passport application because of their faith in Falun Gong.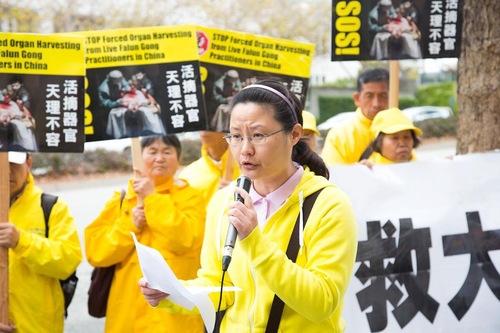 In front of the Chinese Consulate in San Francisco in October 2016, Ms. Wang Xiao recounts her family's ordeals.
Related reports:
Attorney Wang Zhansuo and His Son Detained for Over 30 Days
Lawyer Wang Zhansuo and His Family Abducted
U.S. Congressman Concerned Over Plight of Imprisoned Falun Gong Practitioner
Former Court Deputy President Severely Tortured and Still Put in Prison Despite Serious Illness