U.S. Congressman Concerned Over Plight of Imprisoned Falun Gong Practitioner
(Minghui.org) U.S. Representative Eric Swalwell, Jr. (D) from California's new 15th congressional district, recently wrote to U.S. Ambassador to China, Gary F. Locke, requesting that he raise the case of Wang Zhansuo with authorities in China. Mr. Wang is illegally imprisoned in China for practicing Falun Gong.
Rep. Swalwell first learned about Mr. Wang's situation from newspaper interviews conducted by the Bay Area News Group, NBC News, and the LA Times, in which Mr. Wang's daughter, Xiao Wang, recounted her father's ordeals. Ms. Wang is a resident of Swalwell's congressional district.
"The United States must always stand on the side of freedom and liberty," wrote Mr. Swalwell in a letter to U.S. Ambassador to China Gary F. Locke. "It is simply unconscionable to imprison someone for their political or religious beliefs. In addition, it is important that Chinese authorities be made aware of Mr. Wang's declining health and his need for appropriate medical care."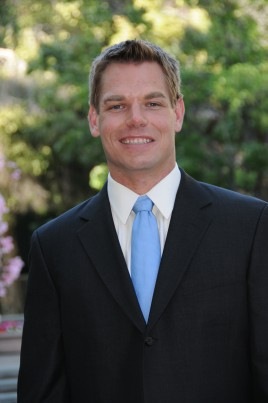 US Rep. Eric Swalwell (D-CA15)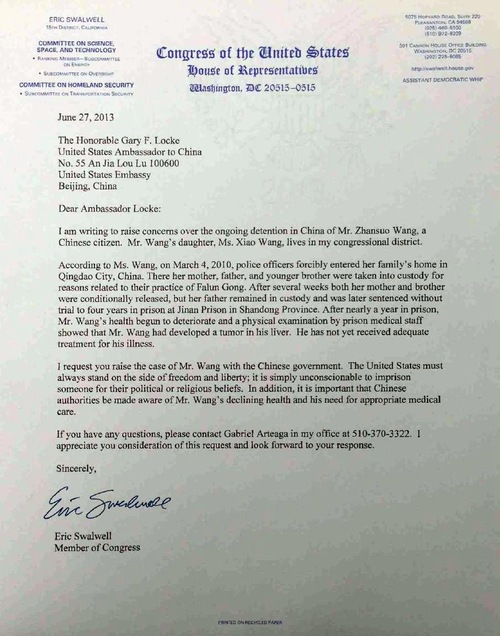 Rep. Swalwell's letter to US Ambassador to China, Gary F. Locke
On March 4, 2010, local police officers in Qingdao City, China, forcibly entered the Wang residence and arrested Mr. Wang, his wife, and their son, for practicing Falun Gong. Ms. Wang's father was sentenced to four years in prison by the Huangdao District Court in October 2010.
Mr. Wang was physically and mentally abused during his first 10 months at the Huangdao District Detention Center. As a result, he became emaciated, had difficulty eating, and could hardly walk.
Despite his poor physical condition, Mr. Wang was brought to the Jinan Prison (also called Shandong Province No.1 Prison) in Jinan City, Shandong Province in January 2011, to finish the remainder of his prison term.
Upon physical examination, it was discovered that Mr. Wang had developed a tumor on his liver, and thus the Jinan Prison authorities refused to accept him. However, one month later, officers from the Huangdao Development Zone 610 Office colluded with Jinan Prison officials to accept Mr. Wang, despite his illness. Prison officials have yet to provide him with proper medical treatment.
Mr. Wang is incarcerated in Ward No.11 in the Jinan Prison.
Related information:
Shandong Province No.1 Prison Address: 91 Gongye South Road, Jinan City, Shandong Province, China Postal code: 250100
Ward No.11: Zhang Leiguang, head: +86-531-87075200 (Office), +86-531-87072612 (Home) Li Wei, political head: +86-531-87075200 (Office), +86-531-87075325 (Home), +86-531-87072680 (Home)