French Legislators: France Must Pledge Against the Forced Harvesting of Organs
October 29, 2019 | By a Falun Dafa practitioner
(Minghui.org) The French National Assembly started the revision of Bioethics law in September and October 2019, a scheduled course of action that is undertaken every seven years. Member of the province of Seine André Gattolin and Laurianne Rossi, published an article on the website of the Libération newspaper on October 2, titled, "France Must Pledge Against the Forced Harvesting of Organs."
The article emphasized the lack of ethics law in the area of organ transplantation as an international business, which rarely known to the pubic, but highly profitable. It requested an addition to the Bioethics law to trace each organ transplant, to protect French patients as well as victims.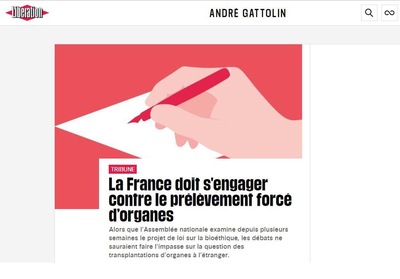 Article published on the website of Libération newspaper.
The article mentioned that organ pillaging has been a known, global phenomenon for a long time. It is mostly committed by criminal organizations and rogue groups in Brazil, India, and some east European countries. However, reports and investigations have proved there has been a government-sanctioned forced organ harvesting system in China for more than a decade.
The article cited a report from David Matas and David Kilgour, two Canadians, published in 2006, which claimed the majority of the victims of the forced organ harvesting are the thousands of prisoners of conscience, mostly Falun Gong practitioners, and imprisoned Tibetans and Uighurs.
The article also cited publicly available data from Chinese hospitals stating that there are more than 90,000 organ transplants annually in that nation, but the source of these organs are unknown, and the number of prisoners of conscience sentenced to death are covered up as a national secret.
The escalated persecution of Falun Gong, a well-known practice that can improve health, made a connection between a large supply of healthy organs and the large number of transplants.
Patients have to wait years for a matching organ in France, but it takes only a couple of weeks in China. This unexpected fast speed attracted many wealthy patients who were waiting for organs. The number of French citizens who traveled abroad to receive an organ transplant is increasing, as they appear as medical tourism destined to arrive in China hospitals.
Neurology doctor Alexis Genin of Pitié-Salpêtrière hospital in Paris, also a member of the organization Doctors Against Forced Organ Harvesting (DAFOH), said that some Chinese doctors betrayed the trust of the French medical system, whose best surgeons have trained the Chinese doctors during the past 20 years. He stated that it is unacceptable that the knowledge had been skewed so badly as to trade human organs on the market.
Many of the world's countries have established laws to regulate the inhuman and unethical forced organ harvesting, including Spain, Israel, Italy, Norway, and Taiwan. Other countries, like Belgium, Britain, and Canada, have started discussions in their respective parliaments.
The United States, European Common Market, and Australia have already openly condemned the forced organ harvesting and organ trafficking.
In France, about 300 patients waiting for organ transplants disappear from the list every year. They didn't die, didn't receive an organ transplant, as least not in France, and their conditions are not worsening. So the question is, where did they go, and what happened to their illnesses? A method to answer this question is needed.
In the end, the article stated that France, as the initiator of International Declaration of Human Rights, must fight the ethic battle resolutely and exemplarily. Otherwise, France will become an accomplice of the hidden and uncontrolled organ transplant market. The DAFOH said that this is a crime of genocide, an invisible genocide.