Australia: "I Hope More People Will Know the Truth" – Practitioners Share Their Thoughts after Weekend Events
October 24, 2019 | By Minghui correspondents
(Minghui.org) Falun Dafa practitioners from Australia attended the cultivation experience sharing conference and parade held in Melbourne, October 11-12, 2019. After the conference and other events, several attendees shared their thoughts.
"I hope more people will know the truth"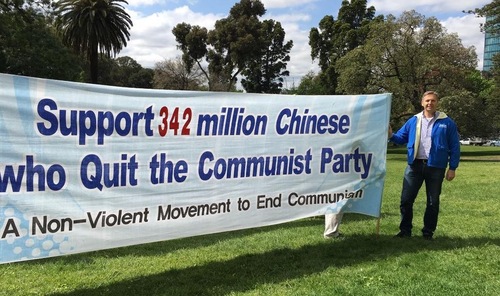 Vlad Stevanovic traveled from Queensland and was excited to participate in the parade and the conference.
Vlad Stevanovic from Queensland began practicing Falun Dafa in 2011. This was his first time attending a cultivation sharing conference in Australia, and he was very much looking forward to attending the events.
Before the grand march on Friday, Vlad said, "I am very eager to participate in the march. The theme of the part I've been assigned to is supporting the trend of quitting the Chinese Communist Party (CCP). Now, more than 342 million Chinese have withdrawn from the CCP. The parade tells people what is happening in China. I hope that more Australians will come to know the truth from the event.
"I think there has been a big change in the Australian society and the international community. People are increasingly aware of how communism has penetrated the West, and how it affects the Australian people. I think the mainstream media clearly know this. The situation is now more urgent than ever. I feel from the bottom of my heart that I should come to Melbourne to tell the public the truth."
Vlad is a marketing specialist with clients in government, business and NGOs (non-governmental organizations). In 2011, he started to look for a cultivation practice that would show him the meaning and value of life. His wife, who has practiced Falun Dafa for a long time, recommended the practice to him. After listening to Master Li Hongzhi's nine lectures, Vlad said that he felt awakened. He shared, "Every time I finish a lecture, I find that everything in the teaching is meaningful to me and does not require any further explanation. The teaching shows me the meaning of life."'
Vlad said that attending the conference is part of his cultivation. He is glad to work with other practitioners to let the public and the government understand what's happening in China and how it impacts the world.
"Many people already have a better understanding of Falun Dafa's peaceful resistance against the persecution. This is the time to stand up. I think people will now accept the truth more than ever."
"Cultivation gives me wisdom"
Sveta from Adelaide, South Australia, participated in the Falun Dafa activities in Melbourne.
Sveta, who works in a hospital in Adelaide, said that practicing Falun Dafa makes her healthy and quick-thinking. As the mother of two energetic boys, she still has energy to take professional courses and has become the department head.
She said, "After my husband began practicing Falun Dafa in 1996, I met many Dafa practitioners. I was deeply impressed by their kindness and compassion. In 1999, when I learned that such a wonderful practice was being persecuted by the CCP, I felt sad. So I began to help local practitioners talk to people about Falun Dafa in Chinatown and the Central Business Street. In 2000, I started to practice myself.
"Soon after I started, I dreamed of a paradise-like scene. The beauty can't be described in words. In my dream I also heard voices from other dimensions as mentioned in Zhuan Falun (the main book of Falun Dafa). A shining Falun turned and approached from far, larger and larger, brighter and brighter. I believe this was Master."
"By following the principles of Truthfulness-Compassion-Forbearance, my business gets better and better"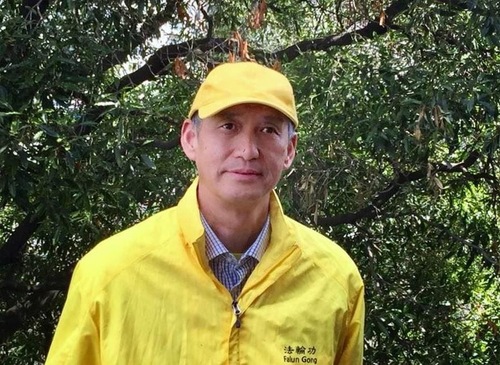 George, a practitioner from Queensland, attended the weekend events in Melbourne.
George from Queensland is an investment shareholder for several catering companies. He first heard about Falun Dafa from his mother-in-law. He said, "At that time, Falun Dafa was not being persecuted by the Chinese Communist Party. We all went to the park to practice at 4 a.m. every morning."
In 1996, George moved to New Zealand. After the persecution began, George's family, who are from China, urged him to give up cultivation. George knew Falun Dafa is very righteous. Hearing how practitioners peacefully defended it strengthened his belief.
Before he began practicing, George suffered from severe allergic skin disease, which had plagued him for decades. He often relied on medicine to relieve the pain. His condition disappeared shortly after he began practicing, and he's been healthy ever since.
George works in the investment industry and has many customers. In the past, he always felt that he had to gain a lot if he paid a lot. If he encountered unreasonable clients, he would fight with them, and even call the police at times. He would never give in, because he believed that once he gave in, the other party would ask for more. After he began practicing Falun Dafa he has always followed the principles of Truthfulness-Compassion-Forbearance. When a client is unreasonable, he no longer fights with them. He tries to persuade the other party from a positive point of view.
He has found that the clients have changed, and are now respectful. His investment projects have become better and better.
George said that at the beginning of the persecution, his family was afraid that his cultivation practice would negatively affect them, due to the far-reaching, insidious nature of the CCP. After so many years, they gradually saw the beauty of Dafa from his positive changes. Now they're all supportive of his practice.
"I am deeply grateful to Master Li Hongzhi, for leading me on the path of returning to the truth," he said.
George also hopes that the world will understand the negative nature of the CCP through the joint efforts of Falun Dafa practitioners. He especially hopes that his fellow Chinese will withdraw from the Party's organizations.