New York: Falun Gong Practitioners Celebrate Fall Harvest with Performances in Chinatown
October 23, 2019 | By a Falun Dafa practitioner in New York City
(Minghui.org) New York Falun Gong practitioners' cultural performances added warmth to a pleasant, sunny fall day in Manhattan's Chinatown on October 13, 2019. Performances by the Tian Guo Marching Band, lion and dragon dance teams, vocalists and musicians helped Falun Gong practitioners share the beauty of the ancient spiritual practice with local residents and tourists in Roosevelt Park.
Falun Gong, also called Falun Dafa, is an ancient cultivation practice based on the principles of Truthfulness-Compassion-Forbearance. It was introduced to the public by Master Li Hongzhi in 1992.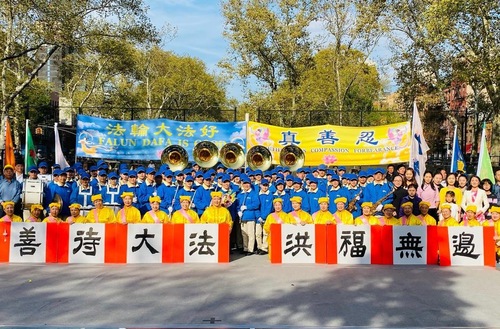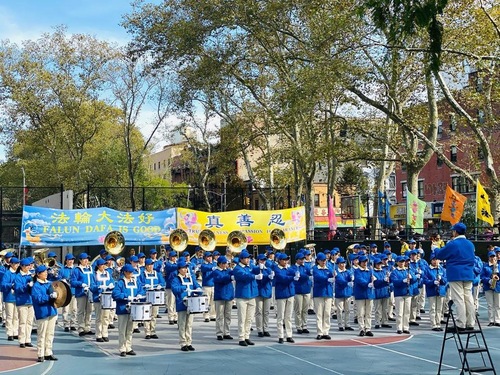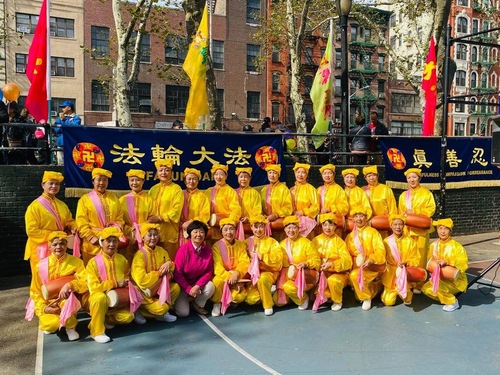 Falun Gong practitioners hold fall harvest celebrations in Roosevelt Park in Manhattan's Chinatown.
The performances started at 11:00 a.m. and continued until 3:00 p.m. A crowd gathered to watch and take photos and video.
Many audience members enjoyed listening to the performances by the Tian Guo Marching Band, which is composed of Falun Gong practitioners of different nationalities, ages, and professions. The band participates in Independence Day parades and other important events in the United States.
Falun Gong practitioners have also formed local Tian Guo Marching Bands in many countries, including Hong Kong and Taiwan.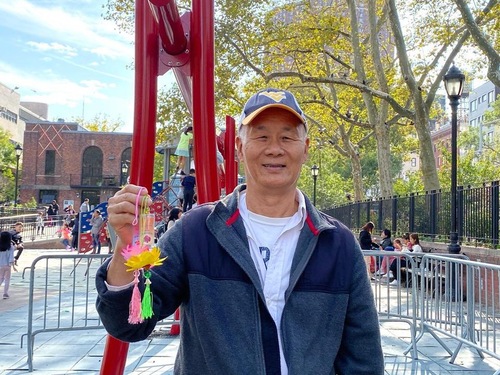 Mr. Li, a resident of Chinatown, said, "I have the same feeling every time I see their performance. Falun Gong is really the pride of many overseas Chinese."
The host explained the story behind the Pipa solo "Gate to Heaven Opens After Ten Thousand Years" to the audience. The melody for the song is based on a prophecy poem written by Sao Yong during the North Song Dynasty, which reads, "The grand gate to heaven will open again after ten thousand years, but how many of those who descended to the human world can return home?"
The host explained that an interpretation of the prophetic poem suggests that countless divine beings, gods, and Buddhas have followed the Creator and descended to the human world to save people. They are destined to return to heaven after fulfilling their vows.
"Perhaps the gate to heaven is already open. You might be able to seize the precious opportunity to return to your heavenly home if you pay attention to the books of Falun Gong and what Falun Gong practitioners are telling the world," the host said.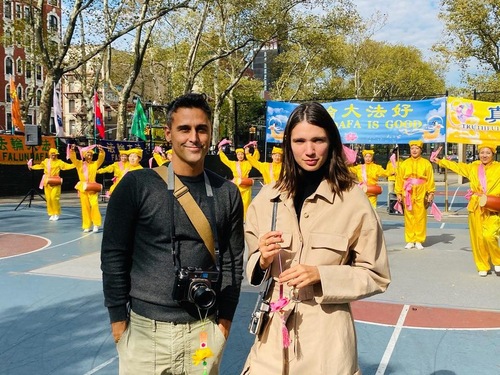 Arale and Martin from Barcelona, Spain, took many photos and said they enjoyed the beautiful performances.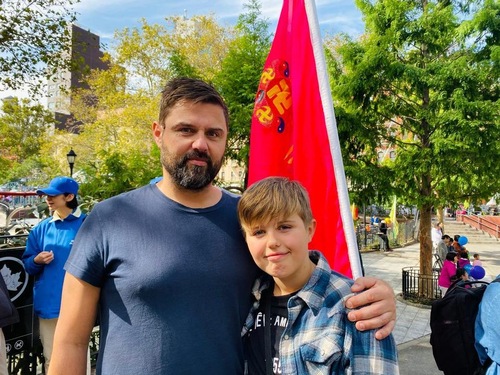 Mikkel Olsen from Denmark liked the performances.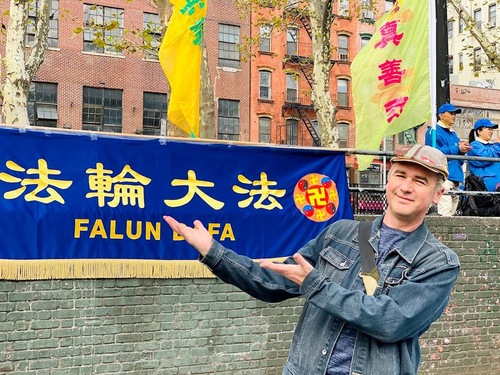 Mr. Vytautas Ambrazas, a tourist from Lithuania, enjoyed the performances.
Mr. Vytautas Ambrazas, a tourist from Lithuania, commented that he was happy to encounter Falun Gong in New York City. "I grew up in a country under the former Soviet Union and had a lot of first-hand experiences of persecution in a communist country." He said, "Fortunately, Lithuania is now a democratic country and people can enjoy a lot of freedom. I am very happy to meet Falun Gong here and am happy to see their culture, traditions and unique apparel revived."