Toronto, Canada: Parade Held to Support Withdrawals from the CCP and Call for End of the Persecution
October 20, 2019 | By Minghui correspondent Zhang Yun
(Minghui.org) Falun Gong practitioners held a parade in downtown Toronto on October 12, 2019 to support the withdrawals of over 340 million Chinese people from the Chinese Communist Party (CCP) and its youth organizations. They also condemned the persecution by the CCP, especially the state-sanctioned organ harvesting from living Falun Gong practitioners. They called for an end of the persecution.
The parade started at Clarence Park and passed through downtown and Chinatown. The parade was led by the Tian Guo Land Marching Band, followed by a float, a lion dance team, exercise demonstration, waist drum troupe, and groups of practitioners demonstrating the Falun Gong exercises.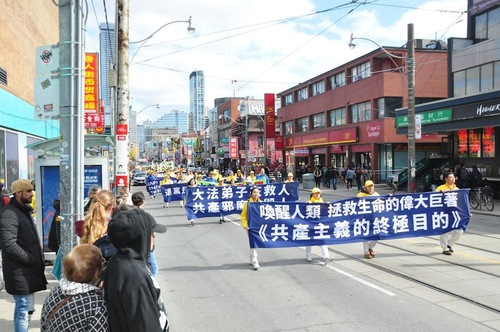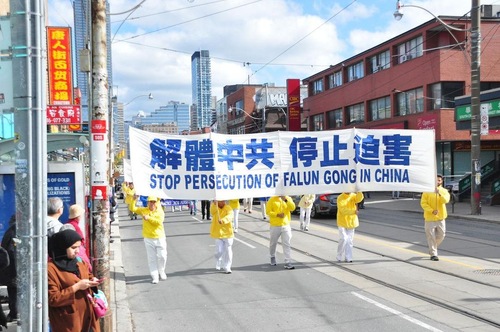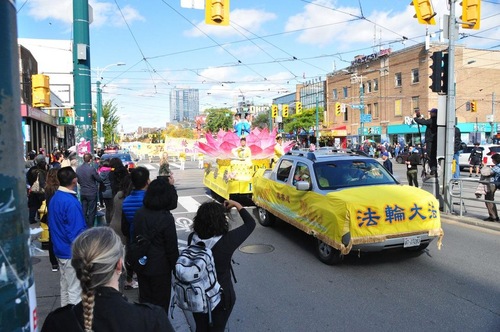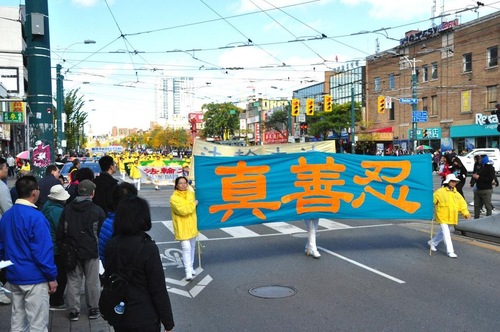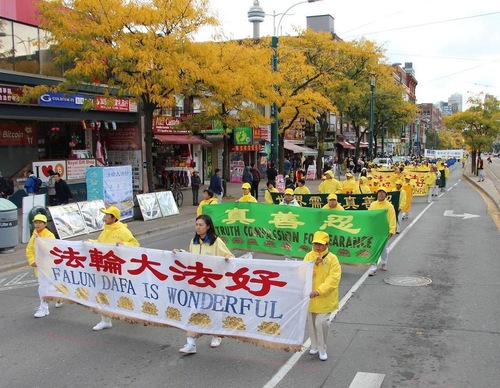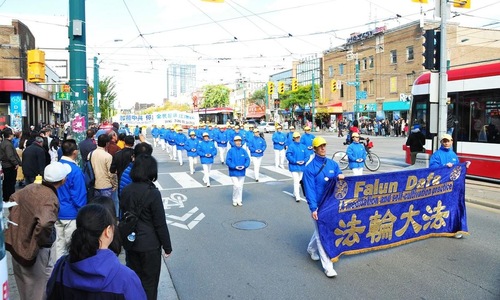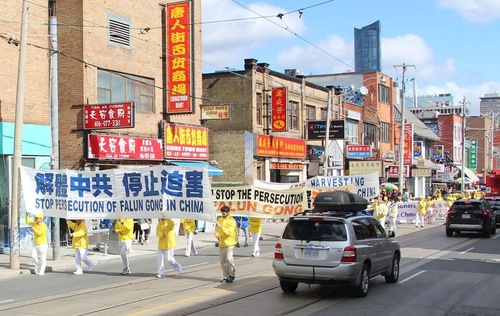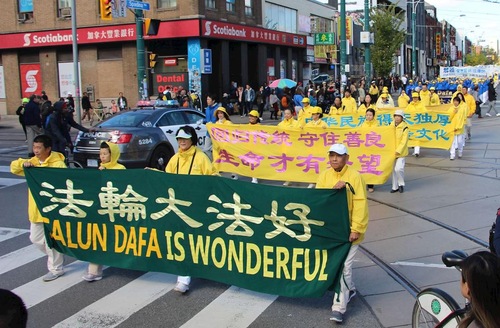 Falun Gong practitioners hold a parade to support the withdrawals of over 340 million people from the CCP and its youth organizations.
Police Officer on Duty: I Will Apply to Escort Falun Gong Parades in the Future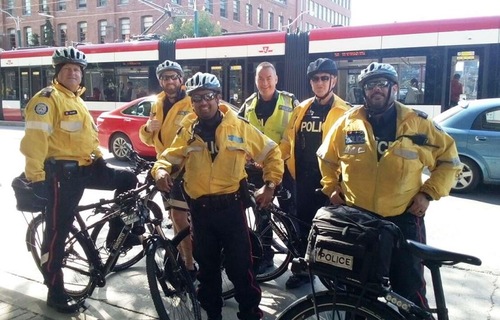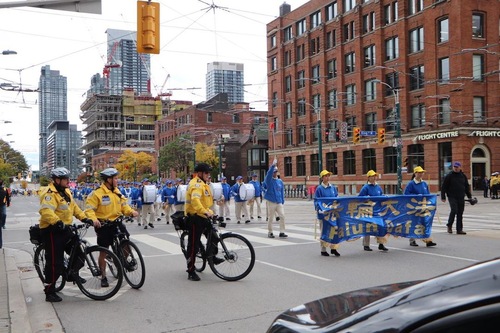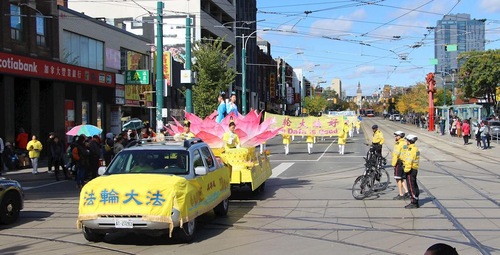 Police on duty during the Falun Gong parade
The parade was escorted by vehicles from the Royal Canadian Police in the front and police officers on bikes on both sides. The police officers were particularly excited. Some took out their mobile phones to take pictures. Some of them followed the rhythm of the Tian Guo Land Marching Band, and waved to the roadside spectators.
When the parade reached the destination, the police were happy to applaud the Falun Gong practitioners and take photos with them. Finally, the captain took out his mobile phone, and took a group photo of practitioners and police officers.
One police officer on duty said, "I like this parade very much. This is my first time to escort this group. It is peaceful. I wish other parades would be like this. My job would be much easier."
Another officer said, "They are self-disciplined and in good order. If there is another Falun Gong parade, I will tell my supervisor, 'I want to escort them!'"
A Spectator from China: Falun Gong Practitioners are Courageous, Great, and Admirable
Mr. Zhang from northeast China watched the parade with his 81-year-old mother. He said, "It is really good to see the entire parade. The message is very clear. It is necessary to bring this information to more people."
He said, "When I was in China, a Falun Gong practitioner helped me quit the CCP. Some of my friends in China who were party officials also quit their membership in the Party. This is a trend that cannot be stopped. People are talking among themselves that the CCP is really too evil, and everyone must withdraw from it."
He also said, "It is not easy for Falun Gong practitioners to protest the persecution for 20 years. They are very courageous, great, and admirable!"
He recalled, "There were some Falun Gong practitioners in my work unit. They are all very good people. They have suffered a lot in their work units, and life, in order to uphold their belief. But, they are all unshakable. Some used to be officials, some were management employees in an enterprise, and they were all dismissed or had their positions lowered. Yet, they still did their work very well."
Lastly he said, "I often read The Epoch Times and watch NTDTV because their news is true. Now many media, including Western media, are publishing fake news. I wish that Chinese people who do not understand Falun Gong can listen to Falun Gong."
Spectators and Tourists Condemn the Persecution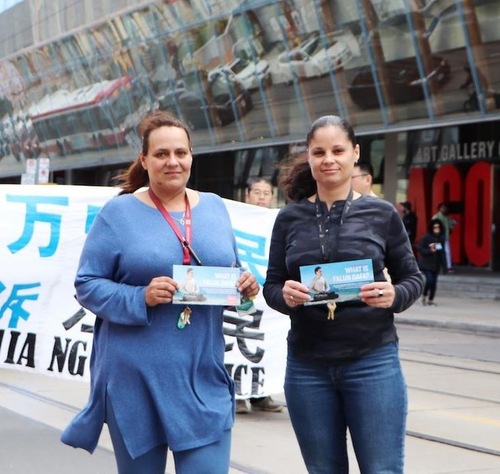 Taya (left) and her colleague Latasha (right) watch the parade.
Taya is an addiction counselor who works in downtown Toronto. She said, "This parade is colorful. We know their message. The persecution is brutal and must be stopped. More people need to know this."
Her colleague Latasha said, "I think everyone should support the effort of protesting the persecution. It is a global issue. Each country needs to pay attention to and stop the persecution."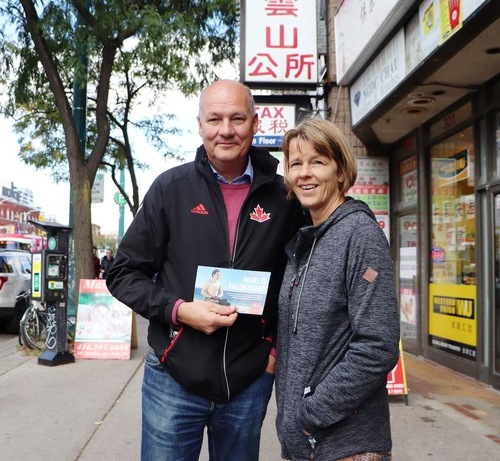 Marten and his wife Marijke from Europe watch the parade.
Marten said, "This parade is splendid and conveys a clear message. It is good to let others know the facts. We know of Falun Gong, and the brutal persecution. From the internet, we learned about organ harvesting from living practitioners. The CCP's persecution is brutal. The Party that can do such evil things must collapse."
His wife Marijke said, "It is horrible. Such cruel things should not happen. We don't like to travel to such a totalitarian country."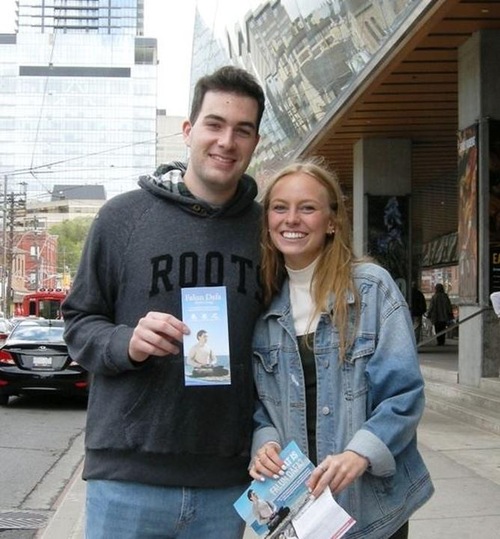 Aaron Smith, and his girlfriend Lydia Carey from New York, think that the CCP's persecution is wrong and that Falun Gong practitioners should have freedom of belief.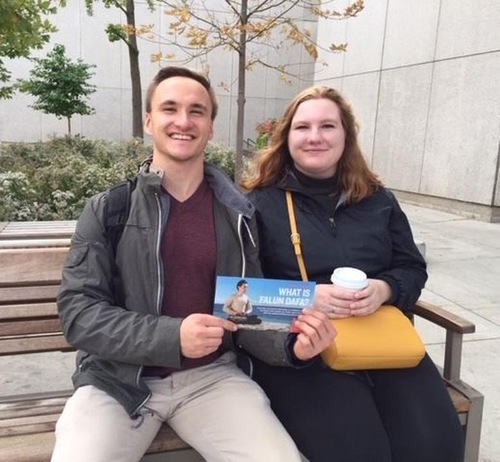 Rogers (left) from the city Guelph in Southwestern Ontario, Canada, and friend watch the parade. He said that he would browse the internet after returning home to learn more about Falun Gong.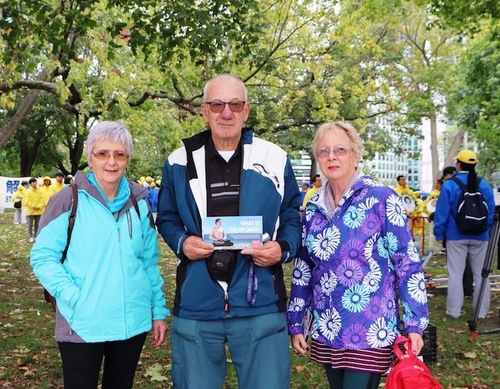 Susan (first from left), Derek Earl, and Margaret Earl, tourists from UK, learned about Falun Gong from the parade. They condemned the persecution.