Thailand: 2019 Falun Dafa Experience Sharing Conference Held in Bangkok
October 17, 2019 | By a Falun Gong practitioner in Thailand
(Minghui.org) Falun Gong practitioners in Thailand held an experience sharing conference in Bangkok on October 13, 2019. The practitioners traveled from Nakhon Pathom, Chiang Mai, Suphan Buri, Lampang, Roi Et, Samut Parkan and Bangkok. Over twenty practitioners talked about their experiences of raising awareness of the persecution in China and improving their xinxing through diligently cultivating themselves according to the principles of Falun Gong.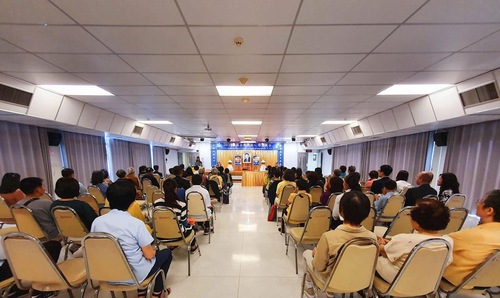 The 2019 Thailand Falun Dafa Experience Sharing Conference was held in Bangkok on October 13, 2019.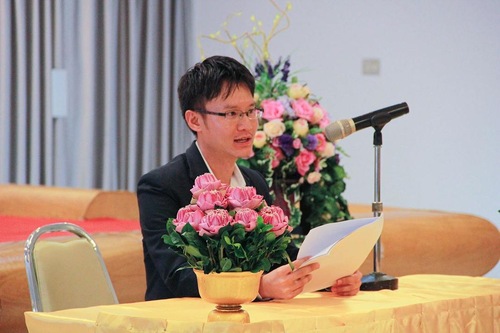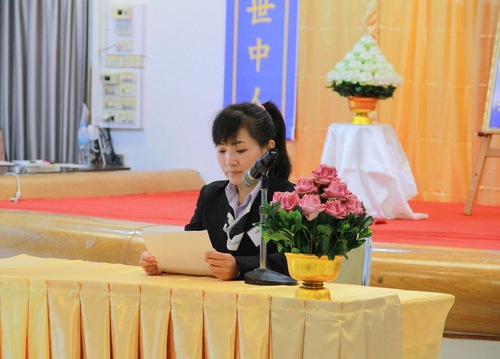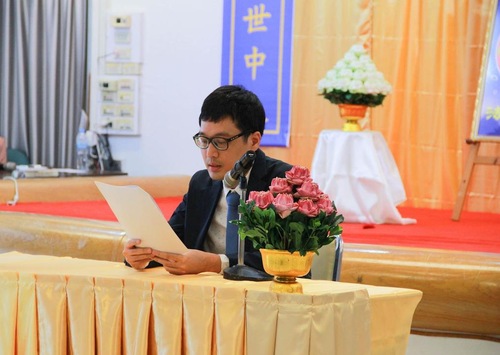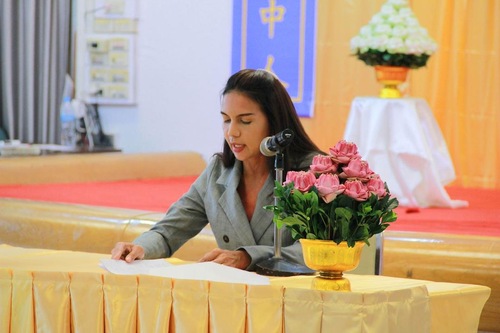 Practitioners shared how they improved in cultivation.
Young Practitioner Eliminates Attachment to Stock Trading
Ben, a young practitioner, said that getting rich was once his only goal in life. While he was in high school, he read several books about stock trading. He thought it was an easy way to make money.
He set up his first account for stock trading when he was a senior undergraduate student. Although he had already begun practicing Falun Gong, he thought that trading stocks was an investment and not considered gambling.
Ben studied various businesses and companies, chose the stocks he wanted to invest in, and within three years earned about 800% in profits. He continued looking for new companies to invest in. But there was an unexpected incident at the last minute, and as a result, his investment turned into a loss.
It was not until the end of 2018 that his financial situation was reviewed. He noted that his remaining funds were exactly the same as his initial capital.
Ben said, "This made me realize that that was the amount of money I really should have, because of my own hard work."
He repeatedly read Master's teachings about stock trading and enlightened that he should not be greedy and rely on speculation to get rich.
Ben shared, "I really didn't lose any material benefits. But in the process I gave up my attachment to material interests. Now I feel very relaxed. My only goal in life is to do the three things that Dafa practitioners must do."
Amazing Recovery from an Illness Karma Tribulation
Nattasopit began practicing Falun Gong nearly three years ago. Shortly after attending the New York Falun Dafa Experience Sharing Conference this year, a small bump appeared on her face. She ignored it at first, but it soon quickly became painful and swollen, causing her to lose sleep.
She said, "My family was worried. My father-in-law owns a pharmacy. Every day my husband reminded me to take medicine, but I kept secretly throwing it away.
"One day, my face became so swollen and painful that I could not open my eyes. The whole family urged me go to the hospital immediately. The doctor took it as a special case and prescribed some medicines. I declined and said that my family had a pharmacy.
"One day I shared my situation with fellow practitioners. I enlightened that the extra aggravating pain was due to the persecution by the old forces, and I should not accept it. I believed in Master and enlightened that I must have righteous thoughts. No matter what happened, I must pass this ordeal."
Nattasopit increased the length of time she studied the Fa, sent forth righteous thoughts and practiced the exercises. She thought, "Even if I cannot see, I won't give up. I must carry on and ignore the pain. Nothing is wrong. It's all an illusion."
Soon after, the doctor phoned her to see the results of the CT scan and X-ray. He said that nothing was wrong. Though he could not confirm what the lumps were, he said that everything was normal. Afterwards, the swelling quickly subsided, leaving only a little scar.
Nattasopit said, "Passing this tribulation, I felt Master's great compassion. This experience has expanded my capacity and uplifted my realm."
Clarifying the Truth to the Public
Anan started practicing Falun Gong in 2014. Because she worked in a gas station she had the opportunity to clarify the truth to many people. After she told her boss about Falun Gong he allowed her to distribute fliers to her customers.
Anan said that one day she met with an aggressive female police officer. She did not want to give her a flyer as she thought the officer might be more complicated than most people. But after she put gas in the police vehicle, the officer did not immediately leave.
Anan enlightened that every life comes for the Fa and she must help her understand Falun Gong. So she clarified the truth to the police officer.
Anan also goes to tourist sites to reach out to visitors from China. She said, "Every Sunday I go to tourist attractions to distribute information to Chinese people.
"I feel that if my thoughts aren't righteous, the tourists won't take the information. Once, when a scenic site was closed, I went to the nearby restaurant to distribute informational materials. I met a tour bus driver there, who told me where many Chinese tourists were.
"I enlightened that when I have strong righteous thoughts, even if the tourist spot is closed, Master will help me and I'll know where to distribute the informational materials, [in this case] through the bus driver."
The conference attendees said that they were greatly moved by the talks given by their fellow practitioners and felt that they benefited from the experience sharing. Many stated they would practice more diligently and do the three things well to fulfill their prehistorical vows and their mission to save sentient beings. The conference concluded at 5 p.m.