Yokohama, Japan: Falun Gong Practitioners Hold Parade Calling to End the Persecution
October 15, 2019 | By a Falun Gong practitioner in Japan
(Minghui.org) Falun Gong practitioners held a parade in downtown Yokohama on October 6, 2019 in support of the 340 million Chinese people who have quit their memberships in the Chinese Communist Party (CCP) and its youth organizations. They condemned the CCP's persecution, especially the state-sanctioned organ harvesting from living Falun Gong practitioners. Practitioners collected signatures protesting the brutality.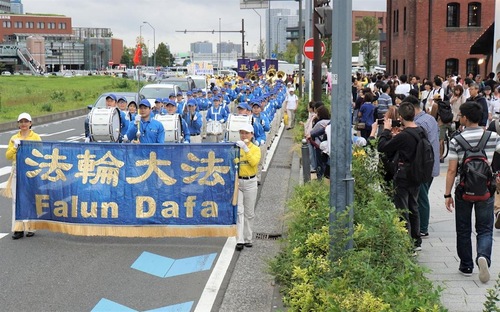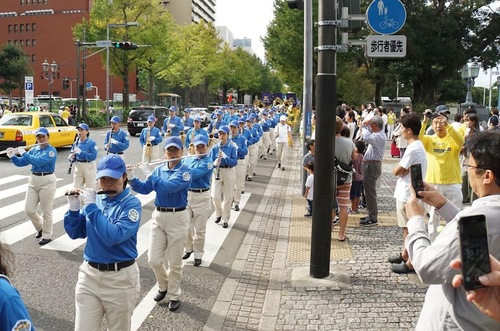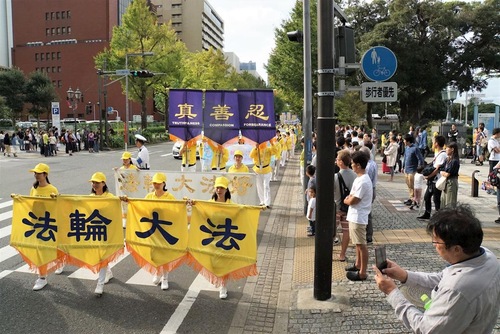 Falun Gong practitioners held a parade in downtown Yokohama on October 6, 2019.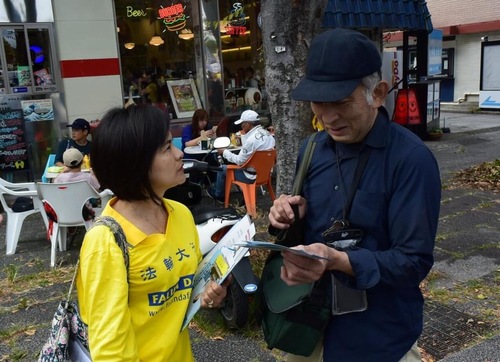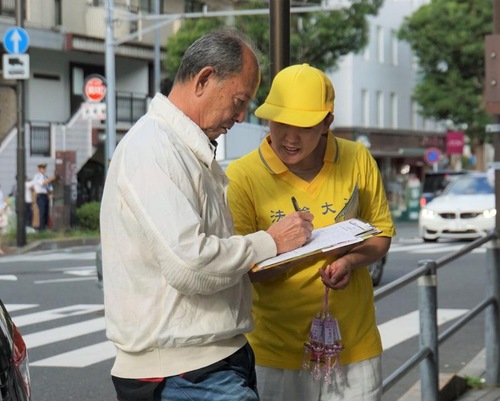 Practitioners raise awareness of the CCP's persecution, and collect signatures calling for an end to the persecution.
The practitioners held group practice for two hours in a park near Sakuragicho Station in the morning. Some practitioners introduced Falun Gong to passersby.
Mr. Kawasaki, who works at Sakuragicho Station, said he knew that Falun Gong was being persecuted in China. But he did not know that the CCP was harvesting organs from living practitioners. He asked questions to help understand the situation.
The parade departed from the Sakuragicho Station Square at 1:30 p.m., passed by the famous Yokohama Red Brick House, Chinatown, Ise Sasaki Street, and returned to the Sakuragicho Station Square after 4:00 p.m.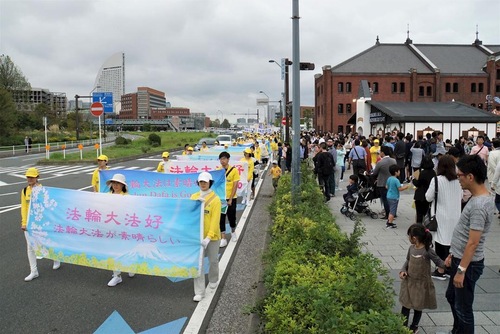 Tourists take photos when the procession passes by the well-known red brick house.
The Tian Guo Marching Band was in the front of the parade. Band members were dressed in bright clothes. Their performance drew the attention of onlookers and pedestrians.
The second group in the parade was a team holding banners worded "Falun Dafa is Good," "Truthfulness-Compassion-Forbearance," "Supporting the 340 Million People Who Quit the Party," "Stop the Persecution of Falun Gong," "The CCP Is Disintegrating," etc. The banners were eye-catching. Pedestrians and tourists paused to watch and took photos. Many people signed the petition protesting the persecution.
Mr. Nomura, who was holding a painting exhibition at the Yokohama City Gallery, signed the petition and encouraged the practitioners to keep up their peaceful protests.
A woman who works in a restaurant condemned the CCP's organ harvesting from living Falun Gong practitioners. She also said to a Falun Gong practitioner, "It is very remarkable that you appeal to the Japanese people in such a peaceful procession."