Central Taiwan: Group Exercises and New Year Greetings to Master
January 07, 2019 | By Minghui correspondent Xia Jun
(Minghui.org) Falun Dafa practitioners in the greater Taichung area in Taiwan sent New Year greetings to Master Li Hongzhi, the founder of Dafa, at City Hall Plaza on January 1. They also performed the Falun Dafa exercises together, as part of the New Year's event.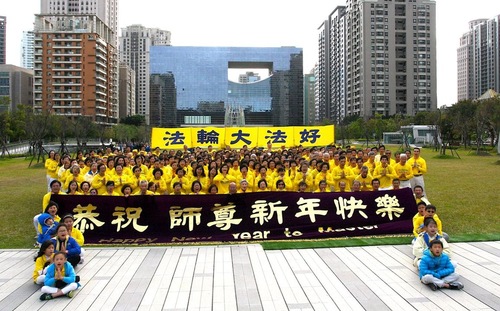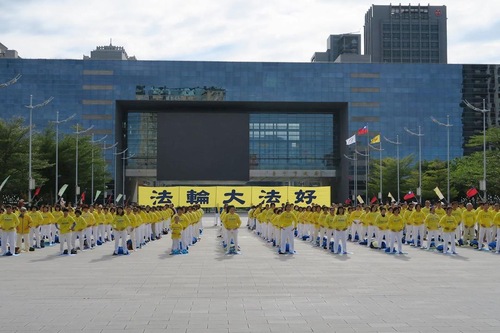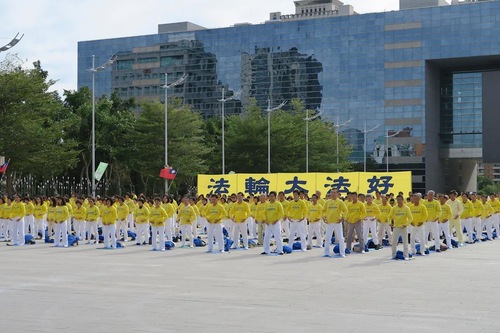 Falun Dafa practitioners in Taichung do the exercises together and send new year greetings to Master Li on January 1.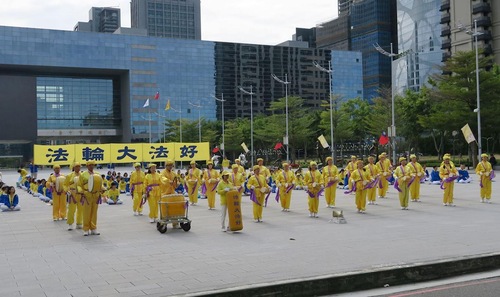 The waist drum team drew the attention of passers-by.
The event was a part of regular group exercise demonstrations in Taichung. Practitioners have been holding these group demonstrations at City Hall, National Chung Hsing University, and the Taiping District Sports Ground monthly.
For this special celebration, practitioners added a waist drum performance to usher in the new year and send their greetings to Master Li.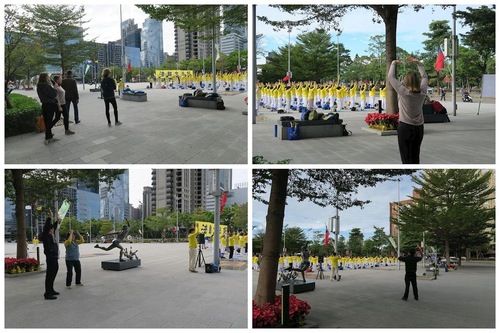 Passers-by take pictures and follow along with the exercises.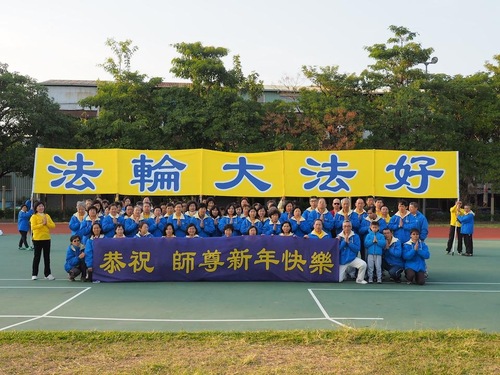 Falun Dafa practitioners send their new year greetings to Master Li on December 29, 2018 at the Taiping District Sports Ground.
During the events, several practitioners shared their experiences with practicing Falun Dafa
Experiencing the Power of Dafa
Zhang Zhiming Amazed at Recovery from Unknown Illness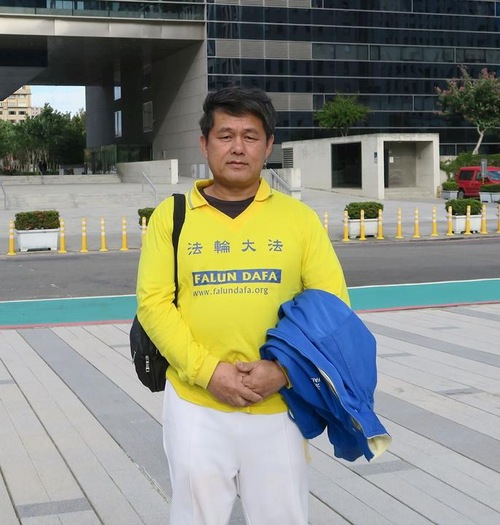 Zhang Zhiming
Zhang Zhiming was among the practitioners doing the exercises outside Taichung City Hall.
Before practicing Dafa, he suffered from an illness without finding a cure. A friend told him that Falun Dafa could restore his health, but he didn't believe this.
Zhang had been troubled by an unknown illness for about five years. He suffered from headaches, pain in the eye, and had difficulty breathing.
"My child was just born," he recalled. "I was the breadwinner of the family. I had to bear the health problems and support my family." Then, he experienced problems with walking. He finally tried Falun Dafa since he didn't seem to have any other options. He began by reading Zhuan Falun, the main book of this cultivation practice and then learned the exercises.
Mr. Zhang's symptoms lessened, then disappeared within three months. He was amazed by the power of Dafa, and has continued on his cultivation path.
Tsai Kunquan Practiced Dafa for 18 Years
"This practice is truly amazing!" said Tsai Kunquan. He has been practicing Falun Dafa for 18 years.
Before he practiced Dafa, he suffered from liver fibrosis, and generally poor health. The pleural nerves on both sides gave him daily pain for about eight years. Within 10 days of practicing Falun Dafa, the pain disappeared.
"I couldn't believe it! I thought that I would monitor the progress of my recovery on a daily basis. I found that I didn't need to because I no longer felt any pain."
Understanding the Purpose of Life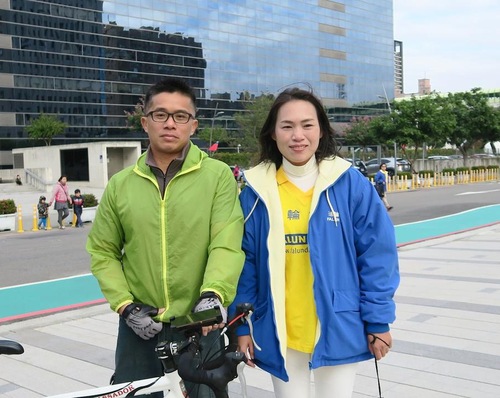 Wang Suqing (right)
Wang Suqing began to practice Falun Dafa in 2010. "I thank Master for arranging my cultivation path," she said. "I'm very happy."
She continued, "I didn't know why we live and I didn't have any goals. I know now that the purpose of living is to return to my true self. Specifically, I know how to be a good person with the guidance of Falun Dafa's teachings."
Ms. Wang said that the Fa principles taught her different perspectives and standards. She summarized it as "kindness." She resolved her years-old conflicts with her sisters-in-law. Friends told her that her words often made great sense and that she even looked better.
Ms. Wang's husband Chen described the changes in his wife. "She had a good temper now. She used to be short-fused. She wasn't physically strong and didn't have a good appetite. Now, she can run so fast that I can barely keep up," he laughed. He fully supports her practice.