Falun Dafa Practitioners From Pingtung, Taiwan, Wish Master Li Hongzhi a Happy New Year
January 04, 2019 | By a Minghui correspondent in Taiwan
(Minghui.org) Falun Dafa practitioners from Pingtung, Taiwan, gathered at Millennium Park on December 29, 2018, to do the exercises. They also wished the founder of Falun Dafa, Mr. Li Hongzhi, a Happy New Year.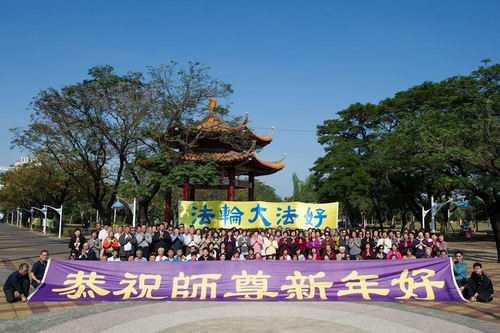 Practitioners gathered at the Millennium Park to wish Master Li Hongzhi a Happy New Year!
Millennium Park is located in a busy section of Pingtung City. It was a warm, sunny winter day, with clear, blue skies. The usually quiet park was especially crowded that day. Many people stopped to watch practitioners do the exercises.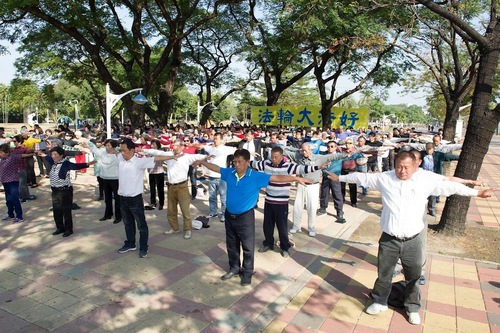 Practitioners doing the exercises
Zhuan Falun Answered the Questions in My Heart
Practitioners from Pingtung come from all walks of life. There are students, three-year-old children, and people over 80. By practicing Falun Dafa, they have become better people, their health has improved, and their families are happier.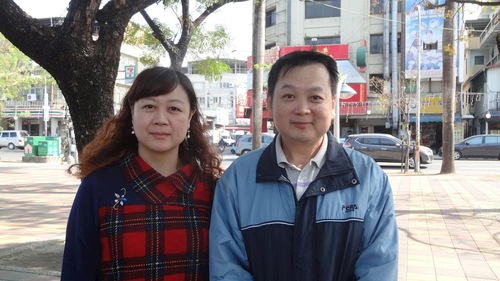 Mr. Zheng found answers to life's mysteries after reading the main book of Falun Dafa, Zhuan Falun.
Mr. Zheng and his wife Ms. Zhao have practiced Falun Dafa for over a decade. Before he took up the practice, Mr. Zheng suffered from insomnia. A friend introduced him to Falun Dafa. After reading Zhuan Falun, he found the answers to his questions about life, prompting him and his wife to take up the practice.
Nevertheless, such a wonderful practice has been persecuted in China for 19 years. Mr. Zheng feels he should let the whole world know about the atrocities committed by the communist regime.
Learn to Be Considerate of Others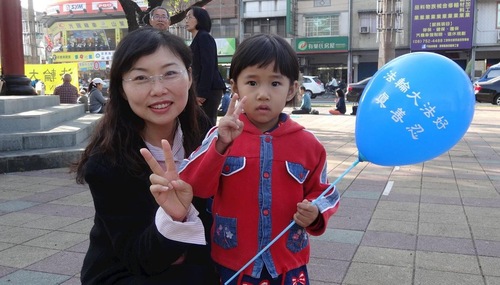 Ms. Wu brought her 3-year-old daughter to wish Master Li a Happy New Year. She is grateful to Master Li for teaching such a wonderful practice and changing her perspective on life.
Ms. Wu, a civil servant, brought her 3-year-old daughter to attend the activity. She said practicing Falun Dafa has taught her to be considerate of others, and changed her perspective of life. She used to be attached to personal gains and loss but gradually changed her mind. She became a cheerful person and even passed on these values to her daughter. She took the opportunity of the coming new year to thank Master Li for bringing this cultivation practice to the world's people, and wishes Him a Happy New Year!
University Student Benefits from the Practice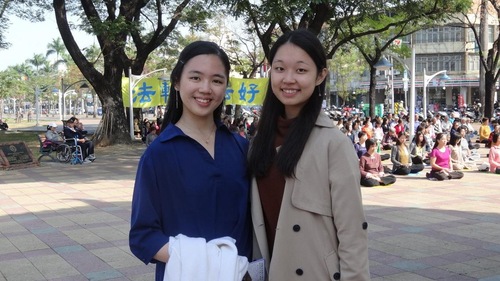 Ms. Zhan (left) and Ms. Yang (right) are second-year students at Jiayi University. They are very grateful to Master Li for bringing Dafa to the world and have benefited tremendously from the practice.
Ms. Zhan, currently a second-year student at Jiayi University, has been practicing Falun Dafa with her mother since she was a child. Whenever she runs into difficulties in her studies, she encourages herself using the teachings of Falun Dafa. She then has the courage to forge ahead and not give up in the face of difficulties.
"In the past," she said, "I studied for the sake of getting good grades. By studying the principles of Falun Dafa, I realized that it is important to do one's best. It's all right if things don't turn out as expected."
Ms. Yang, also a student at the same university, shared that when she learned to be kind and forgiving, her teachers and friends liked to be with her. Both of them are grateful to Master Li for his guidance and feel very fortunate to be Falun Dafa practitioners.
Passersby Learn the Exercises
Ms. Mao, who is from China, was visiting a relative in Pingtung. She was taking a walk in the park and was surprised to see so many practitioners doing the exercises. She accepted a lotus flower made by practitioners with a huge smile on her face.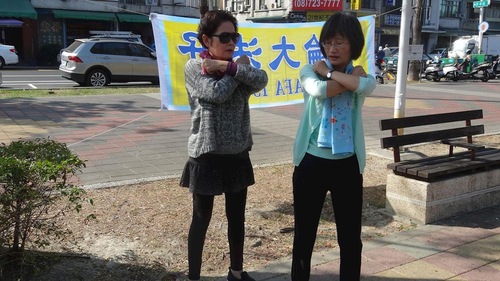 Ms. Zhang (left) learns the exercises from a practitioner.
Ms. Zhang, who is 69 years old, was introduced to Falun Dafa by a fortuneteller. She was told that practicing Dafa could increase one's energy. Since then she has been searching for someone to teach her the exercises. She ran into practitioners at the park and eagerly learned the exercises from them.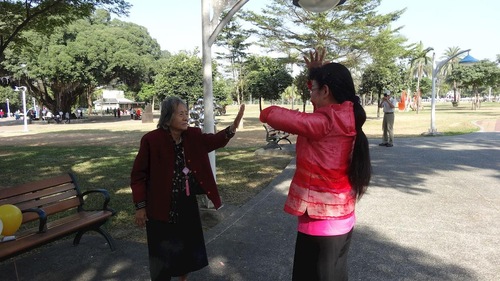 Ms. Cai (left), who is in her 80s, learned the exercises from a practitioner.
Ms. Cai, who is in her 80s, is a retired primary school teacher. She heard that practicing Falun Dafa is very good for one's health. She ran into practitioners at the park today and eagerly learned the exercises from practitioners. She hopes the exercises can help her remain fit and maintain good health.