Melbourne, Australia: "A Peaceful Energy" at the Australia Day Parade
January 30, 2019 | By a Minghui correspondent
(Minghui.org) The annual Australia Day Parade was held in downtown Melbourne on January 26, 2019. Thousands of local residents and tourists came to watch this popular event.
Many people took photos of the Falun Gong practitioners' colorful entry, which consisted of a waist drum team, fan dance team, and a demonstration of the five sets of exercises.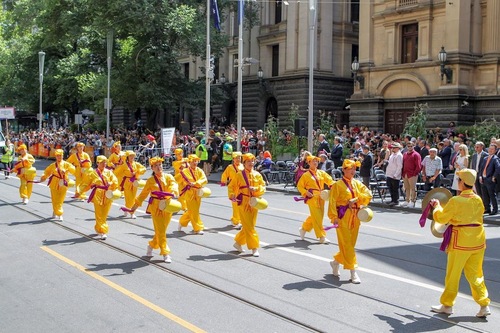 Falun Gong practitioners participate in the Australia Day Parade.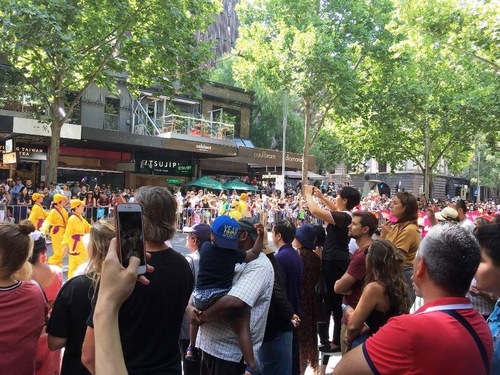 Spectators take photos of the Falun Gong procession.
"Truthfulness-Compassion-Forbearance Is Inspiring"
Brooke, an IT expert who specializes in cybersecurity, felt happy to learn that practitioners spread the universal values of Truthfulness-Compassion-Forbearance throughout the world. She said, "Truthfulness-Compassion-Forbearance is inspiring. Everyone needs it."
She admired the practitioners' presentation of traditional Chinese culture and said, "The Falun Gong team is awesome. I'm very happy to see the fan dancing. It makes me feel like I can dance like a butterfly."
Walter Skilton, a retired computer expert and veteran member of the Highlands Band of the Ringwood District, also participated in the parade. He was pleased to learn that practitioners have been actively involved in the community for nearly two decades.
He was impressed by Falun Gong's guiding principles of Truthfulness-Compassion-Forbearance, and said, "A kind person will think of others when doing things. Everyone is an integral part of this world. If everyone upholds these universal principles, the earth will be a better place."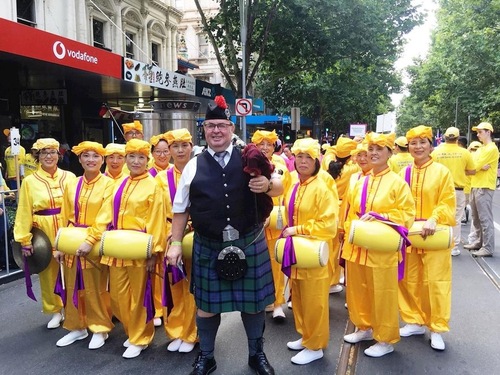 Walter Skilton poses for a group photo with practitioners.
Pathologist and Beauty Pageant Queen Interested in Falun Gong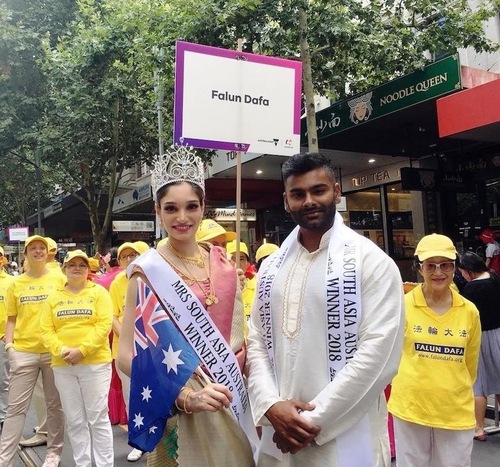 Dr. Tarini Fernando (left) and Nishan Joseph with practitioners
Pathologist Dr. Tarini Fernando, 2018 Miss South Asia Australia, was drawn to the principles of Truthfulness-Compassion-Forbearance. She said that practitioners were carrying out a noble cause in sharing these principles with the community. She said, "It looks very good, especially for people who work from 9 to 5, so they will not feel stressful. It is very good, definitely something that would be interesting in the future."
Nishan Joseph, who was the 2018 Mr. South Asia, said that practitioners were remarkable. He also enjoyed the bright colors of the Falun Gong team.
Marilyn Jackson and her husband traveled from Queensland's Gold Coast to enjoy three days in Melbourne. The couple stopped to watch the Falun Gong team rehearse before the parade started.
She said, "I can feel the energy coming from the practitioners. It's wonderful. They are so quiet and peaceful, and the colors are bright and attractive. It's really good."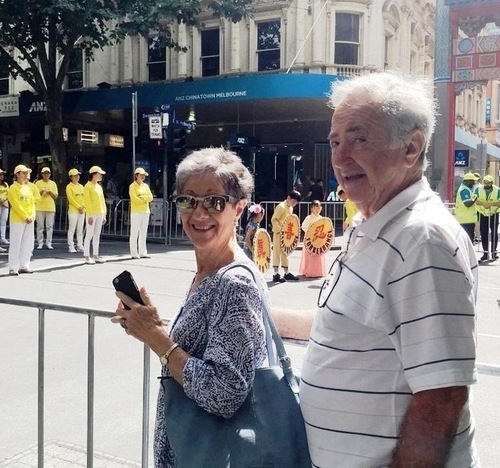 Marilyn Jackson and her husband from Queensland.
Chinese Spectator Experiences Freedom of Belief Outside China
Mr. Shen, originally from Shanghai, has lived in Melbourne for five years. After he left China he especially noticed the atmosphere of freedom overseas and said, "We see Falun Gong practitioners when we visit Sydney and other places. Here in Australia, I feel the difference, which is respecting basic human rights and the freedom of belief."
Mr. Shen said that the persecution of Falun Gong is wrong.