Two Hebei Residents Sentenced to Prison for Talking to People about Falun Gong, One Tortured in Detention Center
January 16, 2019 | By a Minghui correspondent in Hebei Province, China
(Minghui.org) A court in Hebei Province sentenced two women to prison in December 2018, a few days after a secret trial inside a makeshift courtroom at Handan City No.3 Detention Center.
Both women were arrested on May 16, 2018 for talking to people about Falun Gong, a mind-body improvement system that has been persecuted by the Chinese communist regime since 1999.
Ms. Hou Qiaozhen, 77, was sentenced to three years and Ms. Zhang Peiying, 43, to one year and ten months.
They were held at Handan City No.3 Detention Center since their arrests.
The police ransacked Ms. Zhang's residence on May 16 and Ms. Hou's home on May 23. Their Falun Gong books and related materials were confiscated.
The police submitted their cases to the Fuxing District Procuratorate in June, who then forwarded it to the Ci County Procuratorate and Ci County Court a few months later.
Ms. Zhang was locked in solitary confinement and tied to a "stretching bed" for two days in the detention center for talking to the detainees about Falun Gong. She was in pain and could not stand or walk for several days after being let down. The guards tried to force her to write statements to renounce Falun Gong, but she refused.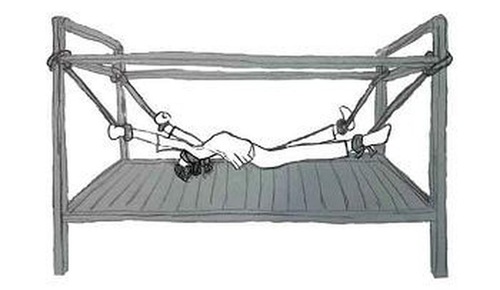 Torture demonstration: Stretching bed
Ms. Hou is a retired teacher. She credits practicing Falun Gong for curing her heart problem, migraines, and a gastrointestinal ulcer, among many other ailments. Because of her holding firm to her faith and sharing her story with others, she was arrested three times, given a one-year term of forced labor in 2000 and three years of imprisonment in 2008, before receiving another three-year prison term in December 2018.
Related report:
District Court in Handan City Secretly Sentences Ms. Hou Qiaozhen to Three Years
70-Year-Old Retired Teacher Detained Again, Previous Imprisonment Severely Damaged Her Health
Handan City Police Officers Arrest Falun Gong Practitioners
Ms. Zhang Peiying Tortured in Handan City No. 3 Detention Center