Twelve Years of Calm at Tianti Books & Cafe in New York City
January 12, 2019 | By a Falun Dafa practitioner in U.S.A.
(Minghui.org) Tianti Books & Cafe is a non-profit organization registered in the United States. With stores in New York and Seoul, South Korea, Tianti Books offers its customers more than just quality coffee and lunch. It provides a chance to learn about life's deepest meanings through introductory sessions for the spiritual practice Falun Dafa.
The bookstore faced some challenges in its beginning years. The cafe was added in 2016, and even then it was difficult to recruit a practitioner employee who had work experience as a barista server, not to mention one who had cultivated well. The cafe has provided customers a relaxed and serene atmosphere. Some customers feel the strong energy in the store.
There were many tourists in Manhattan after the Christmas holiday this year. Six practitioners were working at the bookstore on the day after Christmas, and although most of us had not worked in a coffee shop before, we cooperated well and spoke to many people about Falun Dafa.
When the bookstore opened, many customers came in seeking coffee, tea, and lunch. Three practitioners had xinxing tests at the time, which seemed to result in fewer customers.
So we sat down, shared, and looked within. Two of the practitioners realized where they fell short, while the third practitioner adjusted her state. More customers soon began visiting the bookstore again.
Thirty-minute introductory sessions about Falun Dafa are held regularly. Many people walk away from the sessions with a renewed sense of purpose and fulfillment after learning the gentle exercises. "Tianti Books is the best in Manhattan," a local resident recently commented after a Falun Dafa introduction class.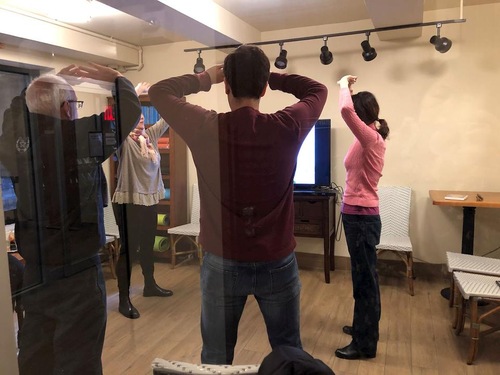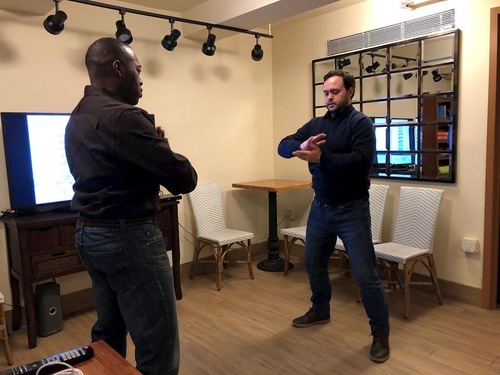 Falun Dafa introductory class.
One customer from Washington, D.C., was very drawn by the bookstore's sign one day; he found something about it speaking to him, and went inside to learn what it was all about. He soon attended an introductory class for Falun Dafa and asked us to take photos of him. He said he planned to post the photos to his company's intranet for his colleagues in the Boston, Washington, D.C., and New York branches, so they, too, could feel the peace of his experience.
One young couple from Spain lingered after finishing their coffee, so we showed them a flyer with Falun Dafa information. The woman hesitated to take it because they'd only stay in New York for two weeks and she doubted if they'd have time to explore the practice. Her boyfriend took the flyer and said to her that they could practice Falun Dafa upon returning home and that they could contact the bookstore through its website should they have any questions. Upon hearing this, one practitioner showed them a greeting card with the website address printed on it. She wrote "Happy New Year" on the card before giving it to them as a gift.
A flight attendant who is a frequent customer often comes in for coffee when she has a layover in New York. She said that the clean, quiet environment draws her to Tianti, not to mention that the coffee is some of the best in New York.
Another frequent customer is an executive of a printing company. He always comes in for a cup of coffee on his way to his Manhattan office.
When a new hotel near us was under construction, the construction's scaffolding covered our sign. We then went to this customer's printing company to have a larger sign printed. When the executive found out the order was for Tianti Books, he directed his staff to complete our signage right away.
2019 will be Tianti Book's 12th anniversary, and it's gradually becoming a valuable destination for many people who value a calm and genuine atmosphere.