Former Accountant Tried for Mailing Letter about Her Faith to a Colleague
September 07, 2018 | By a Minghui correspondent in Guangdong Province, China
(Minghui.org) A former accountant from Guangdong Province was tried on August 23, 2018 for mailing a letter with information about Falun Gong to a colleague last year. Her lawyer delivered a non-guilty defense for her.
Falun Gong, also known as Falun Dafa, is a mind-body practice persecuted by the Chinese communist regime since 1999.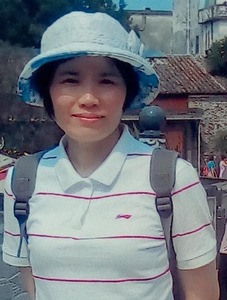 Ms. Li Qinghua
Ms. Li Qinghua, 49, started to practice Falun Gong in 1999 and credits the practice for healing her depression and other ailments.
She has been subjected to repeated persecution because of her persistent efforts in speaking out for the practice since the onset of the persecution. She also lost her job and her husband was forced to divorce her.
She was detained at Yuexiu District Detention Center for a year following her latest arrest on August 15, 2017, before the trial at Haizhu District Court in Guangzhou City.
Her lawyer pointed out during the trial that the letter she mailed to her colleague and other Falun Gong related materials confiscated from her home couldn't support the charge of "undermining law enforcement with a cult organization," as the prosecutor couldn't specify what law enforcement was undermined or what harm was caused by Ms. Li's actions.
Her lawyer also argued that no law has ever criminalized Falun Gong in China, and it is his client's freedom of religion and expression to practice Falun Gong and spread information about it, and these are her constitutional rights.
The judge adjourned the trial without announcing a verdict.
Ms. Li's family and her ex-husband's parents attended the trial. They expressed a deep appreciation for the lawyer's defense, which helped them come to understand that Ms. Li didn't violate any law and is innocent in holding firm to her belief.
Previous report:Falun Gong Practitioner Ms. Li Qinghua from Guangzhou Detained for Almost One Year