Wang Yongli Taken to Detention Center upon Release from Prison
September 05, 2018 | By a Minghui correspondent in Liaoning Province, China
(Minghui.org) Falun Gong practitioner Mr. Wang Yongli from Shenyang City has been imprisoned for four years. He was scheduled to be released on August 22, 2018. His family traveled far to pick him up that day, but they were blocked from entering the prison. They then watched as 610 Office agents and police officers took Mr. Wang away in a van.
In addition to the 610 agents, the group included officers from the Shenbei District Police Department and the Magang Village Police Station. They collaborated with prison officials to seize Mr. Wang because he refused to sign a statement that he would stop practicing Falun Gong. He is now held in the Shenbei New District Detention Center.
In order to avoid persecution, Mr. Wang had been forced to stay away from his home since 2012. The police broke into his home on the evening of June 7, 2012, and tried to arrest him, but he managed to escape. They ransacked his home, confiscating 2,000 yuan, a notebook computer, a DVD burner, and three printers. The total value of the property taken was over 20,000 yuan.
Mr. Wang was then arrested on August 18, 2014, while distributing Dafa pamphlets in Hunchun City. He was tortured and beaten in police custody. People in the next room could hear his screams. Officers stuck nails into his fingers, and his calves were bloodied from being pinched with a pincer. His face was so swollen that he was nearly unrecognizable.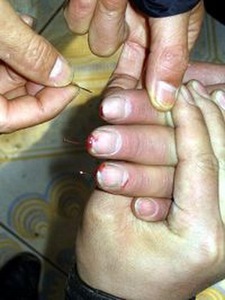 Torture reenactment: sticking pins under the fingernails.
Mr. Wang was sentenced to four years in the Jilin Provincial Prison in January 2015. He was later moved to the Jilin No. 2 Prison. He was forced to squat on a small stool for long periods every day in prison and was not allowed to move. He was held there until August 2018.
Prior Persecution
Prior to his latest imprisonment, Mr. Wang was arrested on August 16, 2002, when a village woman reported him to the authorities for talking to people about the persecution. The police detained him in the Xinchengzi Detention Center and interrogated him. They then ransacked his home and confiscated his Falun Gong books. Mr. Wang was sentenced to two years in a forced labor camp.
He was taken to Zhangshi Rehabilitation Center in October 2002. The police used four electric batons to shock his head and body. They also deprived him of sleep for five days and nights, with his hands cuffed to the bed and his feet tied together. He was not allowed to use the toilet during that time.